Today's guitar amp modeling software is pretty darn impressive, but in reality, few guitarists would ever replace their fine-tuned analog pedal board with an iPhone 6 and iRig STOMP. That doesn't mean that mobile software like AmpliTube is totally useless, though. Besides serving as a platform for headphone-based jam sessions, amp apps can be powerful tools -- think personal practice, last-minute rehearsals, collaborative songwriting, etc. Keep on readin' for a more detailed analysis of some of the most useful amp apps available.
AmpliTube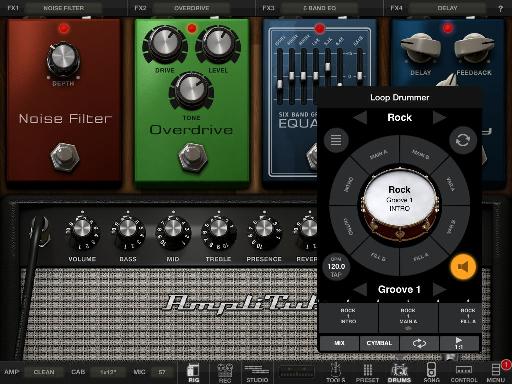 $20 + Hardware
The first thing you should know about AmpliTube is that it has all the features you could possibly want from an amp app'"specifically, a tuner, drum machine, light-weight recording interface, full-fledged mobile studio, jam-along song player, and, of course, an amp modeling station. Here's the thing, though: Most of those tools cost extra. Even if you whip out $20 for the paid version of the app, both recording interfaces still cost extra. Needless to say, in-app purchase are abundant, and sometimes annoying.
What about the sound? AmpliTube has been a plugin of choice among guitarists for a while now, and IK Multimedia's prowess shows in the mobile app. It isn't quite as customizable as JamUp, but the tones are great and the software's interface is even better. Smartphones and tablets have only so much landscape to work with, but all of AmpliTube's controls (adjusting amps, pedals, and such) are intuitive and easy to understand. I also found its always-on tuner pretty handy at times.
Again, most players don't want to replace any part of their rig with an amp modeler. But in circumstances where it's inconvenient to haul all of you gear to a rehearsal or writing session, AmpliTube is a solid option to have.
JamUp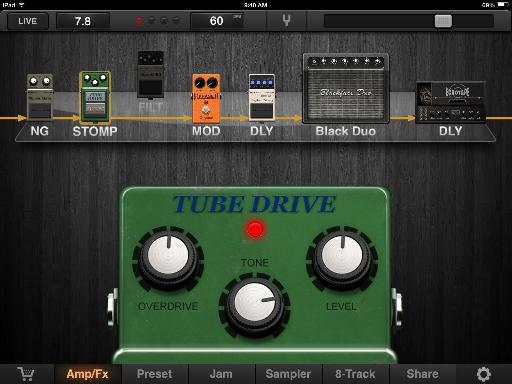 $5 + Hardware
If you're A) looking for a way to avoid hauling your gear around or B) seeking the most customizable app-based modeling software around, JamUp is for you. Why? Thanks to what PositiveGrid calls the ToneCloud, you can share or download any user's custom presets'"if you're a metalhead, you'll be happy to know that Jeff Loomis is a big fan. And at just $5, it's a must-have for any modeling geek out there.
Speaking of custom presets, this app has an insane amount of tweakable options. Familiar with BIAS Desktop? Well, PositiveGrid built JamUp with seamless integration into its professional-grade amp designer, which means you can build your own tones from the ground up, tweak presets from your ToneCloud account, and even capture the tone of your friend's real-life amp. No other app goes this deep, or sounds quite as good. Plus, JamUp has a 'live'