Music technology continues to make great advances, but many of us can't help but yearn for simpler times: vinyl, tape machines, real buttons/controls on hardware instruments. And many companies are listening, hence the resurgence in music hardware, especially with modular synths and MIDI controllers.
You've likely seen all sorts of beautiful and ugly, functional and outlandishly unique MIDI controllers in your time. And today we're looking at a tangible wooden sequencer with moveable discs instead of buttons (or mouse clicks!) for every step.
The maker of this wooden sequencer, Ernest Warzocha, explains, "the project's main goal was to rethink typical button-like audio device interfaces and (using a) unique design, (create) a more natural interface for it."
We think it looks like a lot of fun to play with. See the video below: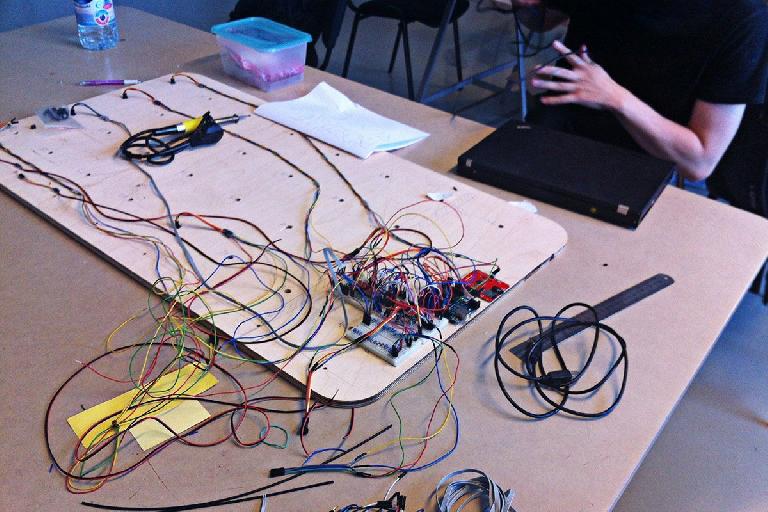 While not the most portable music sequencer you'll come across, Wooden Sequencer is... well, wooden.
Interested in how Ernst created the sequencer? While there's not full instructions, here's the components used to create this sequencer.
1 × Arduino UNO
2 × Sparkfun CD74HC4067 analog MUX For connecting to UNO I've used i2c expander.
1 × Sparkfun MP3 Shield This was required for project to play with pre-rendered samples as standalone device The project itself can be easily fixed for MIDI purpose.
32 × CNY70 IR Sensor Or any other sensor that can react to something placed on
8 × White LED Connected with shift register
Web: https://hackaday.io/project/9889-wooden-audio-sequencer