This Wireless MIDI Ring Controller, Specdrums, Turns Color Into Sound
MIDI controllers. We've seen almost every shape, size and configuration to date. But Specdrums is something truly unique. It's a wireless wearable ring that converts color surfaces into MIDI data.
The idea of being able to make music anywhere on any surface is not new. The idea of converting the color of any surface via wireless MIDI is certainly more unique. And this is what Specdrums is all about. The concept of liberating the wearer from pre-made MIDI controller interfaces and bringing making music out of everyday objects and surface you can design based on color.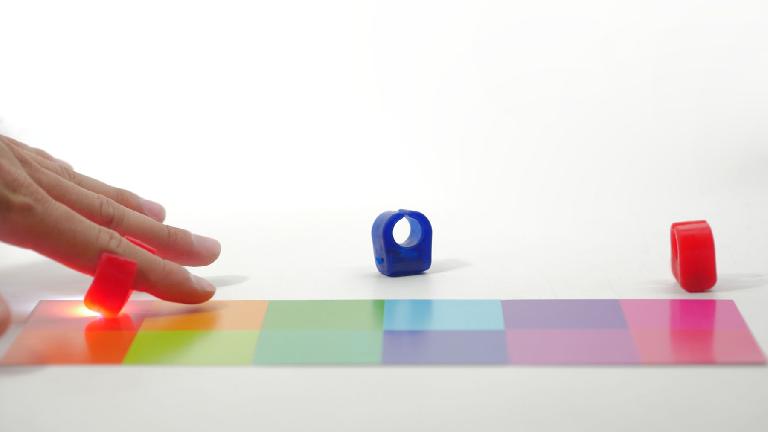 Steven Dourmashkin, CEO and founder of Specdrums, reached out to us with news about this unique music controller. Of course, being a MIDI device, it doesn't only have to be used for music creation or DJing, but it certainly lends itself to beat making fairly easily.
Specdrums is launching on Kickstarter on 16 August 2017... stay tuned to AskAudio for more info and check out the details and video below...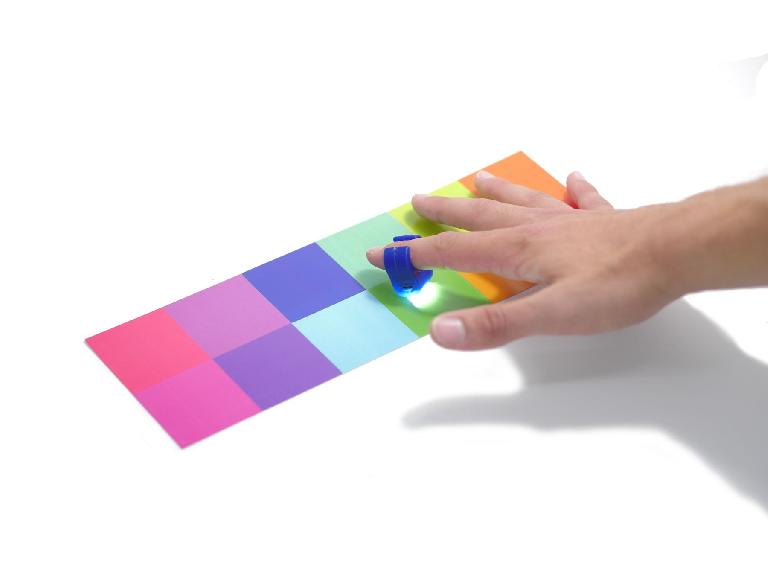 Here's the official press release from Specdrums including some videos that show how it works:
Students at the University of Colorado at Boulder develop smart rings that let you set sound samples to any colored surface
Looking for a musical instrument that fits in your pocket and plays thousands of sounds? A student startup originating at Cornell University and now at CU Boulder has developed app-connected musical rings called Specdrums (www.specdrums.com) – and on August 16, they'll be available for purchase on Kickstarter. The rings turn the world's colors into sound, allowing you to tap on different shades to create an infinite combination of tunes. You can play them on any colored surfaces like your clothes, drawn and printed- out keypad designs, or any objects you find around you.
Why Specdrums?
Unprecedented portability: By turning any colored physical object into a sound trigger, Specdrums give you the freedom to make music anywhere. Instead of tapping on a screen, users can reliably drum on real objects in any configuration they desire. The rings can also be connected to other apps such as GarageBand or Ableton Live for more advanced musical composition.

Smart, connected musical tool: Because they're low storage, low budget, and immediately enjoyable to children, Specdrums can be used in the classroom as a new music education and STEAM tool. Children can learn musical pitches with the help of color recognition, arrange colors in order to play a song, and create their own instruments by coloring sketches or cutting out construction paper.

Democratizing music: Specdrums turns ordinary tapping into music, allowing people of all ages and musical backgrounds to create beats and melodies. Users can record sounds into a loop, which can be saved and shared with others who can then contribute to them, enabling a collaborative musical experience.

Open-source applications: Specdrums has provided an open-source iOS app and MAC OSX & Linux Python library, making the rings a programmable Bluetooth LE sensor suite.

"Growing up as a drummer, I would tap on everything whenever I was away from my drum set," shared Specdrums Founder Steven Dourmashkin, Cornell University Mechanical Engineering graduate. "I was determined to create the most portable drumming machine, capable of turning my taps into real percussion sounds. But what we've created is more than just a drumming tool – it's a new instrument that makes musical creation in general more accessible, welcoming, and fun."
Here's a video showing two friends collaborating using Specdrums with Apple GarageBand for iPad:
A more beautiufl piano-based piece using Specdrums:
After two years of design and product development, nine major ring iterations, and one issued patent, Specdrums are ready to be brought to consumers. The rings have been validated through a small manufacturing round of 100 rings, sold to the company's first beta customers. Now Specdrums hopes to raise $15,000 on Kickstarter to fund higher- volume manufacturing, which will lower the price of their rings and make them available for everyone. A limited number of early bird rewards will be available for $29 per ring, which are expected to sell out on the day of their launch. The normal pricing will be $39 for one ring and $74 for two.
You can sign up to receive an alert the second the campaign launches on Aug. 16:
http://www.specdrums.com/signup
You can also view the most up to date Kickstarter page:
https://www.kickstarter.com/projects/364756202/375907129?ref=preview&token=a7d 50646
ABOUT SPECDRUMS
Specdrums, Inc. is a music tech company that develops app-connected musical rings in Boulder, CO. Founder Steven Dourmashkin created Specdrums to allow tapping to be transformed into real musical sounds, making drumming and musical creation more accessible to people of all ages and musical backgrounds. As a Masters of Engineering graduate from Cornell University and a PhD candidate in Aerospace Engineering at CU Boulder, Steven is determined to make Specdrums a reliable, powerful new hardware device and is just getting started developing new electric musical instruments.