ERA-R from Accusonus is what they call a dereverberation plugin. Simply put it removes reverb from audio recordings. While there's other plugins what offer this funtion, Accusonus tells us theirs is the first that employs a simple one-knob approach.
Should you find yourself in need of removing unwted reverb due to recording in a room with poor acoustics, then ERA-R could be the plugin for you. Here's what they tell us about it.
Accusonus Inc , artificial-intelligence specialists and developers of music software tools such as drumatom, Regroover and ERA-D release ERA-R .
When you find yourself recording in a room that just sounds bad, there's nothing you can do to keep mediocre room acoustics away from your sound. In these cases, reverb contaminates the performance and messes up the sound quality. That's when E RA-R comes to the rescue!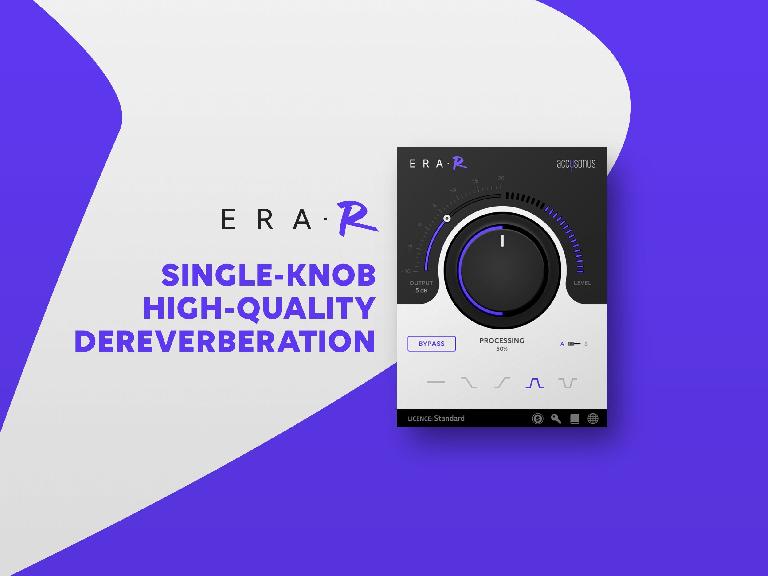 ERA-R is the only plugin that attenuates or removes excessive reverberation with a single knob. Based on the accusonus multi-patented audio restoration technology, ERA-R automatically estimates the reverberation profile and offers the means to adjust the reverberation amount via a single control. The plugin also provides 5 spectral band presets that allow frequency-focused processing. Use ERA-R to:
Repair location recordings

Clean up your dialog or voice tracks

Tighten up your music performances

Add clarity to your mixes

Remove the recorded room before adding artificial reverberation

Other ERA-R usages:
Remove/reduce reverberation from stems

Tighten up drum patterns

Suppress long tom tails to improve your drum sound

Perceptually bring the dominant sound sources closer to the microphone

Change the direct/reverb balance in a mix

Tighten up you acoustic guitar sound and control the guitar body resonances

In response to the users' requests, accusonus extends the ERA-N and introduces the ERA-R intro pricing until April, 24. Also accusonus introduces 2 new bundles (Single-Knob Pack, ERA bundle) in their Enhancement and Restoration of Audio (ERA) product line.
Accusonus Enhancement & Restoration of Audio (ERA) Product Line
ERA-R (AU, VST, AAX for Win and Mac) is immediately available at an intro price of $39 (Regular Price $59)

ERA-N (AU, VST, AAX for Win and Mac) is immediately available at an intro price of $39 (Regular Price $59)

The Single-Knob Bundle (includes ERA-N, ERA-R) : intro price $59 ( Regular Price $118 )

ERA-D (AU, VST, AAX for Win and Mac): $299

The ERA Bundle (includes ERA-D, ERA-N, ERA-R)1: $339 (Regular Price $417)