We've been led to believe that headphones are the solution if you don't want to disturb your next door neighbors or those even closer by in the same room. But perhaps there's another solution? Enter the 'A' speaker.
Now before we go deeper into this, there is a directional speaker we've already reported about on AskAudio called Hypersound Glass. But, 'A' Speaker has had many endorsements and patents granted to it since its announcement and official IndieGoGo campaign was funded by over 600% (to the tune of $228,369 USD) back in April 2016. The number of endorsements appears to be impressive. Of course, without actually trying it out we can't say how good it is or whether it's suitable for professional studio applications but it might be worth a look if wearing headphones is getting you down.
'A' Speaker by Akoustic Arts is apparently "the world's most advanced directional speaker". It works by creating a beam of ultrasonic sound to focus on a precise area. In short that means it can direct sound into your ears from across the room without anyone else hearing it. The beam of sound has a range of approximately 10 meters.
The creator of 'A' Speaker is a composer and acoustics researcher, so we're hoping that the sound will be as high-fidelity as possible as well as effectively eliminating noise pollution.
Here's an interesting demo video playlist of 'A' Speaker in action:
There is some sound leaking when the microphone is moved to the edges of the screen/beam. It'll be interesting to experience what that sounds like to the listener and to others nearby.
'A' Speaker comes in two flavors. A Original and A Junior. The difference is simply the size of the speaker and price: 'A' Original retails at $890 and 'A' Junior at $550 USD. It connects via a 3.5mm mini-jack... so, we're curious to know when Akoustic Arts will make a wireless version to accomodate Apple's rejection of the standard headpone jack since the iPhone 7 was announced. Time will tell.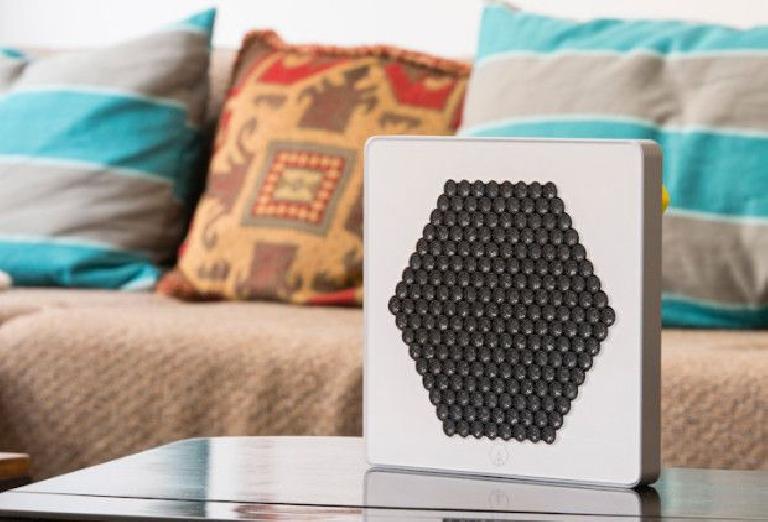 The one main factor for producers with the current version is that it mixes stereo signal into mono. However, Akoustic Arts do also suggest using two of their speakers will provide 3D sound. More details in their FAQ.