Jan Ostman of DSP Synthesizers has dabbled with tiny solutions for musicians with his Tiny-TS synthesizer a truly miniature but playable synth. And now he's created something small but very useful for studio musicians looking to hook up their DAWs to their analog synths and eurorack systems that don't have MIDI.
Jan contacted us to let us know more about the DSP Synthesizers USB-MIDI2CV which he is now selling on his website for $40.
If you have an Analog synth without MIDI or a Eurorack synthesizer you might get into trouble trying to connect it to your favorite DAW. Not any more. It's just a matter of having the right cable.
The DSP Synthesizers USB-MIDI2CV adds MIDI to your analog synth or eurorack from a USB-MIDI interface. And it works from any computer/phone/tablet.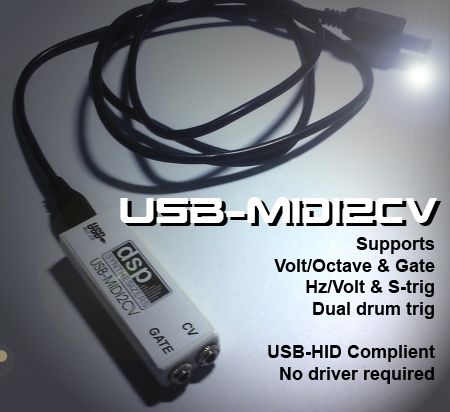 Features:
USB-HID compliant, no drivers required
Volt/octave 5 octaves output for notes with pitchbend on CH1
Hz/volt 4 octaves output with pitchbend on CH2
5 volt gate/S-trig output for key on/off
Dual drumtrigger output on CH10
3.5mm jacks for CV/Gate
Micro-USB jack for computer/phone/tablet