This New FL Studio LogicKeyboard Has 138 Shortcuts Built In
Speeding up your FL Studio workflow could be down to remembering those keyboard shortcuts for functions you use often when recording, arranging, and mixing. This keyboard is going to help!
The ASTRA FL Studio backlit keyboard from Logickeyboard, features a slim-line black keyboard with low-profile scissor-switch keys for a light, responsive feel.
FEATURES ( US / UK / QWERTZ)
The ASTRA series keyboard includes five selectable back-light levels and two USB 2.0 ports to enable you to connect e.g. your mouse, shuttle or a USB-dongle. There are two USB connectors to the keyboard. One for the keyboard itself, and one for the USB hub. This ensures trouble-free operation for the hub and connected peripherals.
Backlit keys
Dimmable light with five selectable levels
Built-in dual USB-ports 2.0
Scissor-switch keys
Color-coded labelled shortcut keys with graphical commands
Compatible with Windows 2000, XP, Vista, 7/8/10
Dimensions - 17 5/8" x 6" x 11/4" (446mm x 150mm x 30mm)
Net weight - 2.1 lbs (950 grams)
Number of keys - 104 (ANSI version) 105 (ISO version)
Manufactured for 10.000.000 keystrokes per key
1.8-meter-long cable with separate keyboard and hub connections (avoid interference with USB extenders)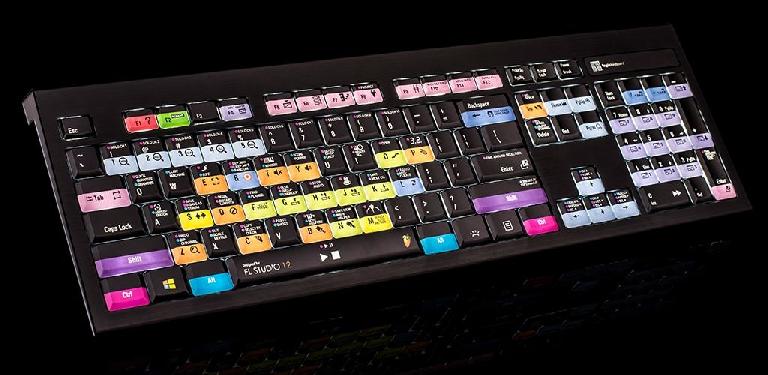 Explore all the FL Studio shortcuts here
The FL Studio dedicated Logickeyboard, also features all the regular letters, numbers, and symbol labelling that you will find on a conventional keyboard, it can simply be used as a substitute for it. Easy to set up and use. No software required.