This Hand-Made Wooden Synth Stand For Behringer Model D Is Stylish, Ergonomic & Affordable
Designing a wood stand for your synths and MIDI controllers need not be a vanity project. At the end of the day it needs to improve on functionality and design. Enter Keystand for Behringer Model D.
So you want that Minimoog experience on budget? With the Behringer Model D analog synthesizer you're halfway there. But what makes the original Minimoog so playable is having an integrated keyboard. With these high-quality, built-to-order wooden stands, you can give your Model D its own ergonomic home with an accompanying MIDI controller too. Plus it looks really nice.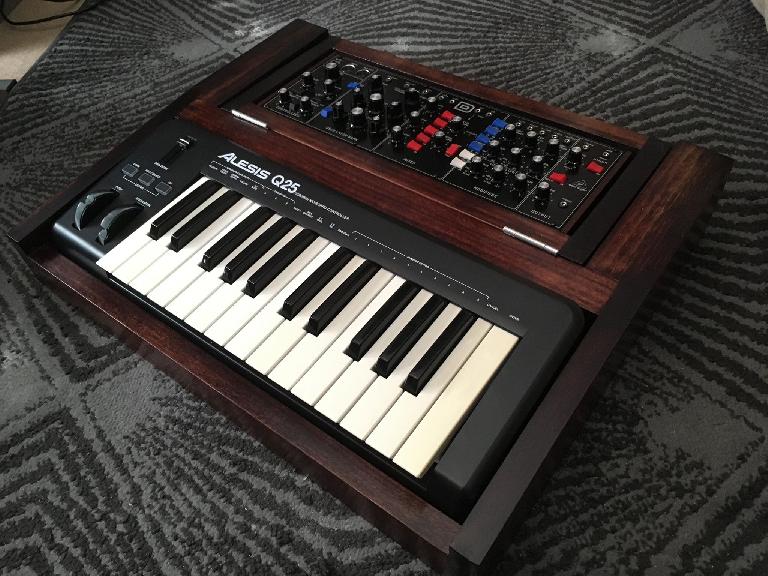 Currently, Keystands are available in three varieties, all designed to fit the Behringer Model D and either the Alessis Q25 & Q49 MIDI controller keyboards. (The Arturia KeyStep + Behringer Model D version is coming very soon).
Sly Field, the maker of KeyStands, contacted us to tell us more how Keystand originated. With 30 years under his belt playing synthesizers, he wanted "to design & make some kind of usable housing or stand for [his] Access Virus". With there being no equivalent product already on the market he decided to make his own. Ideally he wanted something "strong & versatile so that I could move modules & drum machines in it as & when I wanted to. I even use it the 49 to house my Roland TR8 sometimes, its really handy!"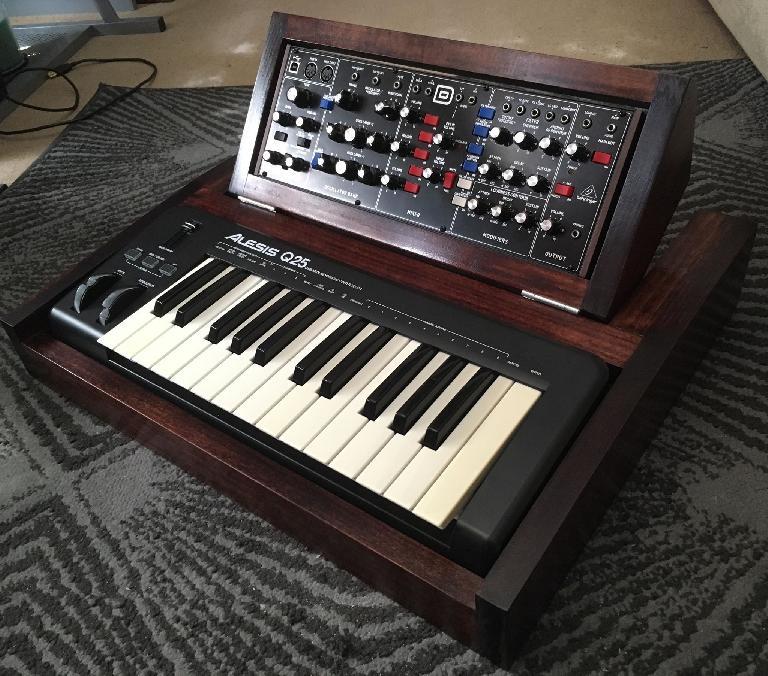 Together with old school friend, Ashley Bateman, they designed two Keystands, a 25 & a 49 key version.
Soon after, Behringer released the Model D which seemed like a perfect fit for the Keystand concept. After posting a picture of one online he got his first order. It took one month to go from a sketch on a bit of scrap paper, to selling a Keystand 49!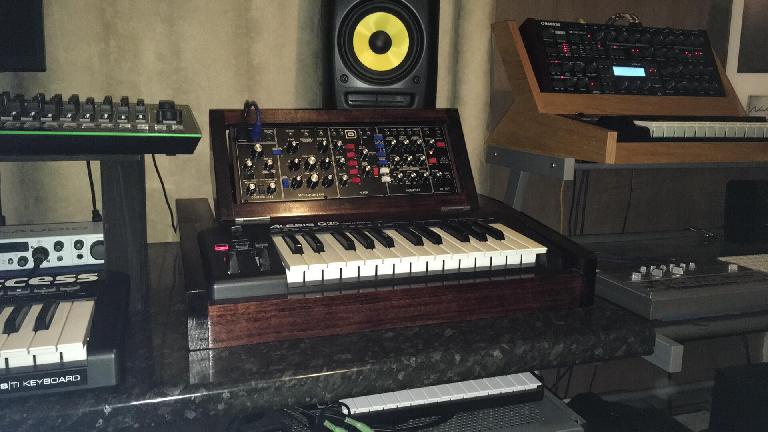 The prime motivating factor behind Keystand was to pay homage to Bob Moog and design a Minimoog D-style keystand for the Behringer Model D with an upright full tilt or flat function that looked incredible. They even got the same wood type for this design. Not only does it look very cool but it works really well in the studio too.
Keystand have another Model D Keystand in the workshop which will use the Arturia Keystep. If you're interested in that version contact Keystand directly to discuss pricing / pre-order.
Keystand 25: 25-key MIDI controller + multiple synths : £99 GBP
Keystand 49: 49-Key MIDI controller + multiple synths (e.g. 2 Model D's) : £125 GBP
Keystand Mini: Behringer Model D + Alesis Q25 (includes tilt) : £159 GBP
All Keystands are made to order.