This Fun $39 Synth Fits In The Palm Of Your Hand
Is February 2017 DIY synth month? It seems to started in that vein. And the Macchiato Mini Synth is small, affordable, fun and kind of cute while being fully hackable and DIY to boot.
This 8-bit synth is small enough to fit in the palm of your hands. What? Am I criticising the size of you hands? Or my hands? I have good hands. Look at the hands. Great hands. Everybody knows my hands are the best hands.. Ahem. Let's start again. Big hands, small hands, whatever. This synth from Zeppelin Design Labs won't discriminate. It's small and it's cheap too. As a DIY synth kit you just need to shuffle $39 in change together. if you're feeling flush or want to avoid an evening of assembling the kit you can purchase it pre-built for just $96.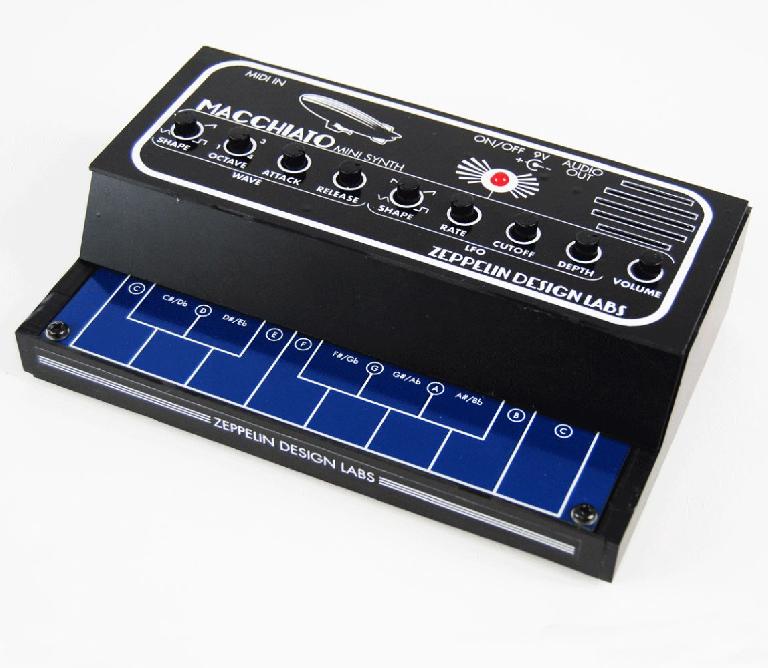 The Macchiato Mini Synth is designed to be an easy-to-use digital synthesizer that is as portable as it is great sounding. It requires 9V DC power, so you can use your own battery or plug-in power supply.
Those into Arduino can hack the open-source software that runs the Macchiato. Alternatively, for the less brave amongst us, you can download updates for the Macchiato for new sounds.
The Macchiato Mini Synth also features a 13-note capacitive-touch keyboard with 2-note polyphony, MIDI IN, and eight control knobs for shaping your sound.
How complex is the Macchiato Mini Synth Kit to build? This time-lapse video shows you:
Features
Capacitive Touch Keyboard, 13 keys, 2-note polyphony
MIDI IN to controll your Macchiato from any MIDI device
Wave Shape Select: Sine, Triangle, Saw, Square
4-Octave Shift: C2-C3 through C5-C6
Adjustable Attack & Release
LFO Shape Select: Sine, Saw, Ramp, Square
Adjustable LFO Rate, Depth and Cutoff Frequency
Volume Control
LED Power Indicator
1″ On-board Speaker
Audio Out — accepts 3.5mm (1/8") TRS or TRRS male jack
ISP Header for PC connection (to upload software updates/mods)
Requires 9V DC power from battery or wall adaptor
The Macchiato has already begin shipping this month.
Price: DIY Kit: $39 / Assembled: $96 USD
[Via: Factmag]