I'm not a fan of McDonalds, or most global fast food burger chains… so it took a lot for me to swallow my pride and post about this. Needless to say, I wouldn't have done so unless I thought this story, and the tech behind it, was very cool.
It is pretty cool.
The McDonalds McTrax looks like any other paper placemat you'd find on the plastic tray of a fast food chain worldwide. But, there's a big difference. This one for McDonalds Netherlands was printed using conductive ink and allows it to be connected to your smartphone via Bluetooth. The smartphone then transforms the placemat into an impressive music production studio controller. You can record your voice, create and sequence beats, play back samples, play a synth, using an XY grid, add effects too. It's basically a paper MIDI controller that is pre-mapped to a powerful audio engine in an iOS app.
I wonder what happens when you spill ketchup (or mayonnaise as this is the Netherlands after all) on the keyboard…? We'd take great relish (sic) in seeing the results.
Do you want fried beats with that?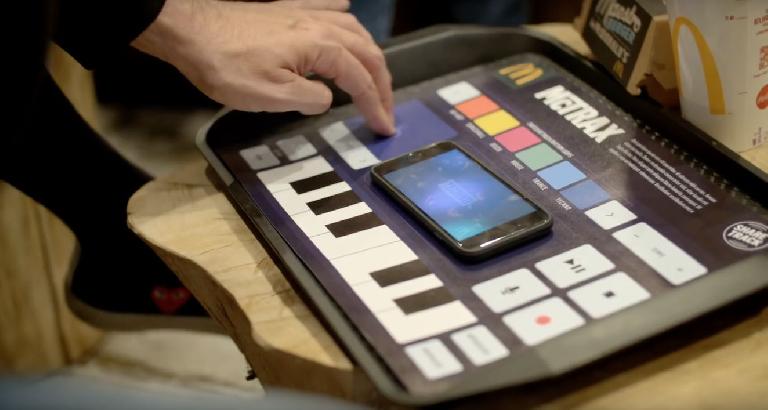 Our friends at AudioKit, responsible for creating a platform for audio synthesis, processing and analysis with live coding are behind the tech. AudioKit 3 allows you to build audio into apps for iOS, tvOS and OS X more easily than before. You might be familiar with their Swift Synth example for iPad.
McTrax is powered by AudioKit, utilizing AudioKit's record, sequencing, and effect processing capabilities, Koert Gaaikema and his team mates were able to create this wonderfully innovative audio application.
Web: http://audiokit.io