This Expressive Analog Touch Synth, Hyve, Now Available On Kickstarter
We've seen the Hyve Touch Synth in action and we've been left very impressed. The only question we had was when we could get this 60-voice polyphonic touch synth... and now the answer is here.
We've been following the progress of Skot Wiedmann's Hyve Touch Synthesizer since we first heard about it in early-ish 2016. Back then Skot was holding short workshops where delegates could build their own from the assembled parts he supplied along with a beautiful hardwood enclosure. So, a DIY analog synth?... Well Hyve is so much more than that.
Hyve is a 60-voice, polyphonic expressive synthesizer. It's fun to play, but thanks to its capactive touch sensitivty the smallest touches can have interesting results. So, yes. We're talking about gestures. At a time when the ROLI Blocks, Linnstrument, Joué and others are embracing gestures and interesting ways of interacting with an instrument, Hyve is perfectly placed to bring this to the masses. Here is a link to its Kickstarter page.
Hyve is now on Kickstarter, which is something we've been waiting for... And the good news is it's available both as two different DIY kits and as a self-assembled unit. The prices for both are reasonable, especially considering what you're getting.
Hyve Synth Hacker Kit is $79
Hyve Synth Maker is $149 (no soldering required)
Hyve Premium (self-assembled) is $299
Here's more info about Hyve from the Kickstarter page: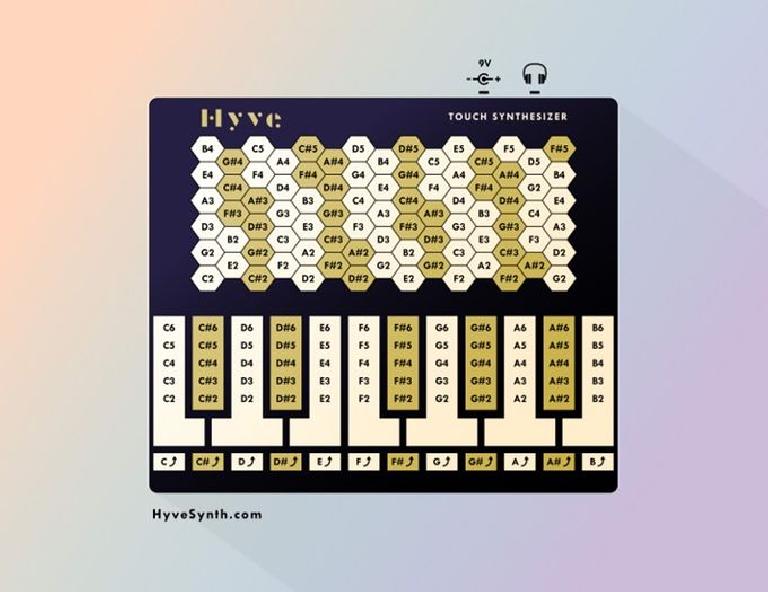 Notes on the Hyve are arranged so that you can easily explore harmonies and tone combinations with small movements of your finger.
The bottom half is arranged like a piano keyboard. Each key senses pressure, vertical position, and horizontal position. Moving vertically allows you to sweep through octaves and harmonically combine them into evolving tones. Horizontal movements push the sound right and left in stereo. Touching the bottom row causes a pressure-controlled pitch bend.
The top half uses a hexagon grid to put notes that sound good together right next to each other. Every adjacent note is harmonically related: straight up is a perfect 5th, up to the right is a major 3rd, and up to the left is a minor 3rd. This means that one finger can play a chord and slide to the next chord in the song. Each hexagon also senses pressure and horizontal position like the bottom half.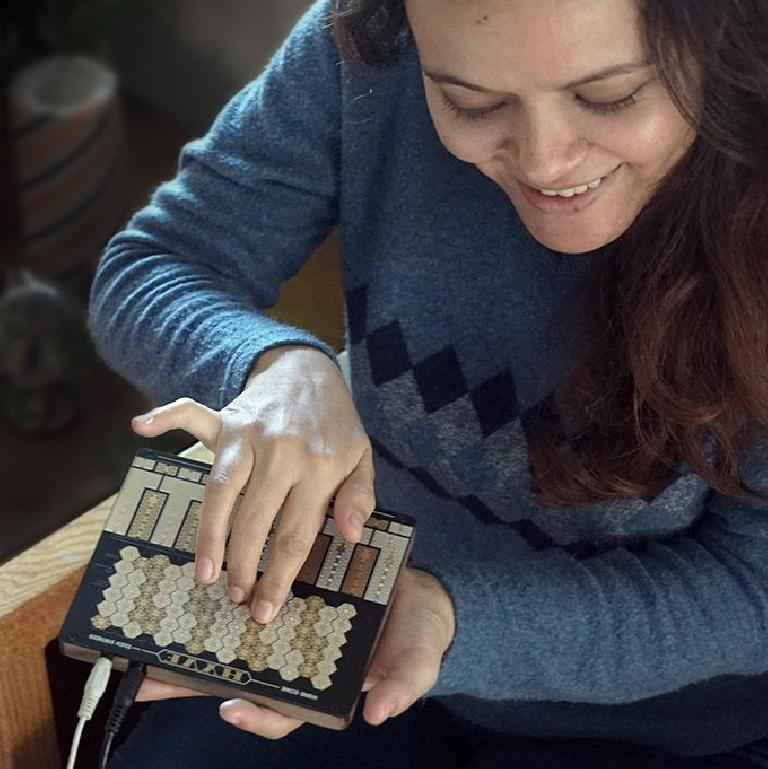 The Hyve was designed to be immediate and accessible. You don't need to know anything to start touching sound.
Plug in power and headphones
Touch the surface
Slide and explore
Hyve combines tech and arts concepts into a tactile playground for sound.
Durable - No fragile glass screen
Goes with you everywhere - 40 hour battery life
Explore musical intervals by playing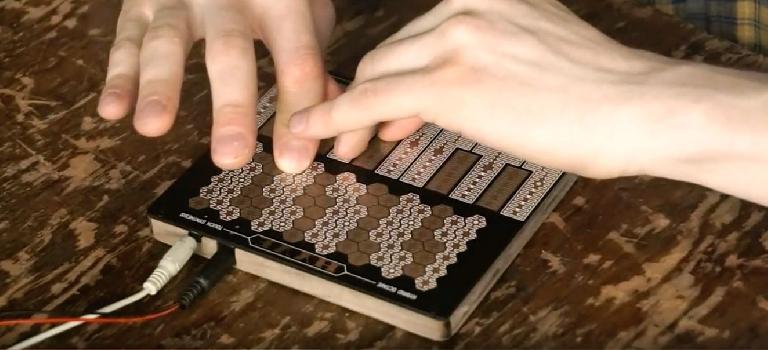 Tech specs
Dimensions: 153mm x 127mm x 13mm (6" x 5" x 0.5")
60 note polyphony
Responds to horizontal position, vertical position and pressure for each key
Input: 9V DC 5.5mm barrel connector (7-18V input voltage compatible)
Output: 3.5mm stereo headphone jack
Extremely low power, average 15mA
10 SOIC ICs, 24 1206 resistors, 18 1206 Capacitors, 1 1206 diode, 12 trimpots, 2 connectors