Axel Bluhme describes how the XOXX Composer can work to record sounds and then play them back and sequence them like any good drum machine should. Although in this case we're talking more like a sampler and sequencer in one.
"Capture sounds from your surroundings or pick samples from records and then play them back on the XOXX Composer by placing the magnets on spinning discs. Simply let curiosity and creativity lead the way to quickly create unique beats away from the computer screen."
So, the screen-less approach to making beats or patterns is hardly new (I'm looking at you Ableton Push, Launchpad Pro, Korg Volca, etc), but the the use of magnets in the XOXX Composer gives it a mechanical, kinetic approach which is unique.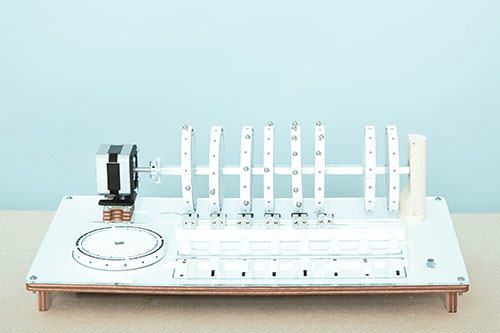 XOXX Composer by Axel Bluhme
Axel, who's project is a result of a programme at the Royal College of Art's with an emphasis on de-constructing, de-composing, de-programming machines. The XOXX is powered by an Arduino Uno that "controls the stepper motor and thus the beats per minute. The volume sliders and effect knobs are working through MIDI."
(Via: Electronic Beats)