This 808 Drum Machine Is A TR-808 Clone For Your Eurorack Modular Synthesizer
If you've ever wished for a Roland TR-808 that'll fit nicely into your 60HP Eurorack modular synthesizer then you're going to love this new 808 Eurorack analog drum machine from System 80.
Toronto based synthesizer outfit, System 80, have unveiled what looks to be the eurorack synth module of 2017. Their 808 Eurorack is a clone of the classic Roland TR-808 rhythm composer. It looks and sounds (from the 30 second demo at least) to be a very well constructed and sounding drum machine indeed.
While Roland themselves have created their own new version of the 808 in the form of the AIRA TR-8, it uses ACB (analog cuircuit behaviour) which is essentially a digital technology that emulates analog. This new eurorack format 808 drum machine from System 80 is analog. And it's in 60HP Eurorack format.
Although the System 80 website is currently lacking any details, we understand from Muffwigglers via FactMag that this eurorack drum machine module "features 16 fully analog drum voices with individual audio outputs". If this is the case it's impressive as the Roland AIRA TR-8 doesn't have individual outputs.
808 Eurorack includes "a 32-step sequencer, shuffle and roll modes and controls for shaping the individual drum sounds." But it appears there are no CV inputs to trigger drum sounds, so you'll need to use MIDI Din or clock pulse.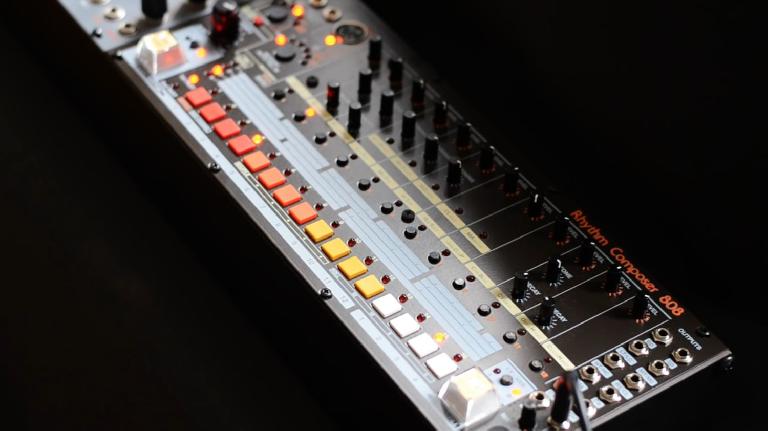 Factmag goes on to say, "The 16 voices are made up of six single voices and five switchable dual voices, and the updated sequencer allows switching between the dual voices (toms/congas, rimshot/claves), allowing it to trigger either voice on different steps of the same sequence. It also has two assignable trigger outputs, and has two on-board memory banks capable of holding 16 patterns each."
Although the price hasn't been announced yet, if you're looking for something in the friendly Roland Boutique price range you'll likely be disappointed. We're expecting a summer 2017 release and are hoping to get hands on with this at Superbooth (if System 80 are there of course!)
Sign up for the newsletter on the System 80 website to be kept in the loop.
Interested in the Roland Boutique synths? Check out these video courses