Third Son Talks Writing & Producing Latest Album 20 Days In... 20 Days
Having released 20 Days back in May to international acclaim, Third Son is back with the remixes of his debut album. Here he talks about his creative approach, production considerations and more.
[All photos credit: Sandra Seaton]

AskAudio: Hi Third Son, tell us about some of the artists and genres that have inspired you on your musical journey so far.

Third Son: Oh God, we'll be here for a while. I moved over from bands to electronic music with the help of Radiohead I suppose. Then got into some way-out stuff by Amon Tobin. Artists like James Holden and Simian Mobile disco have always kept me coming back to club stuff throughout the last 7 or so years. I always saw them as having a band-like feel to them somehow. Their music can be stripped but also extremely powerful at the same time.
20 Days was written and produced in 20 days. Why 20? Was this a "first thought, best thought" approach to the creative process for you?
I make so much music and I've always worked quite quickly, I thought, how long would it take me to feasibly make a really good album. 30 days seemed hard, 10 days impossible. 20 days might kill me, but it also might just be do-able.
How different do you feel 20 Days would have been if you'd have spent more time, maybe unlimited time on it? Is working within a limitation helpful for you personally and will you consider this approach again for a future release?
I honestly don't know the answer to that, but I like to live in Schrodinger's cat scenario. I would have likely tweaked endlessly and pondered and overthought certain things. This approach forced me to be resourceful, which focused the sound. I didn't have time to second guess myself, which made it honest. Creatively it's not the worst thing.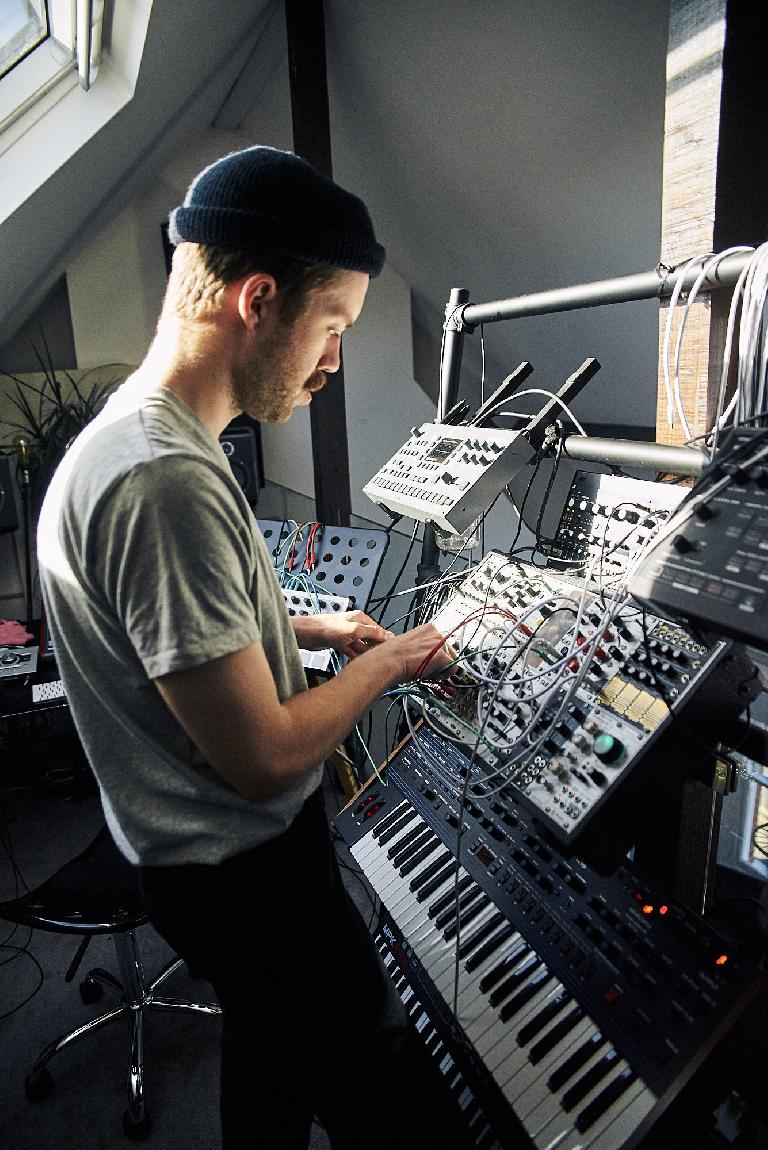 20 days later and Third Son çan't stop making music on his modular synth setup. [credit: Sandra Seaton]
There's distinctive movement through 20 Days, so many interesting grooves and sounds bouncing in and out. Do the grooves come to you in your head or when you're working in the studio?
You know there are times when you can just be idly working, and then you suddenly snap out of it and think, what does this track actually NEED here. At that point I'm listening to what's down and coming up with ideas in my head. Next I'm playing and recording them on the keyboard or modular synth (which takes that little bit of extra time). I think that's the only way to do it. Let a simple beat play and imagine what could work. Then vomit it up.

What is your DAW of choice and why?
Ableton Live 10. It's just so quick.
Tell us about the software plugins and tools you use :)
I use a lot of Arturia plugins, their remakes of classic synths. They're actually great. For processing I like the Slate Digital stuff and Soundtoys. I'm sort of done with UAD stuff now. It feels like it hasn't really come on in the last decade.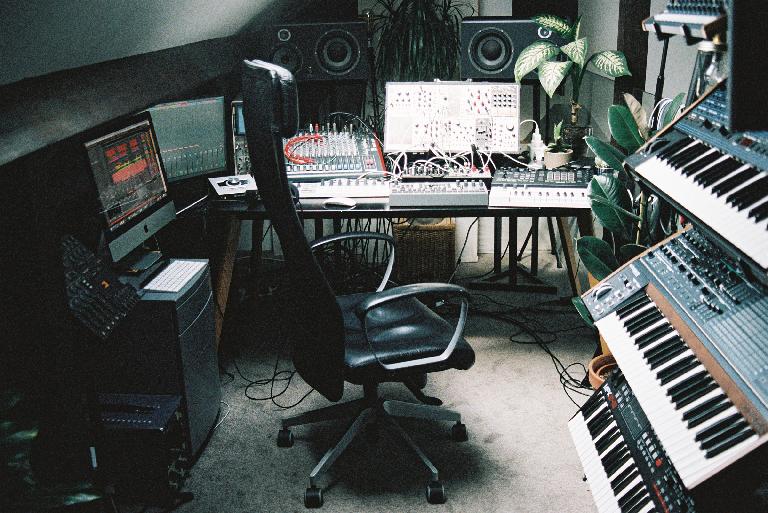 And, what about hardware… synths and other hardware you find essential as part of your studio workflow.?
I've sized down my studio a lot in the last year, and that's been really helpful. Going back to what you said earlier about creative limitations, there's nothing more terrifying than unlimited options.
I use my modular for nearly everything - just a 6U case and another skiff. You'll hear the OB-6 crop up in most of my tracks, and I recently got a Yamaha DX21, which I'm loving. I'm trying to get hold of stuff now that not everyone has. I passed on a lot of my Arturia hardware, and I don't have any plans to pick up modern Korg or Roland stuff, although the bang for buck is certainly impressive. I won't mention Behringer…
There's a number of songs on the album, like Surge featuring C.A.R. For you creatively do you get lyrics, melodies or beats first when you start creating these tracks?
All the songs on the album were music first and vocals after. I was lucky enough to work with artists who could just churn out great vocal lines, and lyrics too.
What do you have planned next now that (it seems) the pandemic situation is calming down…?
There's a string of remix packages coming out, which I'm very excited about. London Modular Alliance, Kincaid and Kilig are kicking those off. Then working on my next idiotic idea?
Any tips you'd like to offer upcoming producers and musicians?
Jump in, head first. It's the only way. And work really hard. No mastering plugin will save average music.
LINKS
Third Son - 20 Days Remixes Vol 1. feat. remixes from London Modular Alliance, Kincaid and Kilig is released 14th August 2020 on Polymath with the pre-order link.
Third Son '20 Days' LP Released 20th May on Polymath:
Facebook | Instagram | Spotify | Soundcloud