These Controllers Turn an iPad Into A Tangible Modular Music Synth & Sequencer
Now you can get physical controllers you can place on the surface of an iPad that gives you control over the sound of the Rotor iPad app designed by the Reactable team.
If you think about it, MIDI or music controllers are usually one removed from the instrument, whether that be a virtual plugin instrument on your computer / iPad or a controller for a hardware instrument. What if you could place your controller on the instrument itself? This is a clumsy and limited way I can introduce the rather incredible new music making concept from Reactable, Rotor.
You may remember the original Reactable as a round table top electronic musical instrument that was operated by placing blocks on the table, and interfacing with the visual display via the blocks or with your fingertips. Bjork made excellent use of the Reactable on her 2007 tour, and "captivated Coldplay and Gui Boratto".
Rotor brings this kind of experience to the iPad. The "tangible controllers" or blocks are purchased separately from the app store, of course, and come in pairs. They bring the "experience of the reactable for the first time to the iPad! This means that while all standard multi-touch capabilities are preserved, the ability to control any parameter by moving and twisting our tangible pucks over the iPad's surface, brings 3 additional degrees of freedom to each hand! ROTOR can be perfectly used without the controllers."
Reactable tells us that Rotor is not a conventional sequencer, DAW or synthesizer. Instead it incoprates elements from all three. It includes "dozens of modules, among instruments, audio effects, modulators and controllers, which can be linked all together using a flexible and unique routing system, for creating the most expressive and intricate patches. It is an unprecedented multitouch/tangible instrument specially designed for live interaction and performance." So, if you think of it as some kind of modular music machine with physical controllers and intuitive interaction capabilities for live performance on iPad then you're pretty close to understanding Rotor!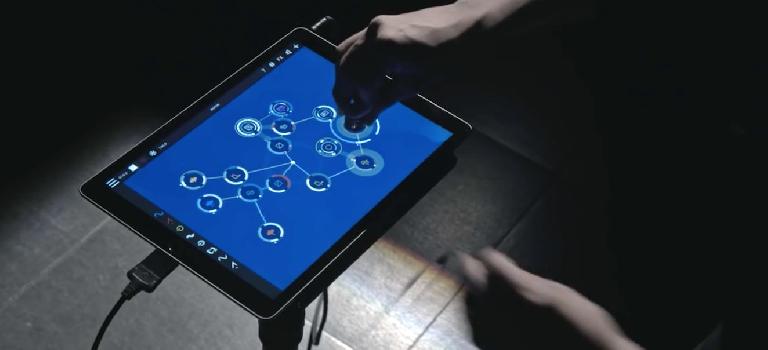 Here's a demo of Rotor being used to re-create the Stranger Things theme track:
Key Features
Automatic real-time key detection of your loops and wavefiles, allows to play them either as masters, thus determining the tonality of the whole session, or as slaves, thus adapting them to this computed tonality.
Up to 9 simultaneous voices using loops, samplers, synthesizers and line input, plus any combination of effects and controllers.
Create patches on the fly combining up to 24 simultaneous modules. Modulate any parameter.
Control everything using multi-touch gestures plus the optional ROTOR controllers (can be purchased separately).
App-to-App audio routing using Audiobus. Import/export audio samples with other apps using the pasteboard.
Ableton Link integration allows to play in perfect sync with Ableton Live running in your laptop, as well as with other Ableton Link compatible iOS apps running in other devices. Combine multiple ROTOR instances running on separate iPads.
Change the tempo of your session without affecting its pitch.
Additional Swing and Tap tempo control.
The automatic real-time key detection of loops and sound files can also be applied to ROTOR's synths, samplers, sequencers and virtual keyboards, insuring that no note will ever be out of key.
Configure manually up to 6 additional tonalities or chords, that will also affect the tonal content of keyboards and sequencers.
Record and save loops on-the-fly and integrate them into your performance, without interrupting the music and creative flow. Save them for exporting them to other applications.
MIDI IN settings allows any object to receive external control from a different user-selectable MIDI port/channels.
Use the iPad accelerometer for controlling any module parameter.
Use ROTOR 100+ exclusive loops or import your own, in WAV or OGG format.
Use ROTOR 100+ sampler presets or import your own in SF2 format.
Contextual help and 100+ pages interactive manual with 30+ demos and tutorials.