Funded on Kickstarter within 3 hours, the new TheoryBoard Thy333 is an updated version of the original TheoryBoard that also caught the attention of the music production community in a big way. Here's what's cool about the TheoryBoard Thy333 MIDI Controller (which at time of writing has reached pledges of over $64,000 in just over one day (the goal being $10,000)!!
The company Irijule has just announced the release of an updated version of the TheoryBoard (a music theory MIDI controller) through Kickstarter. The campaign just launched and they have already funded their goal in 3 hours (raising 53k in the first day). The TheoryBoard Thy333 is undoubtably going to be a game-changer for the music production scene. The original prototype was shown in late 2017. Although innovative and interesting, it appeared to be more of a DIY project not ready for mass adoption (the original KS raised 244k). It's pretty obvious that Irijule has been putting some serious work into developing the technology into something truly revolutionary and market ready.
Irijule's Co-founder and CEO Evan Swanson explained, "The idea started pretty simple. I wanted the ability to pick any scale and to have access to every note and chord within it. As we continued to develop the product it grew into something more powerful than I had originally envisioned".
Powerful might be an understatement for what the TheoryBoard can unlock for anyone making music with it. First of all, you don't need to know anything about music theory in order to start using it. You can just hop into a scale and easily play in key. Every chord and note is correct so it's impossible to play a wrong note. This is a huge advantage for someone who is just starting off. Removing this learning curve can save someone years of time, jumpstarting their ability to produce high quality music. Also, the color-coded system is a brilliant/intuitive way for the user to explore harmony and melody.
It appears that with the addition of the new features, the TheoryBoard can also be just as useful to seasoned producers. Where should I even begin? The control panel allows full control over every chord. Move or stack octaves of chords, spread them out by dropping the root note, or voice them in any inversion (there's even a guitar voicing that maps the notes like a 6 string guitar). With the ability to mix and match these settings the user has access to over 1.9 billion chord combinations.
The "Live Note Update" section is completely mind-blowing. Whenever a chord is pressed this area auto updates with 4 octaves of the single notes of that chord. This allows you to easily play melody lines over chord progressions without having to reposition your right hand. Irijule said the inspiration for this idea came from the design of a guitar. The strings never move and one hand can send chord shapes to the other... brilliant. You can choose to have the chord play or it can be muted (so it's only sending note data over to designated area).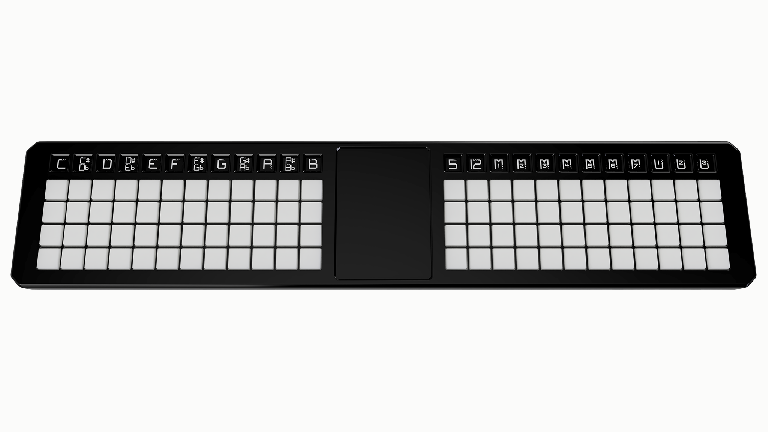 Impressed yet? If not, let's discuss the hot keys and see how you are feeling
after. The addition of 24 "direct modulation" and "modal interchange" hot keys unlock some of the most advanced techniques of music theory in an easy to use way. In the past you would need a comprehensive understanding of theory to even begin to toy with the idea of these 2 techniques. Any scale that is loaded is accompanied by the 7 modes of that scale. This allows you to cycle through and borrow chords (executing modal interchange) to build new and unique chord progressions. The direct modulation hot keys allow you to shift the root note of the loaded scale to execute on-the-fly key changes. This also makes it easy to find pivot chords that bridge different scales together. There's also a pentatonic, chromatic, and 3 user hot keys for each scale.
It's going to be interesting to see the impact that this controller has on music production in general. I see this adding a lot of value to any producer no matter where they are in their journey.
The TheoryBoard Thy333 is available on Kickstarter.
https://www.kickstarter.com/projects/irijule/theoryboard-thy333-music-theory-made-easy
Want to learn music theory online? The videos you need to watch are here (AskAudio Academy | macProVideo / AskVideo)