The 'Rarest Synthesizer On Earth', Maggi's MCS70, Brought Back To Life
Francesco Mulassano of Soundmit, tells us the restoration of the MCS 70 is a once in a lifetime occurrence. This incredibly rare Italian analog synthesizer has come back to life.
It's exciting news when any rare or iconic synthesizer is restored to a state where it can be played, listened to and enjoyed. And the news on this painstakingly careful resoration of the Mario Maggi MCS70 (the father of the Elka Synthex) is likewise good news for any synth enthusiast.
The original MCS70 had been sitting unusued and damaged for over 20 years. Here's the video detailing the process of restoring the MCS 70:
And if you want to hear the MCS 70 in action. The album Automat by Automat features this synth. Listen to the entire album here:
If you know anything about the synth scene in Italy, you'll likely have come across the founder of Soundmit, Francesco Mulassano. He briefly explains how this process has happened and what it means:
"I have recently been involved in an event of those that happen once in a lifetime.
Two longtime friends, passionate about synthesizers, musicians and technicians, have accomplished a feat deemed impossible.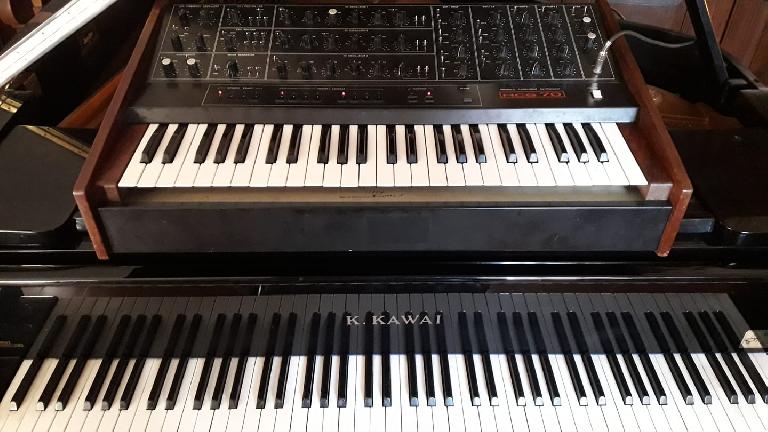 "They have completely restored the rarest Italian synthesizer, the MCS70 designed by Mario Maggi, just him ... the father of Elka Synthex.
"The MCS70 is a monophonic synth with many surprises inside, perhaps the most evident is the presence of the presets! In an era in which microprocessors were not yet widespread, Maggi succeeded in the enterprise of creating the first analog, monophonic synthesizer with memories!
"There is only one MCS70 in the world and has been owned, for almost 40 years, by Patrizio Fariselli, the famous keyboard player of the Progressive Rock band "AREA".
"Recently two friends, one technician (Marco Molendi) and the other a musician (Andrea Manuelli), specializing in the restoration of Italian electronic musical instruments, have succeeded in the impossible task of bringing the instrument back to life.
"According to the engineer Maggi, it is not possible to give technical details beyond what can be seen in the video.

"Personally I was invited by Marco and Andrea during the last phase, that of the toast for the goal reached and in fact I am one of the very few people in the world who have seen, tried and listened to the instrument that, after so many years, remains a jewel of technique and sound.
"Special thanks go to engineer Mario Maggi for the work he has done (and continues to do) in our sector.
"We hope to hear the MCS70 in new compositions soon and hope to see it at Soundmit on November 2020!"
Francesco Mulassano – www.soundmit.com