Reason 9 has been out for a few months now, and we're all starting to get nice and comfy with the new features. One particular feature I'm really into is the Bounce in Place feature for both Audio, and MIDI. In this tutorial, I'd like to go over some of my uses for not just audio, or MIDI. But, the bounce menu, in general!
What's the Big Deal?
First, we should talk just a little bit about why Bounce In Place, in any circumstances is cool. If you haven't figured it out yet, Reason allows you to create pretty much endless gear, effects, adapters, and routes them all just like real hardware. And before you know it, it's very easy to create a stack of virtual gear that really may serve only the purpose of generating a synthetic drum loop, drone, etc. Meaning, you've piled up a lot of stuff, just to make one minor effect. Enter bounce in place.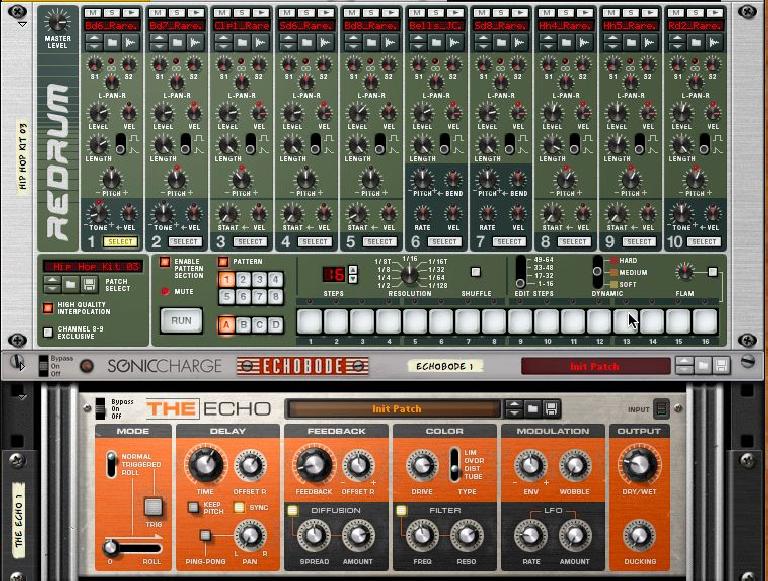 Once a clip has been created for an instrument track, audio track, and so on, Bounce In Place becomes an option.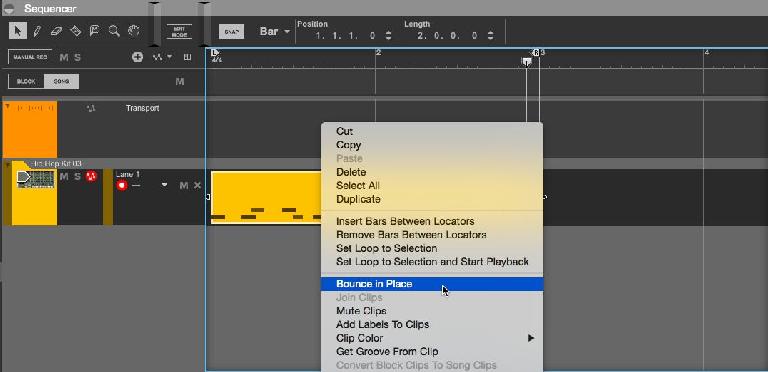 When clicked, all of the Reason devices used to create your current selection remain, but an audio track is inserted into the device chain, right before the main instrument.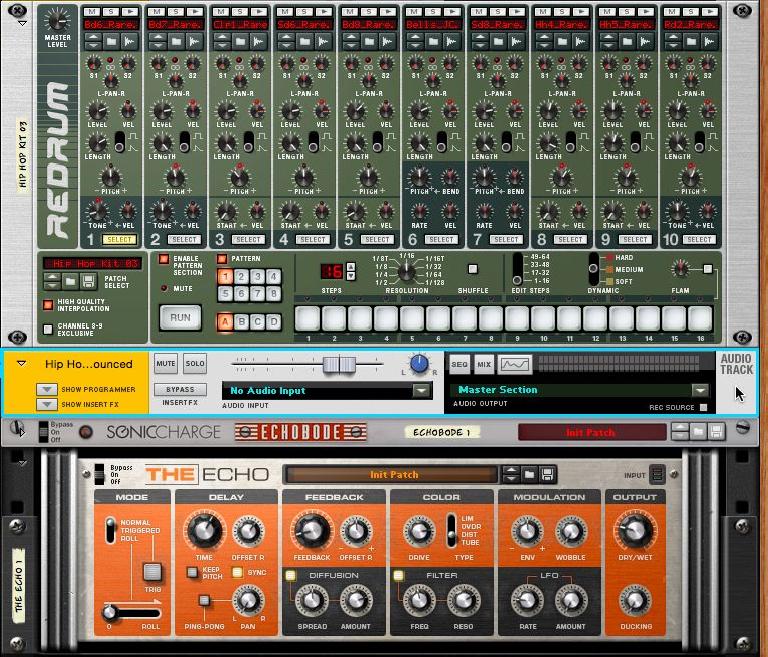 And, in the sequencer, a new audio clip is left sitting there for you, to do with as you like.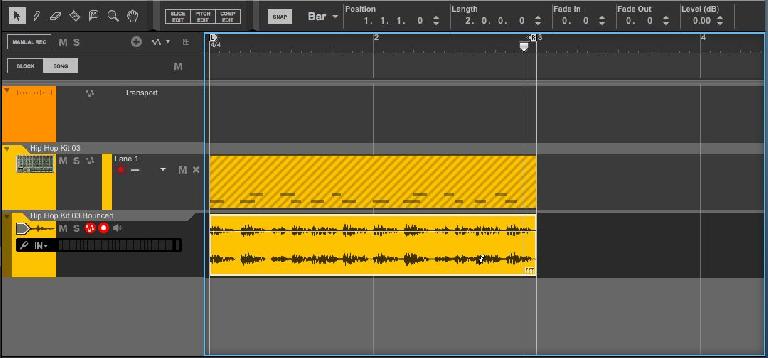 Of course, in the end, we only really need the clip. From here, we can copy, paste and build a groove up from one audio file and jettison the devices we used to create the loop in the first place.
Lots of Ways to Go
Now that we have a useable audio clip/loop, especially a powerful one that would inspire a song to be built around it. But, don't forget that powerful audio files, especially drum loops can always be reused. And this is where I think Reason has become sort of a Nirvana for sound designers. Hiding in the same Bounce menu, as the before mentioned 'Bounce in Place' is the 'Bounce Clip to REX Loop'.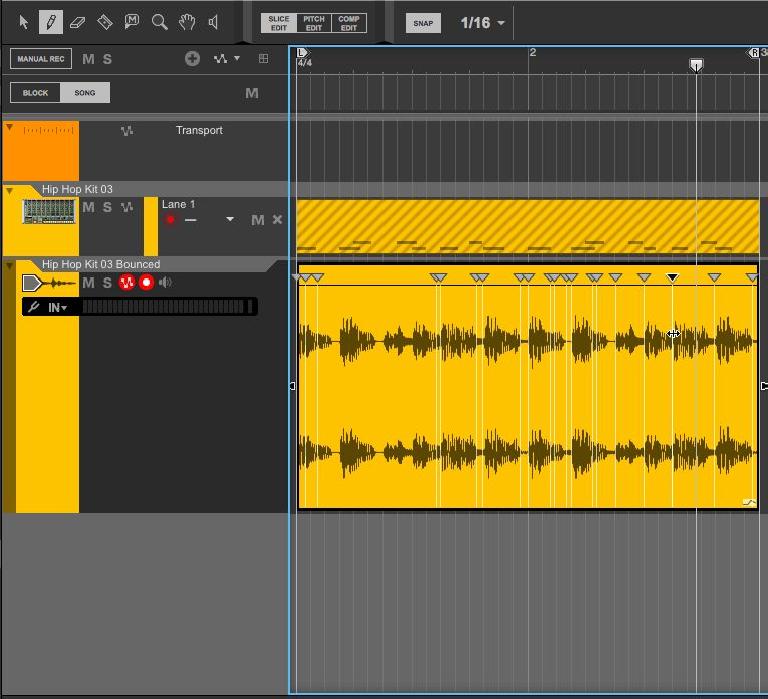 Though, in order to make this last option a reality, and not consistently greyed out, a simple double-click will take you into the Edit window. Here we can see that Reason already has Slice indicators assigned to beats within our loop, so easily created before, with a simple bounce. Now, I can verify my slices, and add in slices, or slice markers that I feel are missing...

Once I have them all in place, and I think the REX loop will play just as good as the audio file, I can now return again to the powerful Bounce menu, within the Right-Click contextual menu. Now, because I'm in the Editor, and I have slices assigned, nothing is holding me back from creating a REX file.

Now, snuggled over in pieces within a directory of its own, we have a REX file. But, remember, a REX file is never just a REX file. With just a tap of the arrow next to the new REX file, within the Self-Contained folder for the song, reveals an entirely new set of sounds, based on the sample loop, then REX, that I just made.
Bringing Back Some Old
Let's not forget that once that REX files have an awful lot of power on their own. And they not only carry the audio of a loop, but also the MIDI. These handy little properties that make the REX files, themselves so cool, also make them multi-purpose. And, allow them to work with multiple instruments. While one would think to use a new REX file with a Dr. Rex, remember that an NN-XT is also quite powerful for REX playback.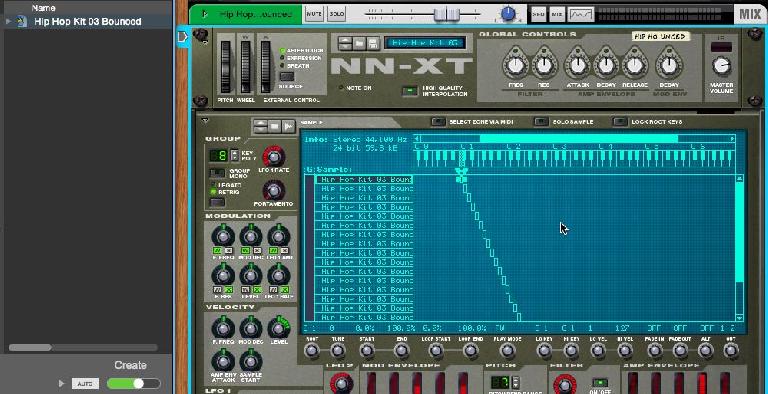 And, it can be quite instrumental in not only helping you tame very raw REX files, but also create some extremely powerful, mapped, velocity mapped and multi-output patches built from a simple loop that we started with a couple of devices...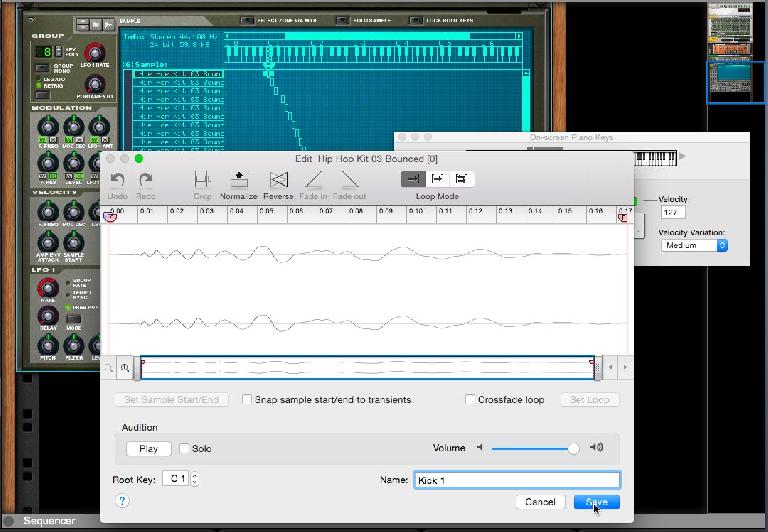 Minor bits of polish in the interface make creating a sample patch, from a REX file, once from a loop, so much more fun than it used to be. Using the Repeat and Hold functions within the Musical Typing interface, I can have Reason repeatedly demo pieces of my loop, now a patch, so that I can fine-tune my envelope settings and dial in samples so that they start and end in a way that suits my style, taste and ear.

In the past, dialing in a patch always meant listening to a sequence over and over again, pressing a MIDI controller, over and over again (being careful not to create a new, or aggravate an old repetitive stress injury once created by pressing a MIDI controller over and over again for years, dialing in patches!). Reason really has something at every turn, now, to assist you in either fulfilling a paying project. Or, simply facilitating a wonderful adventure of sound and enjoyment, where you may have been expecting frustration, as computers, and their programs are wont to deliver.
Combine It
And I think this is where I get the most excited. From the power of a simple bounce, the seed for even a mighty Combinator is possible.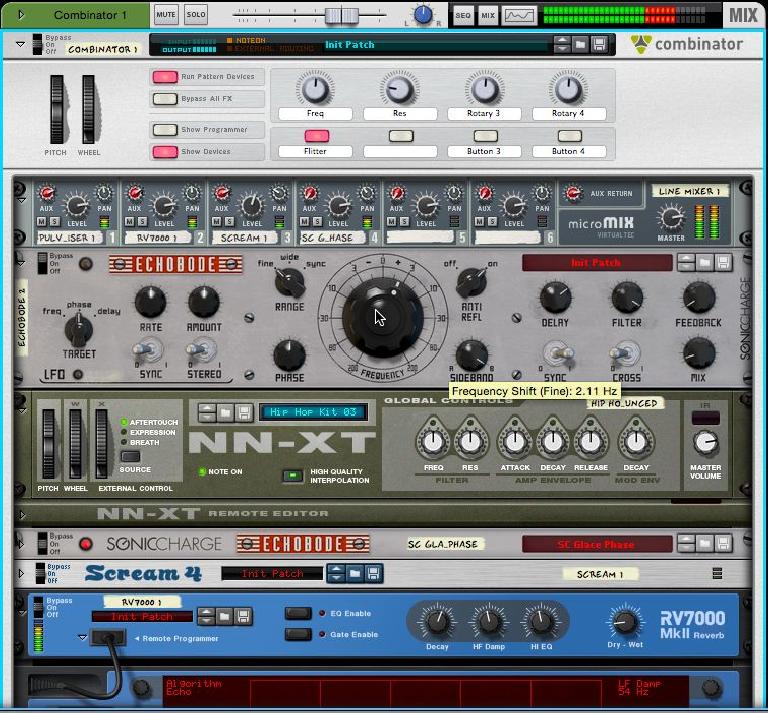 After all, if I've taken a simple loop this far, why not take it all the way? Now, dirtier, more broken up, and with sounds within mapped and routed to additional outputs, which go to sick effects like the Pulveriser and even third-party miracles like Echobode from Sonic Charge, what was once a ticky little loop, that is bigger, wider, compressed. And, rather than adding in more instruments to make my CPU soar. I can just add in more samples. Reason still retains all of the old factory soundbank. Including the old Arp Odyssey waveforms. This is still amazing to me, as by keeping everything, old-time users like myself still can latch on to favorite old samples, elements, oscillators and even longtime favorite patches. All to be brought into current, modern music that I am doing now.
Conclusion
As you can see, a simple bounce, a simple macro export can yield quite an adventure, here, in the new Reason. And, now that the new UI, the new features and the new tools are in, there are like a million and one ways that you can take pretty much any raw source of material.