In 1982 a machine was born that was meant to replace bass players around the world. Sounding nothing like a bass, it was a huge failure and Roland cut production only two years after. What they didn't know was that they had created a machine that would play a vital role in electronic music for decades to come. Single-transistor circuitry gave the TB-303 a distinct and unusual sound that soon found its place in many studios. With only 10,000 units made the TB-303 has become a gem amongst synths, reaching prices as high as $3000, and even higher for special editions. Seeing as not everyone can afford a $3000 plastic box, other companies have stepped in at an attempt to recreate this marvelous machine in all its fullness. Here are a few clones worth mentioning:
Cyclone BassBot TT-303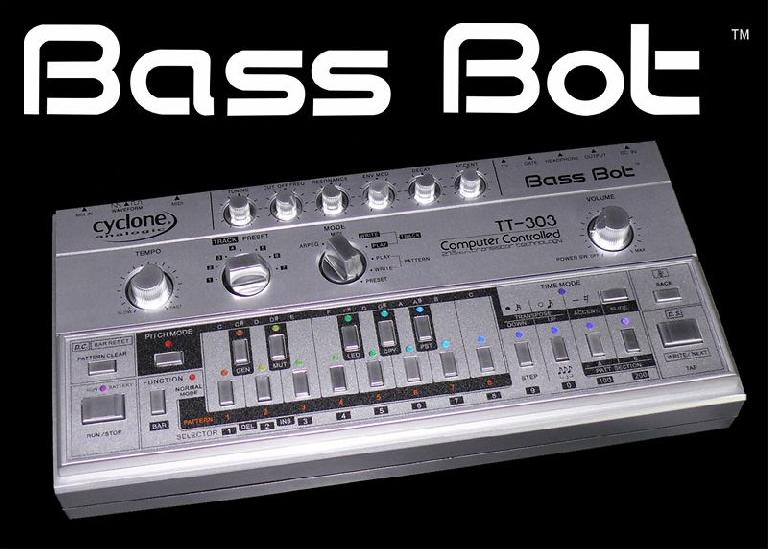 At first glance you might think you've just stepped into the presence of an original TB-303. The layout on the BassBot is identical to the original, the only difference is it says Cyclone instead of Roland. On the front panel we get designated knobs for Tune, Envelope Decay, Filter Cutoff, Resonance, Envelope Modulation amount, and Accent amount. You get one VCO with two classic wave forms – Sawtooth and Square, and it can reach a frequency range between 20Hz-850Hz. The waveform selector switch can be found on the back of the unit just like on the original, and under the hood is real Analog Circuitry. Cyclone recently released the TT-303 MK2, which introduces a new chassis as well as upgrades to the knobs and sequencer. The original MK1 is no longer in production and prices seem to be going up on that as well!
MAM MB33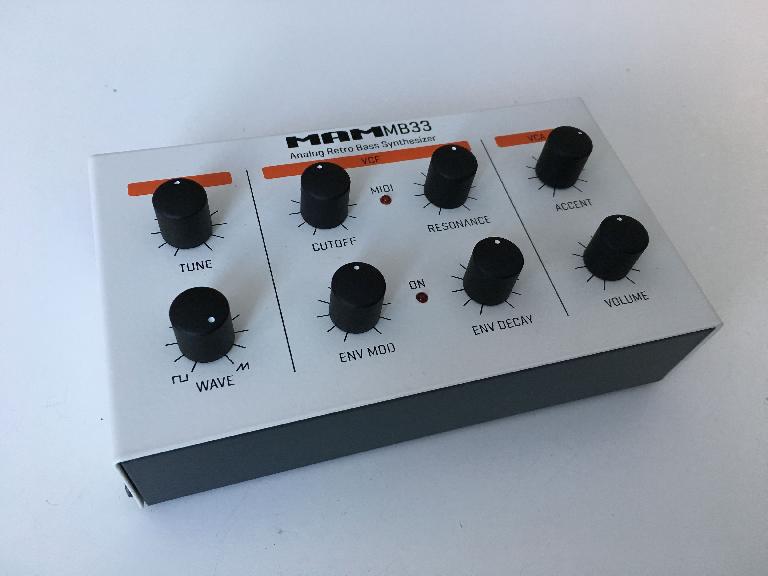 The MB33 was developed by Stefan Schmidt, yes that Schmidt- The creator of the Schmidt Synthesizer. At first glance, the MB33 might not seem like a worthy contender. Its lack of sequencer might throw some people off, but for those looking for a compact form of the 303 the MB33 is the perfect choice. Not only does it have an attractive price, but it has some unique features; one of them is being able to tweak the Cutoff Range and Offset by accessing the trim pots on the back of the unit, which allows for a more precise replication of the TB-303. It also has the ability to morph waves, which isn't seen very often on a synth this size. Another cool feature is once the Volume knob goes above 50% the unit starts to overdrive the sound. Many who have had the chance to get their hands on one of these little guys will bravely say this box is what sounds closest to the real thing.
MB33 can fine tune +/- 50 cent, has designated auto tune, and great build quality. They always seem to be Out-Of-Stock, so if you can get your hands on one, don't hesitate!
Abstrakt Instruments Avalon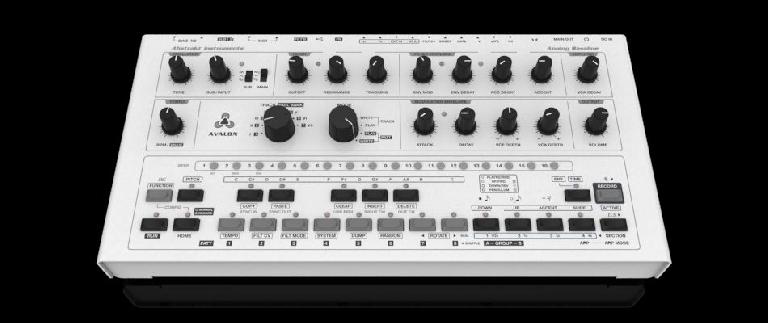 The most expensive of the clones has earned the title of 'Most Capable of Clones' as well. Besides having the six analog controls that we see on the original Bassline, the Avalon is feature-packed with things like Filter Tracking, Utility Envelope Attack & Decay Time, Control over Sub Osc/Ext input level, Accent Decay Time, Utility Envelope to VCF and VCA Modulation Depths, and an extensive list of Digital Control features. On the back of the machine you will find separate inputs for MIDI & DIN Sync, as well as CV & Gate In and Out, Filter CV, and Accent Sweep Out. Apart from the Main Out and Headphones Out, you also get Outputs for saw and square, external input, plus VCA and Filter Outputs. Another great feature only on the Avalon is the ability bypass the internal filter with additional Filter Cartridges. Not only can it reproduce the classic Basslines were used to listening to, but it will add new spice to your future acid tracks. The Avalon is in fact, more than a mere clone, it's a high end instrument; an evolution of the 303.
Pros: Feature Packed. Sturdy Casing.
Cons: Not such an affordable price tag.
Price: $949
Ladyada x0xb0x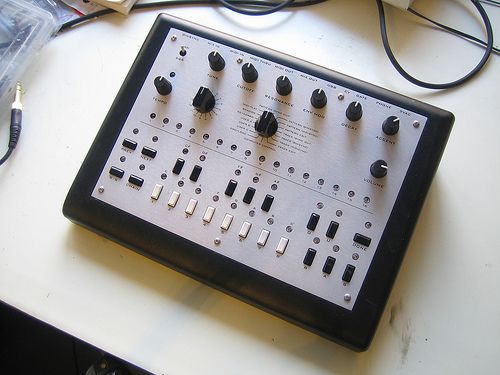 My Lady… Ladyada x0xb0x was a DIY kit that included all the necessary parts for you to build a unique 303 clone, but it did require soldering skills. The housing on this synth was durable yet stylish, and it was large enough to be fully modded to one's own liking. The x0xb0x was reverse-engineered to validate its schematic, the creators really tried everything to replicate the real thing. A cool feature found on the x0xb0x was its Random Mode, which fills a pattern with random notes, resulting in interesting sequences. The x0xb0x lives on, even though they're no longer in production, it's a fully documented product. The PCB files are available online, so if you have the skills and patience to build one it would make a fun project.
Pros: Fun DIY project. Random Mode.
Cons: Requires soldering skills. No longer sold as a kit.
Price: $280-$500
Roland TB-03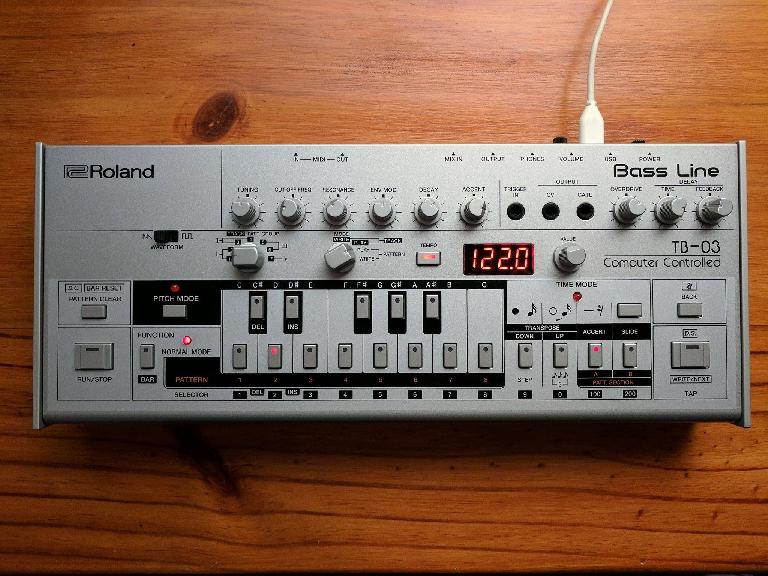 After seeing how much love other 303 clones were getting from consumers, Roland decided to upgrade their AIRA version of the TB-3 and recreated the TB-303 in Boutique form, also adding the feature of a built-in stand for no extra cost.
One of the coolest things about the TB-03 is its built-in effects, everyone knows a good acid line needs help from a little Delay and Overdrive. Roland have cut the need for External Effects and added those right into the unit, making the TB-03 an all-in-one acid monster. Its attractive casing had nostalgic Synth Freaks on their toes, many hoping for an Analogue replica. For the Analogue purist the question arises of "Why another ACB technology clone, if they had already done that with the TB-3?", but for others the simple re-release was satisfying enough.
Pros: Made by Roland. Built-in Effects. Battery powered. Sturdier chassis than the original TB-303.
Cons: Not real Analogue. Requires 3.5 to 1/4 cables instead of the popular 1/4.
Price: $349
Din Sync RE-303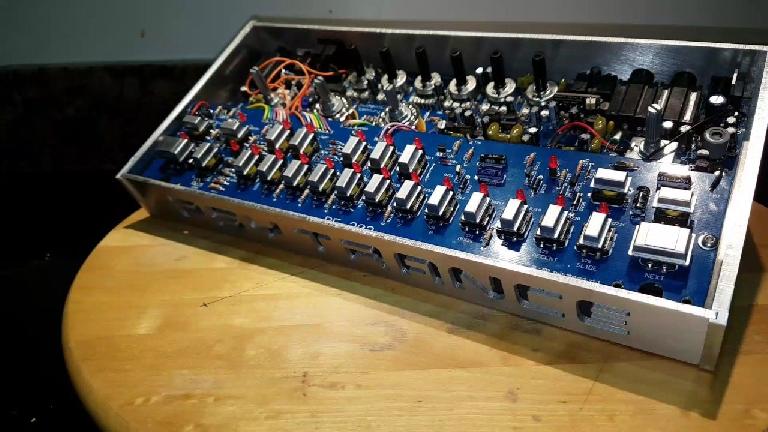 The Din Sync RE-303 isn't just another clone, it's a full blown replica. From it's switchboard to it's motherboard, it's parts are such a precise replication that they could easily be used to restore an original. On their website you will find all the parts necessary for building your own RE-303. Unfortunately, this is the only way that it's sold, they don't sell it as a kit or as a finished product. The RE-303 is for the familiar and committed DIY enthusiast that can put in the time and effort to make this project a working instrument.
Here's a few Popular Songs using the TB-303
Become familiar with the Roland Boutique synths in the AskAudio Academy
here.