Synclavier Go! is an authentic re-creation of the Synclavier II's FM Digital Additive synthesizer for Apple's iPad, so its users can take their sound design studio anywhere. It includes an inbuilt tour that describes how all of the features work on a panel by panel basis. Better still, the intuitive touchscreen is a joy to use. Ultimately, transforming simple sine waves into grungy brass attacks, swishy FM chimes, or charismatic string sounds has never been easier.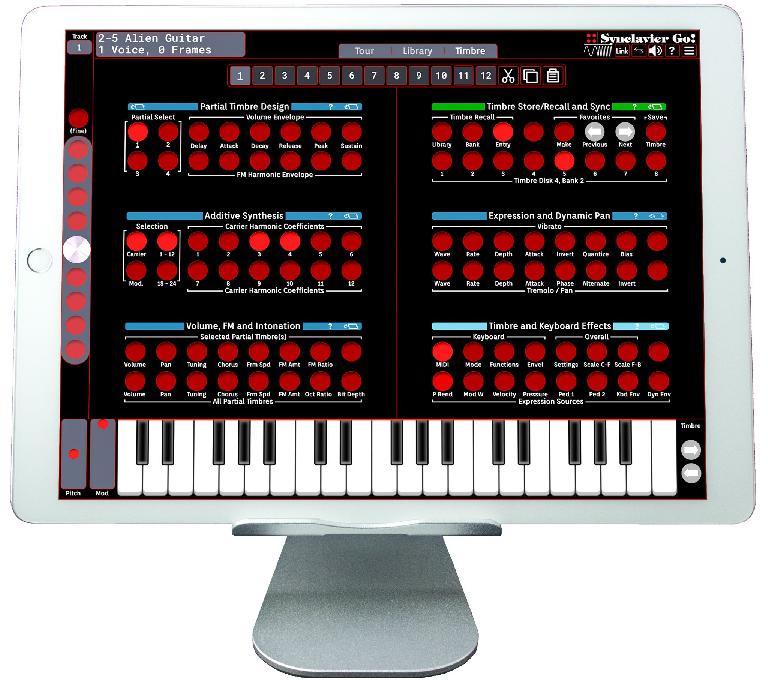 The original Synclavier's signature combination of FM and Additive synthesis capabilities that really represented its industry-shaking calling card are all present and correct here, housed in the same red-button-driven panels, only this time those panels can effectively be flipped for rear-side functions. Fortunately, there's no need to buy more memory modules for more voices — super-efficient DSP code, coupled with the modern processing power of an iPad, means that voices are now theoretically limitless!
Luckily, all of the ear-opening original FM and Additive synthesis Timbres (presets)— over 900 of them — are included in Synclavier Go!'s generous preset library with every conceivable parameter being user-tweak-able. Synclavier Go! supports 12 Partials, allowing users to layer luscious sounds with unlimited Frames, so sounds can evolve over time. Those adventurous users who end up creating something that they like the sound of can simply save it to one of their custom libraries.
Features
Over 900 Authentic Synclavier Sounds
New presets added for Go!
Harmonic Additive Synthesis Engine
MIDI, Audiobus, Ableton Link supported
Superior Touch UI
Multi-layer Effects
Free updates
In-app Purchases available for advanced features
Synclavier Pocket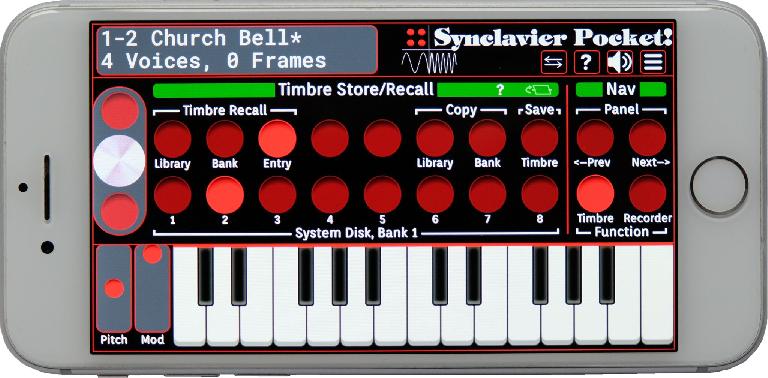 Synclavier Pocket! is effectively a pocket-sized version of Synclavier Go! — as implied by name. Needless to say, Synclavier Digital is collectively keen to train a new generation of synthesists in the creative art of sound design, which is why this iPhone-based Synclavier is free. Synclavier Pocket! has the same panels and tour information as its bigger brother, but users cannot save their own Timbres in a custom library — unless opting for the in-app purchase that enables this. That said, it is still possible to listen to the sounds from the original System Disk, as well as two additional authentic libraries. By offering an entry-level Synclavier on the iPhone (or iPod Touch) for free, Synclavier Digital is maximising the chances of creating the next Suzanne Ciani, Mark Knopfler, Sting, or Frank Zappa, to name but a few die-hard Synclavier II owners.
Features
3 Free "Disks" of Authentic Synclavier Sounds
Harmonic Additive Synthesis Engine
MIDI, Audiobus, Ableton Link supported
Superior Touch UI
Multi-layer Effects
Free updates
In-app Purchases available for advanced features
Synclavier Go! can be purchased and directly downloaded from the App Store priced at US $29.99, UK £28.99, EC €32.99, CN ¥198.00, JP ¥3,600.00) from https://www.synclavier.com/synclaviergo/

Synclavier Pocket! can be directly downloaded for free from the App Store — but requires an in-app purchase called Timbre Design Pro to save Timbres, priced at US $4.99, UK £4.99, EC €5.49, CN ¥30.00, JP ¥600.00
https://www.synclavier.com/synclavierpocket/