Audio Damage has announced the availability of Enso, its latest plugin effect for Mac, PC and iOS. An architecturally unique and sonically characterful looping toolkit for producers and live performers, inspired by both modern looper pedals and vintage tape-based setups, Enso combines elegant and intuitive UI design with a deep but accessible feature set and stellar sound quality.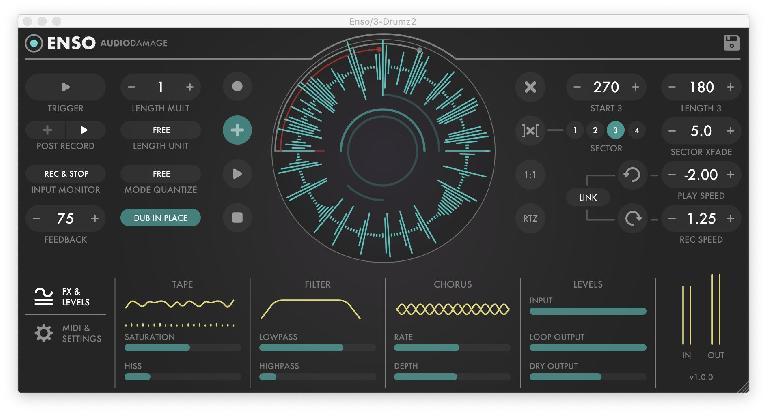 Enso's operation will be immediately familiar to users of hardware looper pedals or plugins such as Ableton Live's bundled Looper. Start playback of the host DAW, hit Enso's record button and capture your instrumental performance into a loop of whatever length you like, up to ten minutes (five minutes on iOS). Then, without stopping playback, overdub further passes to create layered grooves, complex harmonic textures, or dense, evolving soundscapes.

Beyond those basics, though, Enso takes software looping into new territory. Two Overdub modes configure the plugin for conventional looper pedal behaviour or Frippertronics-style 'dual tape deck' manoeuvres, affecting the handling of the Feedback parameter for an endless range of layering possibilities; and up to four Sectors can be effortlessly defined, each with its own start and end points, for on-the-fly rearrangement of the loop.
FEATURES
Full Automatic Looping Engine
Enso's looping engine is simple to learn, but exceedingly powerful, with "one button" looping control, both host-synced and free time.
Dub In Place
Enso can either work like a traditional digital looper, where the input is mixed with the buffer contents, then sent to effects, or like a tape looper, where the effects and speed changes are included in the feedback path.
Sector Crossfading
Define four different start and end points. Crossfade between them, and overdub or re-record within them.
Effects Section
Enso has user-controllable "tape style" saturation and hiss, high- and low-pass filters, and a stereo chorus for thickening and carving your loop.
Full MIDI CC Implementation
Enso has an assignable MIDI CC page for controlling most features of the looping engine. It is tuned for foot control, but will work with any MIDI CC source.
Independent Play And Record Head Control
Both the play and record heads have a through-zero speed control, from -4x to +4x, with text entry values and selectable inc and dec values.
Multi-Format Audio Loader
Enso can load AIFF, WAV, Broadcast WAV, FLAC, MP3, and Ogg in any sample rate, bit depth, and channel configuration.
Buffer Save
Enso can save its buffer contents as a WAV file.
Extra Long Loops
Enso can record or load up to 10 minutes of audio (5 minutes in iOS version) in Long Memory mode.
Cross-Platform Preset Format
Enso utilizes an XML-based preset manager, and optionally stores the buffer within the preset for easy asset management. Work between multiple systems without troubles, make a preset on your desktop machine and paste it to the iOS version with Handoff, easily share your creations with your friends, or make a preset bundle to sell, no asset management required.
Fully Resizable Hi-Dpi/Retina GUI
Enso's vector-based GUI
Giving you everything you need for limitlessly creative looping, on stage and in the studio, Enso is one of Audio Damage's most beautifully realised plugins yet, and an empowering addition to any musician's arsenal of effects.
It's out now, at the introductory prices of $59 (Mac/PC) and $5.99 (iOS).