Viviamo in un mondo techno pazzo: Max for Live ora incluso con il Live 9 Suite ha aperto un vaso di Pandora di effetti audio user-generated, strumenti, dispositivi MIDI, e le utility. In questa funzione in corso, esploreremo alcuni dei migliori Max per i dispositivi Live per uscire dalla continua espansione open-source M4L comunità degli sviluppatori.
Due aree in cui Max per eccelle in diretta sono dispositivi MIDI generativi e le emulazioni di hardware classico. Oggi daremo uno sguardo alla ML-185 Step Sequencer, sviluppato da 3st e scaricabile gratuitamente da qui:
http://www.maxforlive.com/library/device.php?id=75
Si tratta di un 8-step sequencer randomize-grado modellato dopo il sequencer M-185 sviluppato per il Roland sistema 100m sintetizzatore modulare. Dal momento che è un effetto MIDI, è possibile indirizzare il segnale attraverso qualsiasi tipo di strumento suono che si desidera utilizzare, alla fine, ma se siete mai chiedersi quanti dei classici Detroit record bleep techno sono stati creati, non cercate oltre.
Sequenziale Triade
Noterete tre parametri principali: il sequenziamento Pitch, Velocity e ausiliari che possono essere assegnati a qualsiasi valore MIDI CC mediante il pop-up di accesso facendo clic sul pulsante Setup / Info. Ognuna delle otto misure possono essere sequenziati regolando il controllo corrispondente per ogni passo o, per la generazione di idee rapido, basta premere il tasto Random randomizzare i valori per il parametro di modifica selezionata.
Passo randomizzato in sé e per sé non ha intenzione di produrre risultati particolarmente musicali, ma noterete nella foto qui sotto che ho seguito la ML-185 con un dispositivo MIDI Scala, e vi suggerisco di provare lo stesso: trovare una scala che funziona per voi, posizionarlo dopo il sequencer, e tutti i tiri randomizzati ora conforme alla scala selezionata. In entrambi i casi, è possibile casuale le sequenze all'ingrosso e inoltre perfezionare l'intonazione di interventi specifici in base alle esigenze.
PRO-TIP: Play with inserting a Chord MIDI Effect before or after the Scale device for added harmonic content with polyphonic instruments.
Ogni passo è speciale
Ognuno degli otto passaggi ha un numero di opzioni di temporizzazione, nei tre campi numerici situati sotto parametro linea di ogni passaggio. Con l'impostazione predefinita ho selezionato nella fila superiore stage, ogni passo giocherà una volta, in questa modalità, le ultime due righe di specificare quante note XVI ogni passo è posseduta per cui il passaggio, per esempio, a 4, si terrà quel passo per un quarto di nota.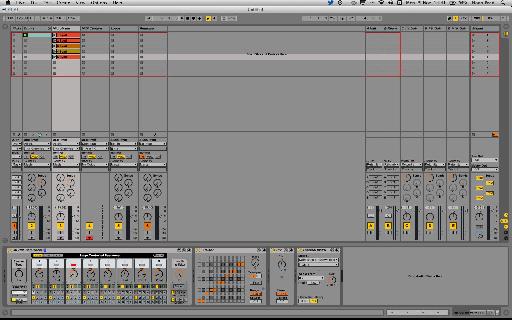 Commutazione della fila superiore a 0, il passo diventa un riposo, la cui durata è riportato in posizione dalle ultime due file. Impostare la riga superiore di II ripete la nota orologio intervalli temporali stabiliti dalla fila Step Divisione ormai attivo (secondo dall'alto), per la durata impostata dalle ultime due righe, ad esempio: se un passo è impostato in questo modo , con la seconda fila impostato su 2 e la riga inferiore impostato su 8, quel passo si ripeterà ogni due semicrome per una durata di otto sedicesimi prima di passare alla fase successiva nella sequenza. Le permutazioni ritmiche disponibili attraverso questa funzionalità sono espansiva davvero.

Trasformazioni globali
Sul lato sinistro dell'unità, abbiamo comporre un Coarse Tune per passo tutta la nostra sequenza verso l'alto o verso il basso con un semplice movimento, sotto di questo, abbiamo il tempo complessivo di clock che può anche essere impostato per crome o trenta secondi e sotto che, un controllo altalena classico a base di sedicesimi.
Oltre all'estrema destra, abbiamo un controllo intera sequenza, che consente di accorciare rapidamente la sequenza che può essere fatto per ottenere semplicemente un modello più ipnotico, o manipolato intermittenza al volo di intensificare la ripetizione della sequenza. Facendo clic sul pulsante Fasi per entrare in modalità Fixed ci permette di cambiare il ripetersi Step Divisione per tutte le fasi contemporaneamente, piuttosto che ogni discreto.

Infine, in basso a destra, abbiamo il nostro selettore di direzione riproduzione della sequenza, che consente quattro modalità selezionabili al volo: il nostro standard di riproduzione in avanti passando attraverso i nostri passi sinistra a destra, in ordine inverso di riproduzione attraverso la sequenza da destra a sinistra , modalità di avanti-indietro ciclico che raddoppia di fatto la nostra lunghezza della sequenza in quanto va da sinistra a destra poi a destra a sinistra, e casuale, che svolge i nostri passi disponibili schiena in un ordine casuale.

PRO-TIP: While there's no shortage of musical patterns ready to emanate from this device, it can be difficult to store or recall them. You'll notice I've configured a MIDI Capture track in my set to receive MIDI input from the sequencer track, so I can record my ML-185 generated sequences to actual MIDI clips for future use – a handy trick for quickly generating new material.
Sequencing Infinite
Come si può vedere, solo un Max per il dispositivo Live può aprire ampi orizzonti di possibilità. Allora, cosa stai aspettando? Grab ML-185 gratuitamente e inizia tweaking!