Did you know we create a print magazine for musicians, producers & DJs?
As well as publishing up to the minute news, exclusive reviews and top music production tips on AskAudioMag.com, we've been hard at work on the April issue of our quarterly print mag. It's looking gorgeous & is overflowing with content for musicians, by musicians. This may be our best issue yet... And, for the first time will include an e-Disc...

An e-Disc? It's like a DVD, but online and you can't break it or lose it! Inside the mag you'll find a secret code. Enter that code in your web browser to get access to over 2.9 GB of free and demo edition plug-ins, samples, loops and more!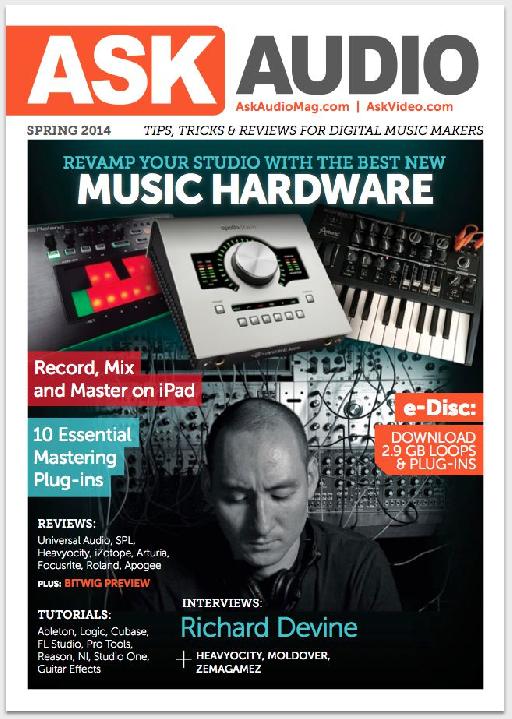 Grab your copy of AskAudio Magazine in print before it's sold out!
There's still time to subscribe and receive your Spring print mag. And remember, if you're a macProVideo.com Library Pass subscriber, go to your account and make sure to opt-in to receive your mag for free!
Spring 2014 Issue Highlights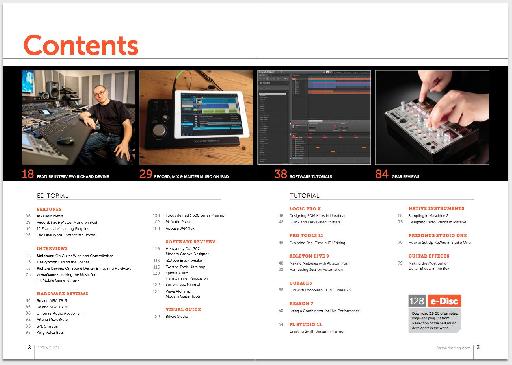 A sneak peek of what's inside this issue.
Focus On: New Music Hardware
NAMM and Musikmesse 2014 introduced lots of tactile gear to suit every pocket, and we've got the best of these reviewed and featured here. Universal Audio's Apollo Twin, Roland's AIRA TR-8 and TB-3 headline our hardware reviews and Arturia's MicroBrute, SPL Crimson and Korg's Volca Bass are featured too.

#1: Review: 15 x Gear Reviews
#2: Interview: Richard Devine
#3: Feature: Record, Mix & Master on iPad

#4: 12 x Software Tutorials

#5 Interview: Moldover & Heavyocity

#6: e-Disc: 2.9 GB of Samples, Loops & Plug-Ins

And there's so much more too!!