Interested in analog synths? Check out our article on the Best Analog Synthesizers for Every Budget here.
There was some serious head scratching at AskAudio HQ this week. We've somehow narrowed down our favorite analog hardware synthesizers into 3 price categories:
$0–$150
$150–$500
$500–2500
We couldn't include every digital synthesizer we've ever lusted after or enjoyed... However, whether you're looking for a cheap and cheerful or more beefed up digital synth, here are the ones we believe should be on your shopping list.
Use the page selector below to filter synths by price.
Bastl Kastle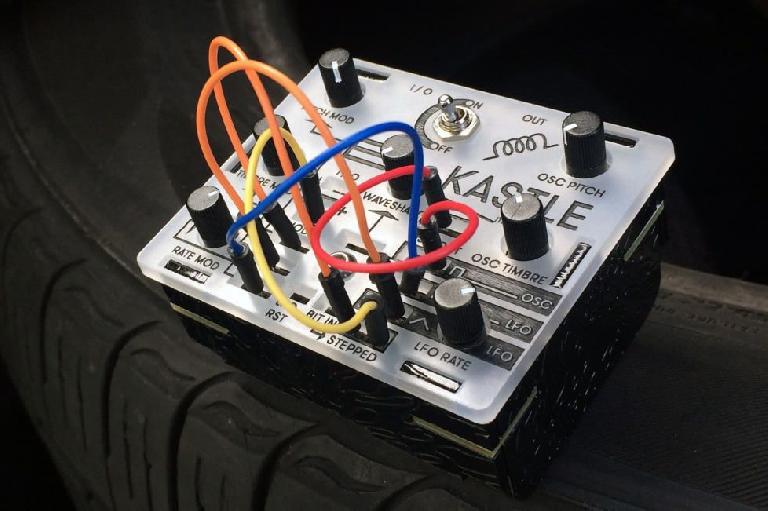 Bastl Instruments makes bespoke and unique hardware synths, and the Kastle is one of its most affordable models. A mini modular synth with 2 ports for interfacing other gear, it runs on battery power and is designed to give you a fun introduction to modular synthesis in a package that literally fits in your pocket. With a distinctly lo-fi character, it can generate everything from melodies to harsh drones using its complex oscillator with three synth modes, waveshape control and LFO. Many of its sections can be CV controlled and it even contains its own stepped voltage generator with random, 8 and 16 step loop modes. As an added bonus, every unit is a hand-built original.
Teenage Engineering Pocket Operators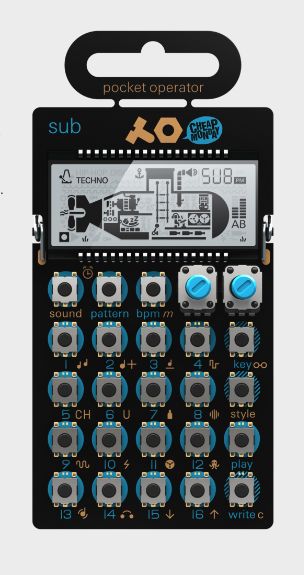 The Pocket Operator series is pretty unique, consisting of credit card-sized instruments with console game-style screens, each model with its own particular focus in terms of the sounds it makes. Gloriously retro and at the same time surprisingly huge-sounding, these synths are undoubtedly fun but also capable of some very cool blips, bleeps, melodies and sequences. You won't believe the intensity of the tones and beats they can generate. Battery powered and featuring multiple synth engines, sequencers and built-in speakers, they also have audio jacks that let you link multiple units together. And at this affordable price, that's a very tempting prospect.
Modal CRAFTsynth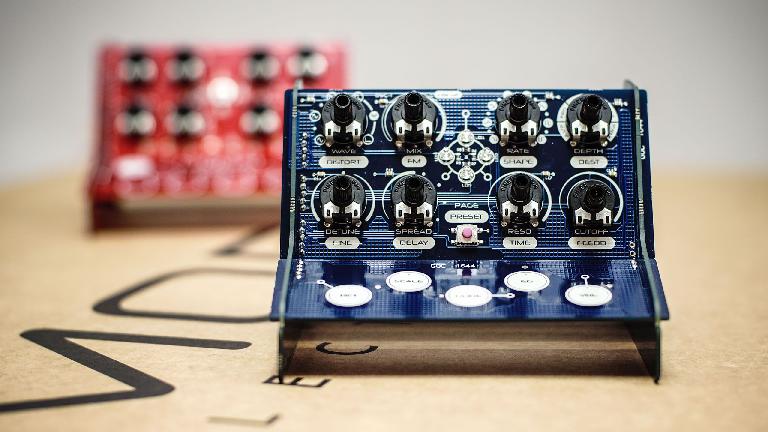 This 2 oscillator monophonic digital synthesizer kit has turned a lot of heads since it was announced. We had a special hands-on preview with the CRAFTsynth, even though it's not available yet, and came away stunned by the quality of the sounds for such a tiny, light piece of gear.
If you're considering a synth gift for yourself or someone else, CRAFTsynth should be on your list. But get in quick. This one is selling like hot cakes, so make sure you preorder soon!
Ploytec PL2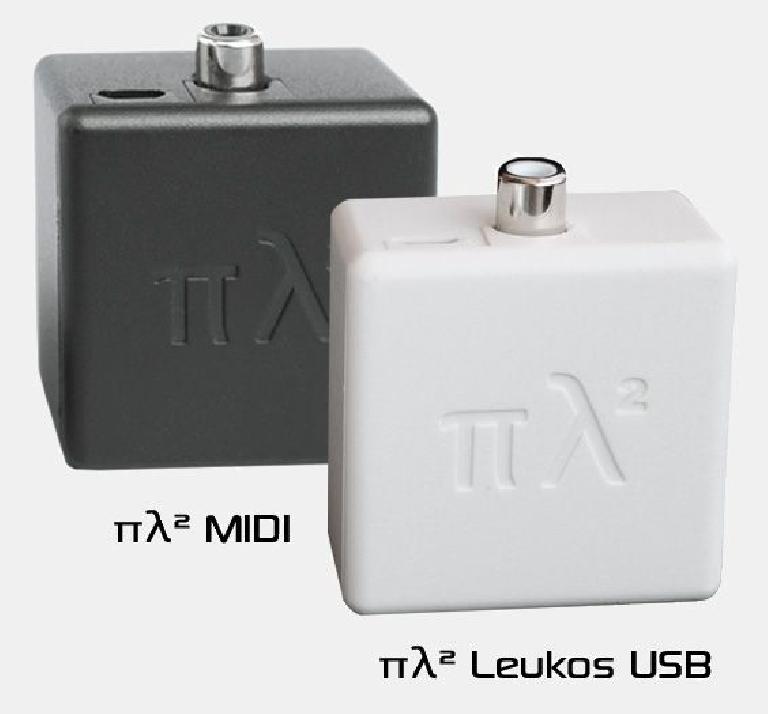 This tiny digital synth is smaller than your cellphone charger but packs in a complete duophonic mono synthesizer with two square wave pulse oscillators. A dedicated saturation stage before the output adds dynamic compression to bring punch and drive to the sounds, and there's also LFO modulation, PWM, ADSR envelope and various play modes to keep things interesting. Although the hardware unit is tiny, there are software applications for Mac, PC and even iPad that let you delve into the many available settings and get right to the heart of the sound-generating capacity.
$150–$500
Critter & Guitari Bolsa Bass
This highly unique bass synthesizer will certainly be a conversation starter before it's even generated a note, with an eye-catching design. Inside, six different synth modes power the monophonic bass sounds from classic filter sweeps and pure tones to FM and drones. You can use the wooden keys or MIDI input to trigger it, and it can send MIDI out to trigger other devices. There's a built-in sequencer and the ability to record up to 90 seconds of pattern internally. Without much visual feedback, you are encouraged to simply experiment with the controls and create something organic and original.
Soulsby Atmegatron
This 8-bit monophonic synth uses a wavetable PWM synth engine to recreate classic 1980s chiptune sounds and generate everything from leads and basses to weird, out-there effects. There are a ton of waveforms available inside the compact and attractive unit, and you can even upload your own waveforms via the free companion application. There's an advanced arpeggiator, a wave crusher effect and analog bass boost for fat bass sounds. It's even hackable too, so you can reprogram it if you're feeling adventurous! This little synth is a great way to dip your toes into the world of hardware synthesis.
Audiothingies Micromonsta
Harking back to the days when many synths came in desktop module format, this huge-sounding 8-voice polyphonic synth puts out tones that are way more extreme than its subtle design might suggest. With two oscillators and one sub, a multimode filter, 3 envelopes, 3 LFOs and 6 modulation slots you can also choose from 12 oscillator types and 30 multisampled wavetables. There's a powerful arpeggiator with a step pattern editor, a chorder module for generating complex chords and an internal FX engine. All of this operates through the onboard display which interacts with the encoders and buttons to provide hands-on control of the signal. It's micro, but also definitely sounds like a monster!
Novation Circuit
Designed to be both fun and extremely creative, Novation's Circuit contains two polysynths and a four-part drum machine and puts these at your fingertips via a grid sequencer and a set of rotary encoders. Build up grooves, beats and patterns quickly and easily and even on the move thanks to optional battery power and the surprisingly loud built-in speaker. It's the ultimate groovebox: immediately accessible to just about anybody but also capable of some serious sounds and track creation. Novation is serious about regularly upgrading the software too, so new and better features get added regularly.
Waldorf Streichfett
Another affordable way to get into the world of Waldorf, the Streichfett is an ultra compact polyphonic synth that recreates the sound of classic string synthesizers. You can blend between two sound engines to create anything from solo tones to rich ensembles, split and layer and create weird and wonderful sounds. Just like the originals on which it is based, its presets with names like "piano" or "clavi" don't really sound like you'd expect: rather, they are strange 1970s versions—but then that's the whole point! With 128 voices of polyphony it's much more powerful than its size suggests.
Roland Boutique JP-08
Roland's classic Jupiter-8 synthesizer makes its grand return in the form of the JP-08 sound module. Part of Roland's Boutique series of synth modules, it uses Roland's Analog Circuit Behaviour modeling to faithfully recreate the tone and sound design potential of one of the world's most iconic synthesizers. It's no bigger than a book but has 36 of the original hardware's parameters directly accessible from its front panel as well as some features not found on the original like a battery power option, chain mode for connecting to other modules and USB audio and power for direct recording to your DAW. There's even a mini speaker built in and an onboard 16-step sequencer.
Korg Electribe 2
Korg's popular Electribe hardware is a 16-part drum machine and groove workstation with 409 analog modeled/PCM sounds taking in drums, percussion, basses and multisampled instruments. With 38 onboard effects and multiple filter models you can create whole sequences easily and even export patterns as Ableton Live sets for further attention. Powering from the mains or via batteries it's super-portable, and there are a bunch of hand-on controls including a Kaoss-style XY pad. Korg has done a great job stripping the interface back to the essentials so it's easy to find your way around and be making massive sequences in no time.
Novation MiniNova
Good things really do come in small packages! This ultra-portable marvel from Novation uses the UltraNova sound engine with 14 waveforms, 36 wavetables and 20 digital waveforms. Each of the three oscillators per voice features Density/detune for fattening up sounds, Virtual Sync and Hardness, which works as an additional lowpass filter. In addition to being a cool synth it also has voice tuning and classic vocoder effects available via the gooseneck mic, five effects available per voice and a 33-pattern arpeggiator that can be reprogrammed on the fly. You're not likely to run out of inspiration any time soon with one of these.
Roland Boutique TR-09
Roland's original TR-909 was a stone-cold classic, its distinctive synthesized drum sounds powering entire musical genres to this day. The TR-09 is Roland's recreation of that device in an ultra portable package, including the classic TR-REC sequencer with Step or Tap write modes, mini speaker, USB audio and power and optional battery power and four separate outputs over USB for recording in your DAW. The original 909 blended analog kick, snare, and tom drums with six-bit samples for the hi-hats and cymbals which gave it a unique sound. Roland has used its Analog Circuit Behaviour technology to recreate this sound while retaining full editability and adding some more modern features as well.
Yamaha Reface DX
Musicians' fondness for classic synths, combined with the price and rarity of actual examples of those synths, has led big names like Yamaha to recreate or reimagine iconic instruments of the past in new, smaller and more affordable formats. Part of the Reface series, DX replicates the sound of the DX7, a synth that featured on literally thousands of hit records in the '80s. This portable version gives you a 4-operator FM sound engine, onboard multi-effects, a phrase looper and built-in stereo speakers. It can power from batteries for true portability and it connects to your computer or iOS device for MIDI communication over USB. There's also audio in and out for connecting other devices.
$500–$2500
Studiologic Sledge 2.0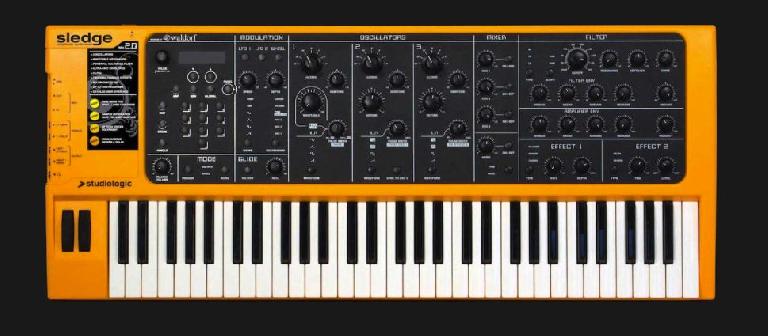 A stunningly designed and serious-looking beast from keybed specialists Studiologic, the Sledge 2.0 has three oscillators with selectable waveshapes but also 60 MB of onboard memory for storing your own samples, which you can use to create entirely new sounds with the editor software. It has 24-voice polyphony for creating huge layers and splits, a multimode arpeggiator and a cool suite of onboard effects as well as a USB MIDI connection to your computer. This synth sounds as good as it looks too, and provides an incredible depth of sound creation and tweaking capabilities.
Teenage Engineering OP-1

Sometimes a device comes along that almost defies description. The OP-1 is many things: a synthesizer, sampler and controller with a built-in FM radio and assignable G-force sensor for motion controlled effects. Inside there are ten synthesizer engines, eight effects, multiple sequencers and multiple routable LFOs and the synth's design is modular. Flipped into controller mode it becomes a DAW controller with a two-octave keyboard. Remarkably you can also record four tracks of audio into it complete with EQ and compression effects and do some nifty overdubbing and tape speed effects. It hooks up to your computer over USB but contains a rechargeable battery so it can be used anywhere. Truly, a remarkable device.
Roland System-8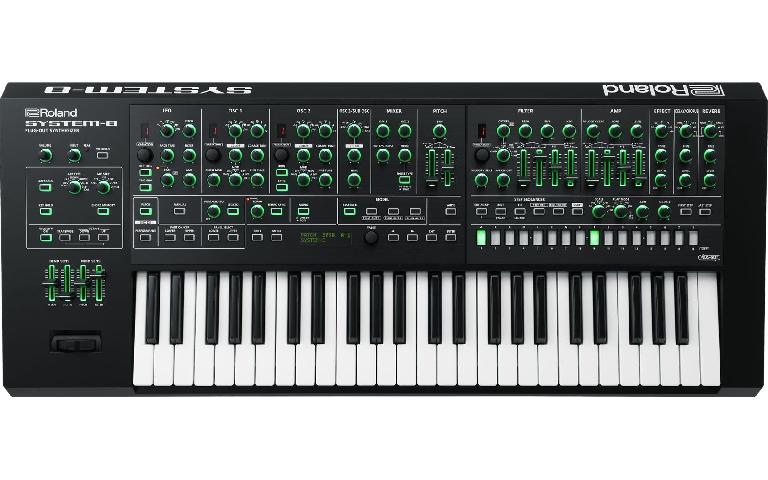 This huge-sounding 49-key instrument has 8 voices, 3 oscillators and uses Roland's Analog Circuit Behaviour engine as well as a host of filters, effects and modulation options. On top of that, the plug-out system lets you load up completely different sound engines such as the included Jupiter-8 and JUNO-106, instantly transforming the System-8 into another instrument. With a 64-step polyphonic sequencer and the TR-REC interface you also get a vocoder, polyphonic chord memory and CV/Gate outputs for interfacing with other gear. Oh, and USB MIDI and a control surface mode thrown in for good measure!
Access Virus TI 2

Legendary synth designers Access make this much-admired analog modeling desktop synth which also doubles up as a 24-bit, 192 kHz audio and MIDI interface. The "TI" stands for Total Integration and refers to the fact that you get a companion plugin that integrates the sound from the hardware directly into your DAW just as if it was running as software. The specs are impressive: a dual DSP system with over 80 stereo voices available, Wavetable and Virus oscillators and filters, HyperSaw oscillators, 129 parallel effects and 3 LFOs with 68 waveforms available. It's a serious piece of hardware that has its own signature sound and feel, and thanks to the software side, is easier than you might expect to bring into the heart of your production setup.
Nord Lead 4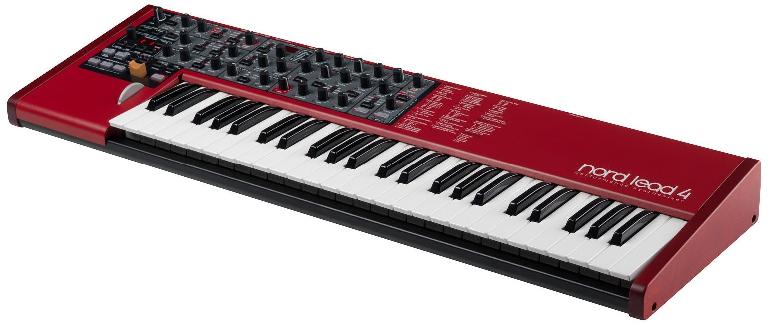 When the Nord Lead first appeared it wasn't just the striking red design that singled it out, it was the incredible sound which quickly became a staple of all kinds of music production. Now in its fourth generation, the Nord Lead 4 is a virtual analog 4-part multitimbral synth with up to two oscillators per voice. You get subtractive, FM and wavetable synthesis and True Voice Unison for achieving the sound of up to four oscillators per voice, as well as 20-voice polyphony. Each voice has its own multi-FX section and in addition to awesome sound morphing controls you get USB MIDI and separate audio outputs for each voice, making integration with your studio all the easier.