After much deliberation and discussion in the AskAudio HQ, we've split our 22 favorite analog hardware synthesizers into 3 price categories:
$0 - $500
$500 - $1000
$1000 +
We couldn't include every analog synthesizer we've ever loved or played... Whether you're looking for a super affordable or more extravagant analog synth, here are the ones we believe should be on your shopping list.
Note:
Interested in Digital hardware synthesizers? Check out our
19 favorite ones
.
$0 - $500 USD
MeeBlip Anode
This nifty and insanely portable synth is semi analog and semi digital, and designed to provide a wide range of bass-heavy, aggressive tones. It combines unique digital oscillators (dual variable pulse with raw or PWM wavetables) with an original analog filter. The small front face features modulation, envelope, tuning and pulse width controls and it has MIDI input for triggering from an external device including iOS devices with compatible cables. Interestingly, it's an open source device, meaning users are free to dig into the code and the circuits, modifying it in any way they want or even creating their own instruments based on its design.
Korg volca beats
Analog drums are more popular today than they have ever been and hardware sequencing and sound tweaking are many peoples' preferred way of creating them. Part of Korg's volca family of ultra-compact analog synths, volca beats provides six analog and four PCM parts which are all fully editable, and an Electribe-style sequencer with a stutter function. Powering from the mains or from batteries, it can be MIDI synced from external gear or synced to other models in Korg's synth family. The ultimate meeting of retro and futuristic, this instrument lets you make beats literally anywhere.
Waldorf Rocket
Better known for its very high end instruments, this ultra-portable synth from Waldorf certainly brings the company's signature sound to a whole new audience. A monophonic synth with USB and MIDI I/O as well as an external filter input, it uses two oscillator shapes with variable waveshaping and pulse width modulation. Unison mode allows you to create up to eight voices that can be detuned or played as chords, and there's a built-in arpeggiator and an LFO for adding movement to your signal. Although it's immediately accessible and hugely tweakable, there's nothing toylike about the sounds this machine can produce.
Bastl Instruments bitRanger
This pocket rocket from hardware specialists Bastl Instruments powers off a battery and has a built-in speaker so it's incredibly portable. With over 100 patch points, it's an analog logic computer that can be used to generate everything from melodic sequences through intense digital noise and drones, and even electronic beats. You're encouraged to experiment by using the bundled patch cables to connect ins, outs, dividers and mux sections to each other, manipulating the LFO and VCO oscillators to generate all manner of sounds. It's an amazing noisemaker that's suited to everyone from adventurous beginners to those wanting to delve more deeply into the mechanics of patching and synthesis. As a bonus it can connect to other gear using CV cables and either be controlled by or a controller for other kit.
Korg volca bass
Although amazingly portable and intuitive to use, the analog sound engine in Korg's diminutive volca bass has a unique presence with subtle nuances that cannot be reproduced by a digital simulation, making it a great choice for acid house and many other styles of music. The step sequencer descended from the Electribe is not only visually intuitive, it's also a powerful way to generate "free form" bass loops that will fire your inspiration. With three oscillators and a fat filter, it's easy to make classic 303 sounds whether using the onboard controls or by using a MIDI controller. It has battery power, USB MIDI and can be clocked externally too.
Arturia DrumBrute
Combining the look and sound of a classic drum machine with up-to-the-minute computer connectivity, Arturia's DrumBrute has 17 distinct analog drum instruments, an advanced 64-step drum sequencer with song mode and a polyrhythmic, step-repeat glitch machine. It has also been designed to act as your creative hub, as its expansive connectivity allows you to output different sections of your mix separately and connect to all your existing studio and performance gear with USB, MIDI, and Clock I/O ports. At a time when producers want the authenticity and sound of analog hardware with the flexibility to integrate easily with the rest of their studio, this massive-sounding drum synthesizer certainly fits the bill.
Korg minilogue
Korg's lineup of synths is incredibly varied these days, and it's making some amazing models at prices we couldn't have imaged a few years back. The Korg minilogue is a 37-key, fully programmable analog polyphonic synth with eight voice modes, letting you configure the four voices to work in different ways depending on if you are playing chords, basslines or other kinds of pattern. There's a 16-step sequencer and a cool oscilloscope display that shows the waveform being generated, plus the ability to fine tune the oscillators' harmonics for a truly unique sound. To top it all off, minilogue happens to look amazing as well.
Novation Bass Station II
The original Bass Station was a legendary synth that provided both bass and lead lines for much of the electronic music produced in the 1990s. Its successor maintains the iconic design and incredible sound but adds some more modern features. There are two pure analogue oscillators with four waveforms and a third sub oscillator, noise and ring mod available. The classic multimode filter is present and correct for creating really fat sounds, and there's a 24 dB Acid Filter that is even more extreme than the Classic. There's flexible modulation available and USB power and MIDI as well as an external input for processing sounds through those fat filters.
Arturia MicroBrute
Although it only has the one voltage controlled oscillator, the MicroBrute sounds absolutely massive, with three mixable waveforms and waveshapers to animate the signal, a really fat multimode filter, step sequencer and a modulation matrix. Your money buys you a fully analog signal path as well as onboard distortion to dirty up the sounds, and a 25-key mini velocity sensitive keyboard. Despite its tiny size the MicroBrute also provides CV/Gate in and out for connecting to other analog gear and audio ins and outs for processing external signal through the internal filters and effects.
Moog Minitaur
Sometimes good things really do come in small packages. Moog's Minitaur is an insanely portable analog bass synth module based on the Moog Taurus. It's monophonic and although it has MIDI and CV ports, the emphasis is on tweaking those classic knobs to get the sounds you desire. The dual oscillator design allows for sawtooth and square waveforms and it's just as adept at lead sounds as it is at basses. If you want the sound and feel of a real Moog bass synth but without spending a fortune, the Minitaur is definitely worth checking out!
$500 - 1000 USD
Moog Mother-32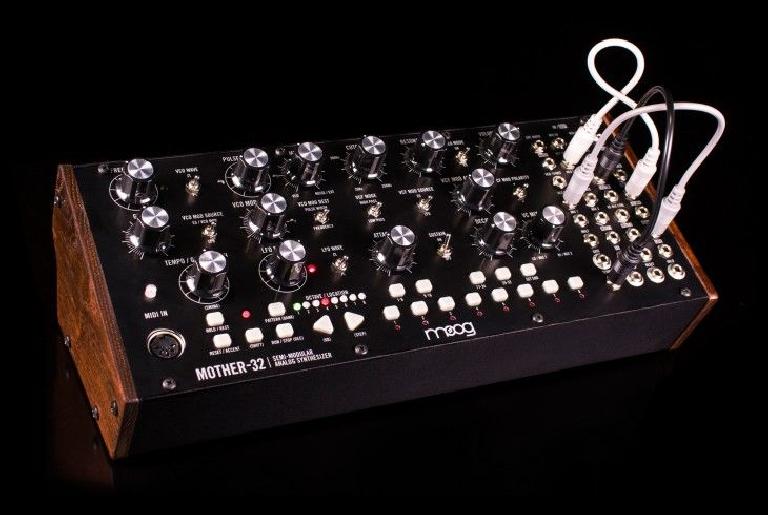 Moog's first tabletop semi-modular synthesizer is a gorgeous-looking analog instrument that adds raw analog sound, sequencing and extensive interconnectivity to any electronic or modular ecosystem. Its design means you can create sounds without having to start patching and you get the classic Moog oscillator with pulse and sawtooth wave outputs, LP and HP Moog ladder filter and a voltage controlled 32-step sequencer. Of course there's a patchable section too, with 32 modular patch points, and an external audio input for processing external sources and two voltage controlled mixers. Thrown in MIDI-to-CV conversion and this is a fantastic way to get the Moog sound and feel for your studio.
Korg ARP Odyssey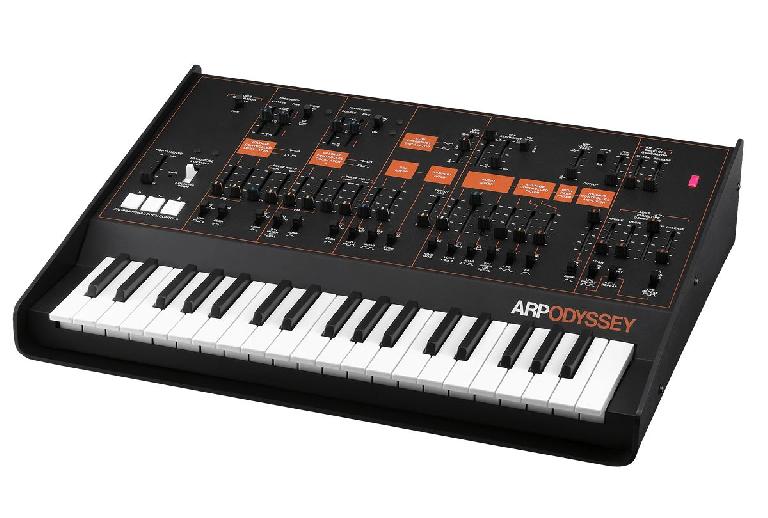 Korg's original ARP Odyssey was a huge, patchable modular beast but much loved for its amazing sound and programmability. This new version is thankfully much smaller and has 37 keys with no velocity or aftertouch, just like the original! It works in monophonic or duophonic mode, where each oscillator can be played independently, and replicates many of the key hardware features of the original: pitch control pads, noise generators, portamento speed control, two VCOs with multiple waveforms, a lowpass filter, voltage controlled amplifier, ring mod and ADSR and AR envelope generators. In keeping with the serious sound and feel you also get audio in, USB and DIN MIDI ports and several CV in and out ports for hooking into your other analog gear.
Sound Machines Modulör114

Many of Sound Machines' instruments are separate modules but the Modulör114 is a self-contained collection of several of these that's designed to be used as a standalone instrument. You get two VCOs, one VCA, a four-stage envelope generator and a noise generator, three mixers, a clock divider and a whole bunch more besides. Helpfully, there's also a USB/MIDI port for connection to a computer and USB MIDI to CV converter to help you more seamlessly integrate the modular system into your digital world. Arguably one for the more adventurous synth enthusiast, this is an extremely powerful system for creating your own tones.
Waldorf Pulse 2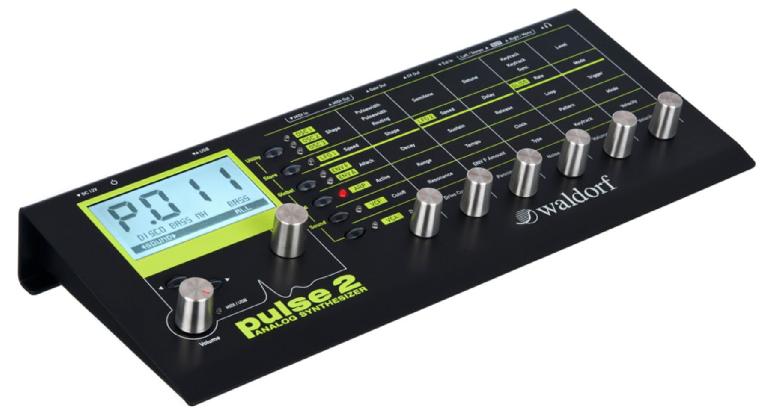 This monophonic analog synth from heavyweights Waldorf harks back to the feel of the original Pulse, which powered the development of trance in the 1990s. You get three analog oscillators, a dual mode filter, analog filter FM and ring modulation as well as a new paraphonic mode that allows up to 8-voice chords to be played. There's also an arpeggiator, 8-slot modulation matrix and USB interface to your computer. Pulse 2 might be small but it certainly packs a punch, and instantly recalls the heady sound of a classic period in the development of EDM.
$1000+
Moog Sub 37
Moog's Sub synthesizers are highly prized for their gorgeous sound, build quality and amazing flexibility. The Sub 37 works in mono or duo modes (where oscillators 1 and 2 can be played independently) and has a 37-key keyboard, two modulation busses with assignable source and destination and Delay, Attack, Hold, Decay, Sustain and Release looping envelopes with sync. As well as the classic Moog Ladder Filter with selectable filter slopes for that really fat sound, you get a syncable arpeggiator and step sequencer and a mixer section where you can control and mute each sound source as well as routing external audio in. It's tough to get this character of sound any other way and a real Moog will take pride of place in your studio.
Erica Synths Black Classic System
Latvian synth specialists Erica Synths make some truly unique bespoke hardware and rack mount synth modules. It offers the chance to combine many of these into an incredible kind of mega-system which incorporates a range of different modules all in perfect harmony. In the specially designed casing you get 14 modules including VCOs, VCF, VCA, LFO, mixers, mixers and splitters, expanders and more. The price might put it into the bracket of serious synth enthusiasts but you can't deny after listening to the demonstrations of the sounds this system can make that it's quite a thing to behold. The modules are all available separately too, for incorporation into your own particular modular system.
Elektron Analog Keys
This fully analog synth from hardware specialists Elektron really means business. With two analog oscillators and variable waveshape on all waveforms, you also get two sub oscillators and one noise generator, two filter stages and an analog overdrive circuit. There's a very capable onboard sequencer section and six arpeggiators as well as a powerful effects section. The hands-on controls give you ultimate power and there's also pro-level audio, MIDI and CV/Gate I/O for hooking this beast up to the rest of your studio. It's designed to be just as useful in a live setting as in the recording environment.
Dave Smith Tempest
Designed by legends Dave Smith and Roger Linn, the Tempest is a powerful analog drum synthesizer with six voices, each using two analog oscillators and two digital oscillators. The modulation path includes Dave Smith's classic analog lowpass filter with audio rate modulation, highpass filter, analog VCA with feedback, 5 envelopes, 2 LFOs and an extraordinary variety of analog modulation routing options. It can even be used as a six-voice synth, and each voice output separately as an audio channel. With realtime and step-based onboard sequencing you can build your patterns, and there are multiple performance controls as well as a suite of FX to help you along.
Dave Smith Instruments Prophet '08
This true analog classic from Dave Smith has eight voices with a classic 2-oscillator, 2/4 pole Curtis lowpass filter, VCA architecture, and 52 knobs to tweak. It improves on the original Prophet by adding Four LFOs, three envelopes and a gated sequencer per voice. Each program has two layers meaning the sounds can be easily stacked or split. A four-mode latchable arpeggiator is also included. It has a real analog sound that's not always possible to achieve using other technologies. The module version has a small footprint but there's also a keyboard version available.
Moog Minimoog Model D
If money is no object you can own a slice of musical history with this reissue of the legendary Minimoog Model D, originally discontinued in 1981. It replicates the discrete circuitry of the original while improving reliability and using a 44-note Fatar keybed with velocity and aftertouch. With 3 oscillators designed after the Moog modular 921 models, you also get a Classic Moog low pass ladder filter with resonance and multiple MIDI and CV connections for modulation and connection to the outside world. If you're lucky enough to have used a Model D you'll appreciate that they look and sound really quite special.
Korg MS-20M Kit
Designed by the same engineers who developed the original MS-20, this is based on its predecessor but improves on it in several ways. It's a monophonic analog synth module that you get to build for yourself using oscillator sync, FM, two filters (pre and post) and PWM. There are jacks such as a CV IN so you can connect it to other gear and you also get the SQ-1 step sequencer module which when connected allows you to program sequences as well as designing the sounds. Powerful and great-sounding, it's definitely one for synthesis enthusiasts.
Roland System-500
Roland made a triumphant return to its modular days with the AIRA range of modular synths and System-500 is a complete set of analog modules in a custom housing consisting of multiple oscillators, filters and effects. In addition to VCOs, VCAs, filters and envelope modules you also get a 572 module with classic phase shifter, delay, gate delay and invertible LFO as well as lots of CV connections and hands-on controls. If you are serious about modular synthesis this is a stunning all-in-one system that will provide you with virtually limitless sound creation possibilities.
Stay tuned to our list of the Best Digital Hardware Synthesizers For Every Budget coming soon...
Learn specific synths and the art of synthesis in the AskAudio Academy here.