Adding a pedal into a DJ setup can be a fun way to advance a DJ's practice. Since a DJ only has two hands, a foot pedal is an innovative way to enhance using effects while maintaining control of other parameters on the mixer. DJs like Richie Hawtin, Loco Dice, Ean Golden and turntablists like DJ Brace have all worked with effects and expression pedals in an inspiring way. Read on if you're interested in learning more about this creative way to play.
Pre-Requisites
To use an effect pedal in a DJ set, you'll need a mixer with a dedicated FX send and FX return channel and at least two 1/4" cables.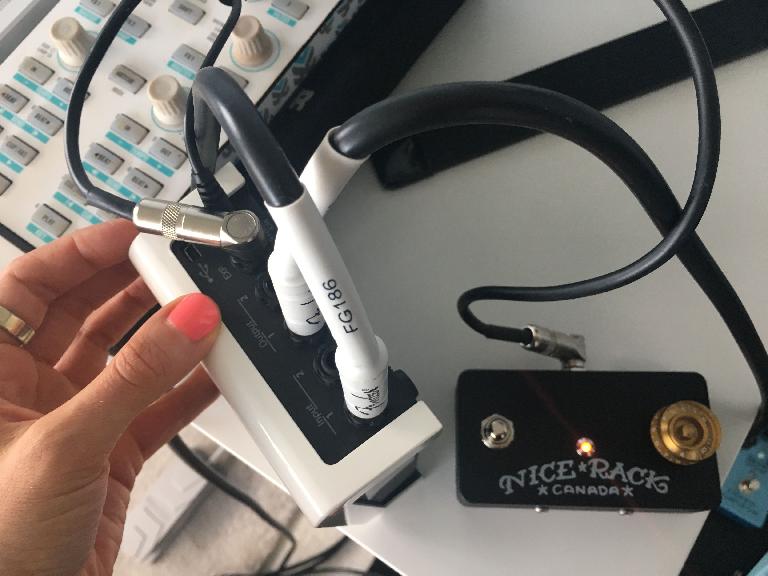 To attach the pedals to the mixer, connect the input of the pedal to the FX send on the mixer and the output of the pedal to the FX return line. If you're using an effect pedal that uses batteries, be sure to unplug the 1/4" cable from the input of the pedal after usage as this can drain the battery when the pedal is not in use.
Some pedals are mono and these only require one cable, while some effect pedals/units may have stereo inputs and outputs. In general, units with stereo inputs/outputs may be better suited for DJs as DJ mixers have stereo input/output FX send and returns. However, many club systems are run in mono and mono effects pedals can be used in professional settings.
Using a Traditional Effects Pedal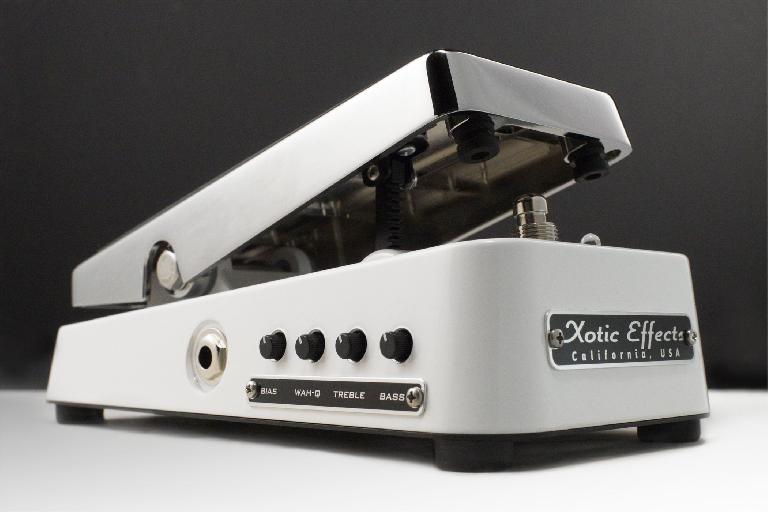 One way to advance your DJ game is by incorporating a traditional effects pedal into your DJ setup. I wanted to focus on effects pedals that can be controlled with your feet and chose to experiment with a wah-wah pedal. A wah-wah pedal (or simply wah pedal) is a type of electric guitar effects pedal that alters the tone and frequencies of the guitar signal to create a distinctive sound, mimicking thehuman voice saying the onomatopoeic name "wah-wah".

I chose to use an Xotic XW-1 Wah as it has unique controls that shape and contour sound. The fully adjustable Wah-Q and Bias control on the pedal make the XW-1 Wah a versatile effect as it can produce a wide variety of wah tones. I found that this wah pedal (and wahs in general) work best for scratching. Techniques for using the wah include moving the pedal forward and backward in time with the music, sweeping the wah forward or backward when a longer tone or sample is played, or simply leaving it in one position, such as the full forward or backward position or slightly angled. The most interesting thing about using the wah in a set is that the effect's sound is fully controllable by your foot, leaving your hands free to DJ as you normally would.
Audio Examples
Xotic XW-1 Wah
Xotic XW-1 Wah with Delay
Using an Expression Pedal with an Effects Unit or Pedal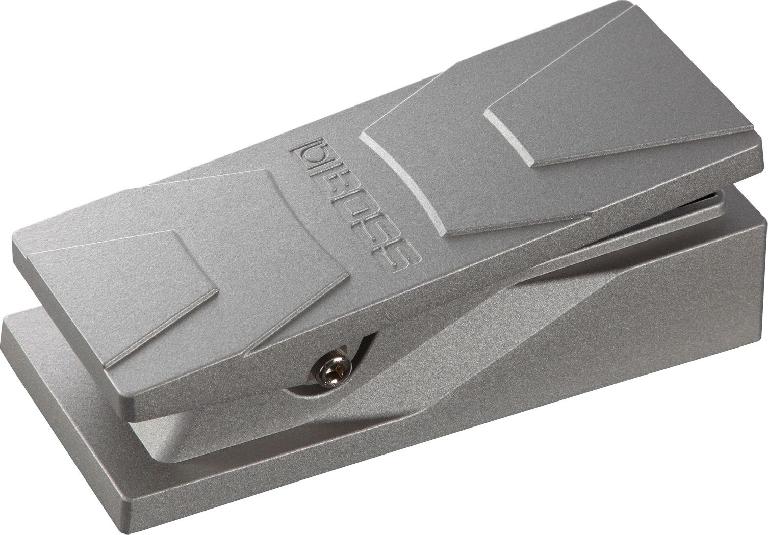 Another interesting way to play is by using an effects pedal or unit that can be controlled with an expression pedal. For a DJ, an expression pedal offers another way to connect physical movements to the change the sound and depth of effects on the fly.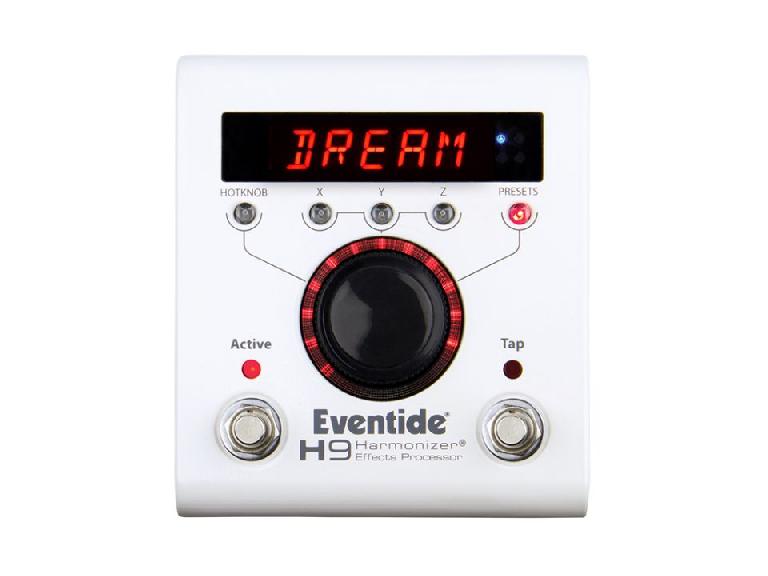 I was introduced to a highly useful effects unit called the Eventide H9. The H9 is an all-in-one effect unit that provides reverb, chorus, delay, modulation, pitch-shifting and distortion effects. Its a solid choice for DJs, as it has stereo inputs/outputs, as opposed to many other pedals that only offer mono inputs/outputs. The H9 can be connected to an expression pedal which offers DJs further control over the effects. This futuristic effects pedal comes paired with a software app that can run on your iPad, iPhone, PC or Mac. The app allows users to choose the effect type and comes with hundreds of useful presets. Each of the presets have up to three parameters that are pre-mapped to the expression pedal.
The H9 offers so many different types of effects and presets that it will take any artist time to learn which effects work best for them. I like the simplicity of the one-knob user interface and combining it together with an expression pedal adds a greater capability to modulate each effect. If you're considering investing in an effect unit and are looking for a wide range of effects, the H9 would be a good choice to consider.
Audio Examples
H9 Flanger

H9 Crystal Effect

H9 Effects
The Expression Box: An Alternative to Expression Pedals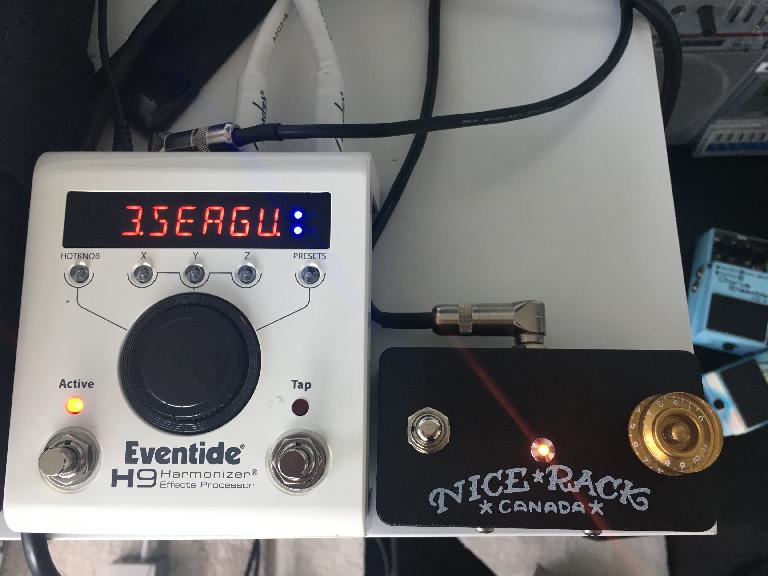 If you like the additional control that foot pedals offer but don't want to use your feet to work pedals during a set, an expression box may be right for you. An expression box works the same way as an expression pedal, but rather than sitting on the floor it rests on the table next to your DJ equipment. I tried using an Expression Box that Nice Rack Canada had custom built for me and I enjoyed the additional flexibility it gave me for controlling effects. Using an Expression Box gives the audience a chance to see how you're controlling the effect which can make for a more interesting show. However, since this box is visible for the audience, it does take away the mystery of sound manipulation that a foot pedal offers. If foot pedals really aren't your thing, this is a good alternative for forward thinking DJs who want an additional layer of control over their effect pedals.
If you're looking to advance your DJ setup and perform in a way that's creative and a little unconventional, using a foot pedal or expression pedal is a good way to control effects. Not only will these types of pedals enhance your sound, they're fun to use and will give your sets an original edge. Foot and expression pedals allow you to use another part of your body to manipulate sound while keeping your hands free to scratch or mix as you usually would. If you're on a budget, try renting the equipment to find out if adding a pedal into your DJ setup could be right for you. If you haven't tried out this style of DJing yet, it may be worth looking into and exploring. You just may find out an effects pedal is what's been missing from your sets all these years!