Nudging Regionen oder Selektionen, dass Verschieben nach links oder rechts um einen vorgegebenen Betrag ist, ist ein wesentlicher Bestandteil des Bearbeitungsprozesses. In einer früheren Quick Tip schauten wir uns nudging in Logic Pro, aber in diesem Artikel werden wir auf Pro Tools konzentrieren - wie Stups, was man anstoßen und die Anpassung der Nudge-Wert.

01 - Auswahl und Regionen
Sie können Schubs einer ausgewählten Region, der Edit-Cursor, eine Edit-Selektion, und es ist Start-und Endpunkt. Drücken (Plus) und - (minus) auf dem Ziffernblock stößt vorwärts und rückwärts, und dies wird auf die Arbeit:
A selected region (the whole region moves)

An edit selection (the whole selection moves)

The edit cursor (i.e. single click with the Selector tool)

02 - Einstellen einer Auswahl
Hinzufügen der Option-Taste können Sie auf der linken Seite (oder was) Rand einer Region oder der Auswahl anzupassen. Hinzufügen der Command-Taste können Sie auf der rechten Seite (oder hinteren) Rand einer Region oder der Auswahl anzupassen.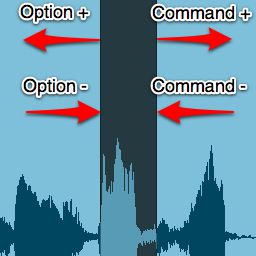 Nudging die Kanten einer Auswahl
03 - Einstellen Regionen
Wenn nudging einer ausgewählten Region mit diesen beiden Tasten gedrückt, die Bereichsgrenzen gehalten werden abgeschnitten. Nach Auswahl einer Region, um die Auswahl unabhängig von der Region zu verschieben, halten Sie die Umschalttaste gedrückt. Um den zugrunde liegenden Audio unter Beibehaltung der Region zu positionieren, halten Sie die Strg-Taste. Diese Befehle werden auf ausgewählten Regionen gelten, und alle Bereiche, die vollständig in eine größere Auswahl enthalten sind.
04 - Timeline Selection
Die oben genannten Befehle ändert sich auch der Timeline Auswahl, aber nur, wenn Link-Timeline und bearbeiten Selection ist in der Werkzeugleiste aktiviert.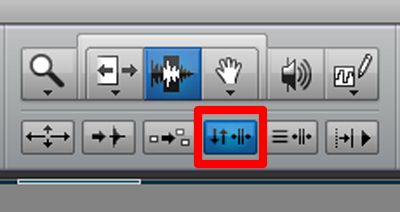 Link Timeline und bearbeiten Selection aktiviert
05 - Befehle Tastatur-Fokus-Modus
Wenn dieser Modus aktiviert (siehe Bild) eine andere Gruppe von einfacheren QWERTY-Tastatur-basierte Verknüpfungen ins Spiel kommen. Für nudging vor und zurück sind, (Komma) und (Zeit) -. Vielleicht leichter erinnert als
Befehle Tastatur-Fokus-Modus selbst wird mit der Tastenkombination Befehl Option 1 (Zehnertastatur) aktiviert. Bewegen Sie Tastatur-Fokus-Modus, um die Group List oder Region-Liste mit Command-Option 2 und 3 jeweils, wenn Sie diesen Modus deaktivieren möchten. Ein Vorteil des Seins in Befehle Tastatur-Fokus-Modus ist, dass die nudging oben aufgeführten Befehle der Timeline Auswahl nur auf, wenn Link-Timeline und bearbeiten Selection ist deaktiviert.
Regelmäßige Tastenkombinationen für nudging wird der Edit-Selektion nur auf, wenn Link-Timeline und bearbeiten Selection ist deaktiviert.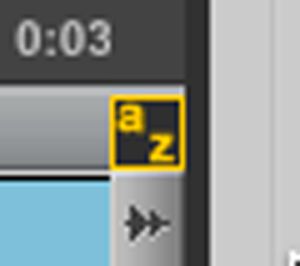 Befehle Tastatur-Fokus-Modus aktiviert
06 - Ändern der Nudge Wert
Die Möglichkeit, die Nudge-Wert zu ändern ist von größter Bedeutung, natürlich. Der Nudge-Wert Pop-up-Selektor ist in der Symbolleiste (siehe Bild), und dies hat eine Reihe von Optionen. Am unteren Rand des Menüs ist Follow Main Time Scale. Mit dieser angekreuzt, wird die Palette der verfügbaren Werte zu ändern, wenn Sie die wichtigsten Time Scale ändern. Alternativ können Sie auch manuell einen anderen Satz von Werten durch die Wahl einer der Zeitskalen in das Menü (siehe Bild). Schließlich wählen Sie Ihre Nudge-Wert.
Halten Sie die Befehlstaste und die Wahltaste, während Sie und - (Ziffernblock), um den Nudge-Wert mit einer Tastenkombination zu ändern.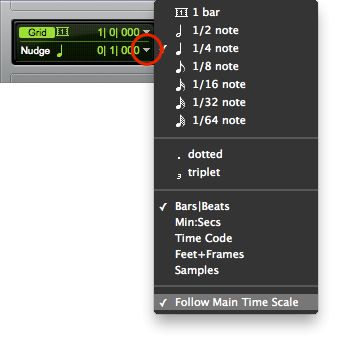 Der Nudge-Wert im Popup-Menü in der Toolbar
Holen Sie sich weitere Tipps und Tricks in der Pro Tools 9 101