TetraStep MK2 Is A 4-Step Square Wave Sequencer In Guitar Pedal Format
The TetraStep MK2 is a fun and accessible 4-step square wave sequencer with plenty of control and the ability to easily sync from or two other instruments like the Korg Volca Beats.
Mattoverse are a one-man operation based in Wisconsin, United States, responsible for a number of handmade pedals and noise generators. They tend to be housed in guitar pedal box format and include appealing, intricate arty designs.
So, of course, we're kind of curious when we hear from MatrixSynth that the TetraStep MKII is on its way. Like its predecessor, TetraStep MK2 is a pitch and rate controllable step sequencer. It features four pitch controllable steps and on/off buttons for each step. Additional knobs control the rate and the tone of the square wave.
There's a Multipler rate switch, glide amount and tap tempo button too. TetraStep MK2 also features Sync In and Sync Out, so, for example, it can be tempo synced to the Korg Volca Beats. Or it can send the tempo info to the Volca Beats or any other synth that supports SYNC. All in all, this looks pretty cool.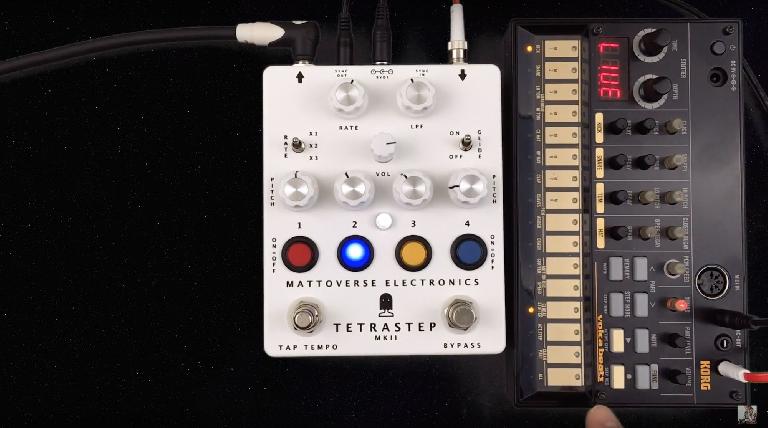 TetraStep MK2 isn't released just yet and the price hasn't been officially announced. But we expect it to a little more than the $169 original model which is listed on their website as sold out.