January 22nd Teenage Engineering and Cheap Monday launch a line of pocket operators – micro synthesizers that fit in your pocket and a line of matching gear. the launch takes place simultaneously in-store and online at colette, paris and the NAMM trade show in Los Angeles.

The idea of the collaboration between Teenage Engineering and Cheap Monday was born in the autumn of 2013. The engineers needed new, protective, lab coats for the staff and instead of buying generic ones Teenage Engineering's creative director, Jesper Kouthoofd, turned to his longtime friend Ann-Sofie Back asking Cheap Monday to design a unique coat and additional garments for his team. Cheap Monday took on the challenge but asked for a return favour; what began with the engineers need for new lab wear grew into a project where a line of portable synthesizers and matching gear were born in a unique collaboration between the two brands.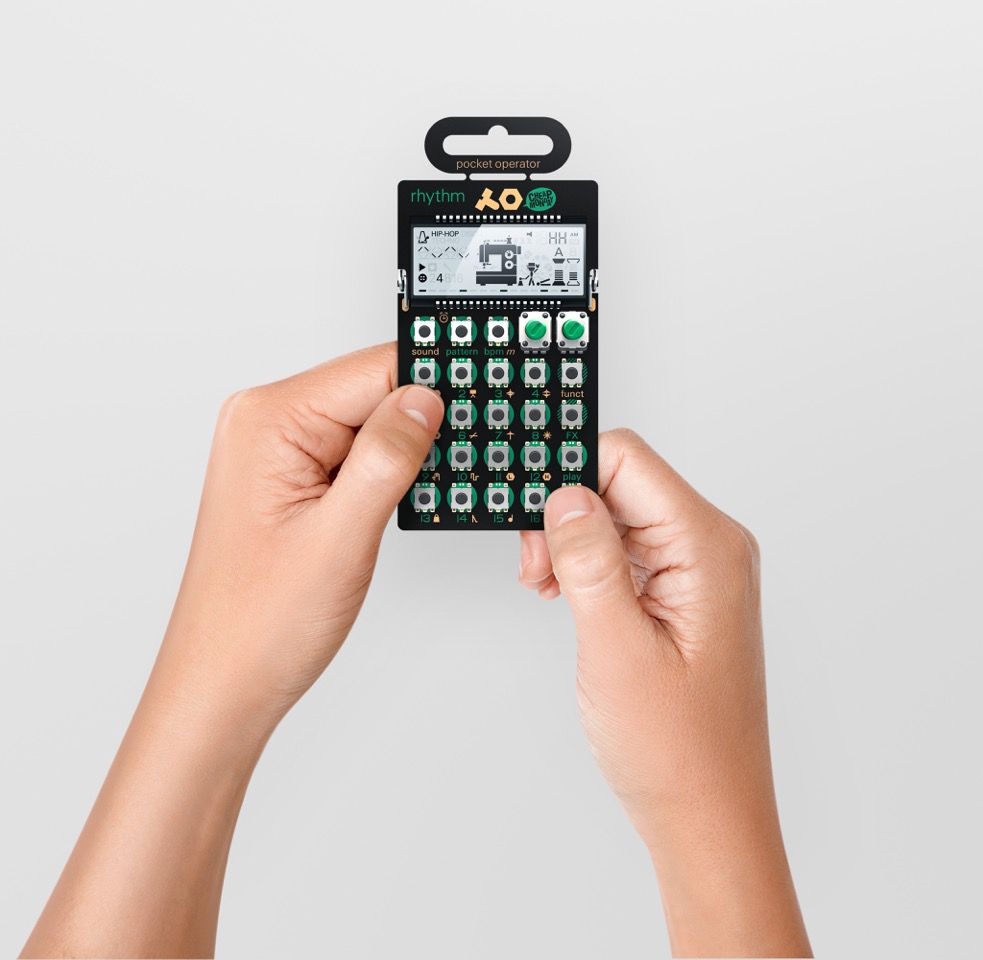 Teenage Engineering PO-12.
The matching brand philosophies: to "make jeans and fashion for the people"—great products at a good price—(Cheap Monday) and "we believe in making products for everyone, no matter where you live or what language you speak" (Teenage Engineering) has provided the perfect cornerstone for the collaboration as well as acted as an inspiration for the design process. With the new pocket operators, retailing at only $59 each, Teenage Engineering and Cheap Monday are most likely introducing the smallest, smoothest and cheapest synthesizers ever, still delivering premium sound, features and effects.
"I think this can be the seed to a new movement, at least a new music genre. All thanks to the open-minded team at Cheap Monday and Ann-Sofie Back", says Jesper Kouthoofd, founder and CEO at Teenage Engineering. With the launch of the Teenage Engineering collaboration, Cheap Monday has now taken a step outside of its core business; jeans and fashion.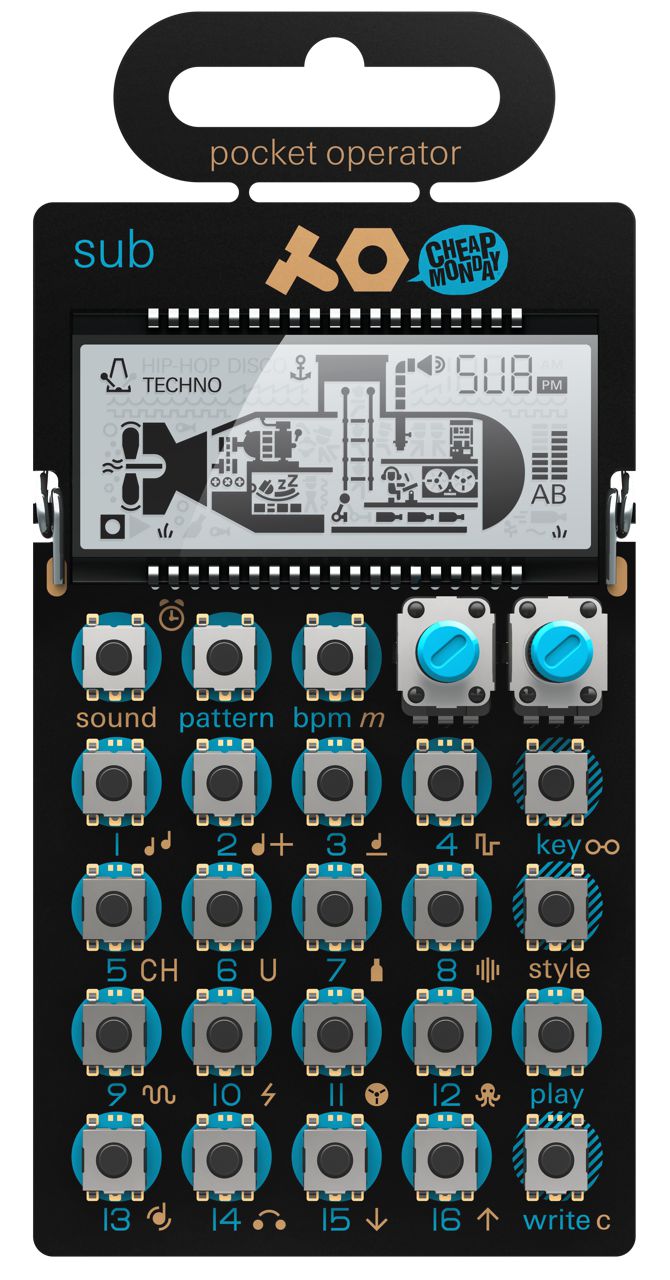 Teenage Engineering PO-14.
"It's great to work with Jesper again, not to mention the rest of the amazing team at Teenage Engineering. In addition to being amazing products in its own right, the pocket operators are a perfect addition to the Cheap Monday assortment, fulfilling our brand promise to make great products at a good prize," says Ann-Sofie Back, creative director at Cheap Monday.
The pocket operators will be launched at internationally renowned concept store Colette on January 22nd and will be available exclusively in store, on www.colette.fr and on www.teenageengineering.com until February 1st. From beginning of February www.cheapmonday.com and selected retailers across the world will carry the pocket operators and the gear.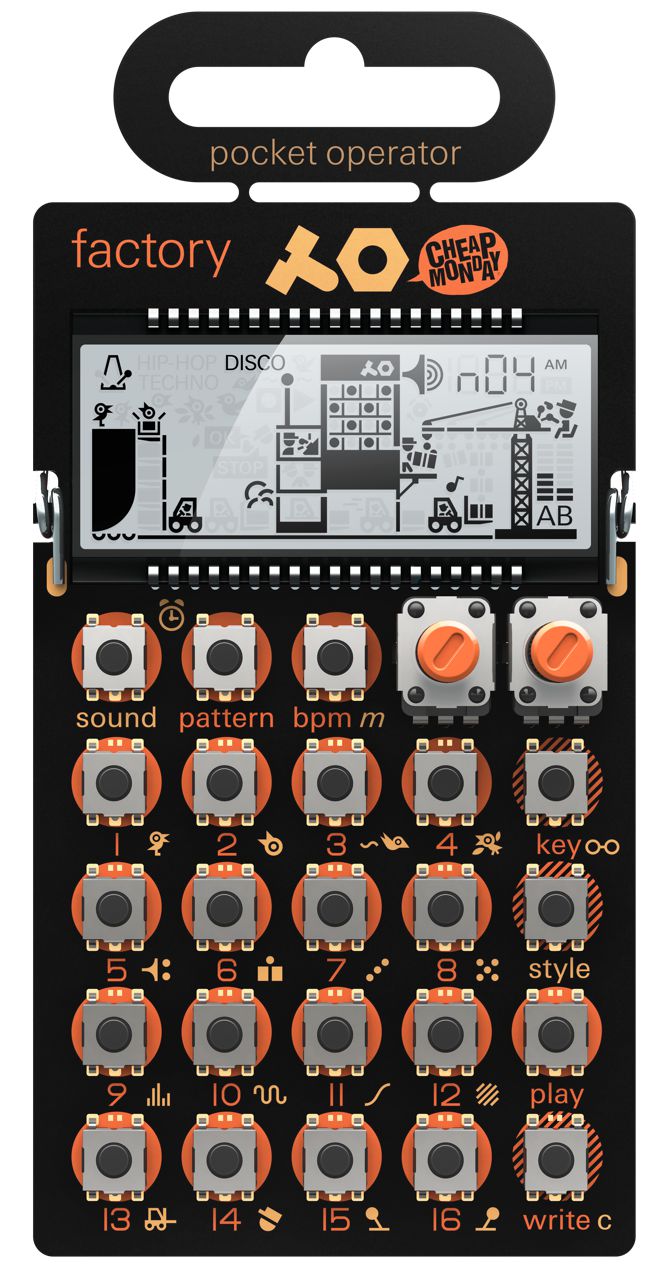 Teenage Engineering PO-16.
Facts and functionality, the pocket operators:
Teenage Engineering's new line of musical instruments is called Pocket Operators and consists of three pocket sized synthesizers. All three models come without casing where the components and artwork are visible directly on the printed circuit board. The 2x AAA battery-powered pocket operators also come with a segment LCD screen, built-in speaker, alarm clock and a stand made from bent wire. All models also feature parameter locks as well as synchronization functionality and they all have 3.5mm line in and line out. Each model has its own set of effects such as filters, bit-crushing, delay, stutter and many more.
PO-12 / rhythm
The rhythm is a drum machine with a 16 step sequencer with 16 different sounds which are a mix between synthesis and samples.
PO-14 / sub
The sub is a bass line driven synthesizer. It's got a 16 step sequencer with 16 sounds and 16 effects/playing styles.
PO-16 / factory
The factory is a melody / lead-synth oriented machine with a 16 step sequencer, 16 sounds and 16 effects/ playing styles.