En un consejo rápido anteriores hemos explorado transitorio basado en las selecciones de Pro Logic . En Pro Tools, esto es manejado por una característica llamada Tab a los transitorios. Vamos a echar un vistazo más de cerca.
Paso 1 - Cambiar
La "ficha a transitorios" botón de activación está en la barra de herramientas Editar ventanas, en la fila de botones de selección por debajo de las herramientas de edición (ver la imagen del título). Con este botón desactivado (o No), la tecla de tabulación avanzará el cursor de edición al límite de la región que viene. El cursor de edición es el rayo parpadeante que se obtiene al solo clic en una lista de reproducción pista con la herramienta de selección.
Manteniendo pulsada la tecla de tabulación opción abajo mientras se mueve el cursor hacia la izquierda a la frontera de la región anterior. Si usted comienza con una selección de edición y repetir lo anterior, la selección desaparece y se mueve el cursor de edición desde el borde izquierdo de la selección hasta el límite de la región.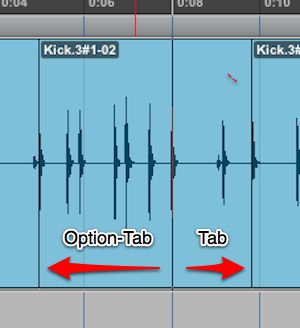 Al mover el cursor de edición a los límites de la región
Paso 2 -
Para seleccionar una región (o regiones), utilizando la tecla de tabulación (con "Tab to Transients 'apagado), añada la tecla de mayúsculas y repetir los pasos anteriores. Con una selección de edición, el borde derecho de la selección salta a la frontera, cuando la región de tabulación, y se mueve el borde izquierdo cuando la tabulación de la opción.
Paso 3 -
Alternar la ficha de botón transitorios en On (atajo de teclado: ficha de comandos opcional) le permite hacer selecciones basadas en los transitorios detectados dentro de una región. A diferencia de Pro Logic, Pro Tools no permite cambiar la sensibilidad con la que los transitorios se detectan, y esta técnica, obviamente, el más adecuado para el material de audio que tenga transitorios claros, tales como partes de batería (lo que no cellos legato!).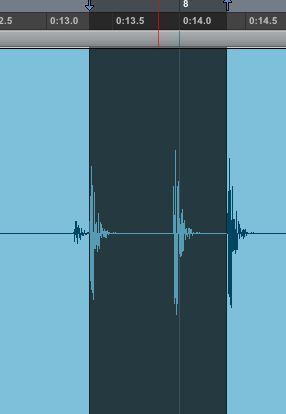 Transitoria basada en la selección
Paso 4 -
La primera cosa que muchos usuarios de aviso acerca de la funcionalidad de "Tab to Transients" Pro Tools característica es que al seleccionar un pasaje, es fácil de ficha hacia adelante uno o dos transitorios demasiado lejos. Al mover el cursor de edición única, opción-tab lo moverá hacia atrás, pero la hora de seleccionar (con la tecla Shift pulsada) la opción de la pestaña se mueve en el borde izquierdo de la selección a la izquierda, no en el borde derecho.
Hay un par de maneras de evitar este descuido aparente:
With the shift key still held down, click with the Selector tool before the correct transient, then shift-tab forward.

With an appropriate Nudge value selected, use command+- (the hyphen on the numeric keypad) to nudge the right edge backwards, then shift-tab forward.

Las mismas técnicas que se aplicarán si la izquierda (o principal) del borde de la selección se pestañas demasiado a la izquierda.
Paso 5 -
Usando esta técnica proporciona una forma rápida para seleccionar dos o cuatro secciones de barras en una grabación de batería, por ejemplo.
Click with the Selector tool near the start of the section.

Shift-click with the Selector tool to extend the selection into other tracks if necessary.

Tab to the start of the section.

Shift-tab to select the region using Nudge to adjust if you overshoot.

Turn on Loop Playback by Control-clicking the Play button in the Transport (Options > Loop Playback or keyboard shortcut: shift+command+L).

Hit the Play button to audition. You can adjust your selection on-the-fly but may need to stop and start Pro Tools for it to take note of the adjustment.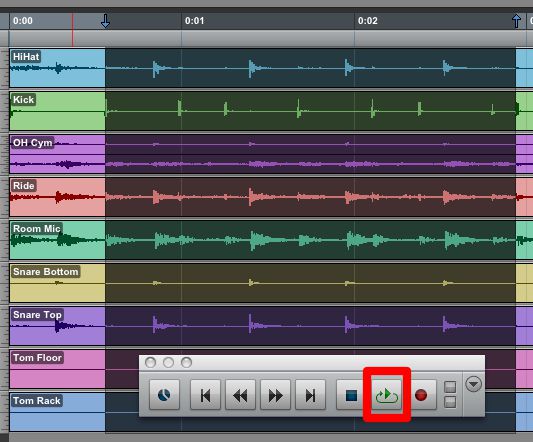 Bucle de reproducción al tiempo que la ficha a transitorios basados ​​en selecciones de varias pistas
Con ganas de más? Obtenga más información sobre Pro Tools en estos en profundidad tutoriales de Pro Tools .