Synthstrom Releases Deluge 1.3 Update + What's New Video
The latest firmware update for this unique instrument brings a raft of tweaks and improvements as well as new features. Check out this video to see and hear what's changed.
Synthstrom's Deluge is a unique piece of gear: a portable synth, sampler and sequencer in a great-looking package. And to up the cool quota even more, they are only manufactured in limited runs. The company will be releasing more soon and you can sign up here to be notified in advance.
But that's not all! They have also produced updated firmware that adds a bunch of new and tweaked features. Here's a video and a list of what's new.
Deluge 1.3.0 firmware
Undo / redo for editing and recording in track view
Function to clear current track
Arpeggiator for MIDI and CV tracks
Outputting of MIDI PGM change and bank select messages
Function to move track contents sideways
Quantize-level for note recording now has a menu setting
Basic slicer
When scrolling horizontally, your horizontal position is displayed numerically
Skip to higher song numbers more easily by turning the <> knob to select digit to edit
MIDI aftertouch (from external MIDI controllers) may be used as a modulation source
Envelope parameters (attack, etc.) may now have any of the modulation sources patched to them
Blinking play-cursor may be set to solid white rather than the abrupt flashing mode
Battery LED now blinks with increasing speed as battery becomes very flat
Incoming MIDI CC data (from external knobs) may now control multiple Deluge parameters per external knob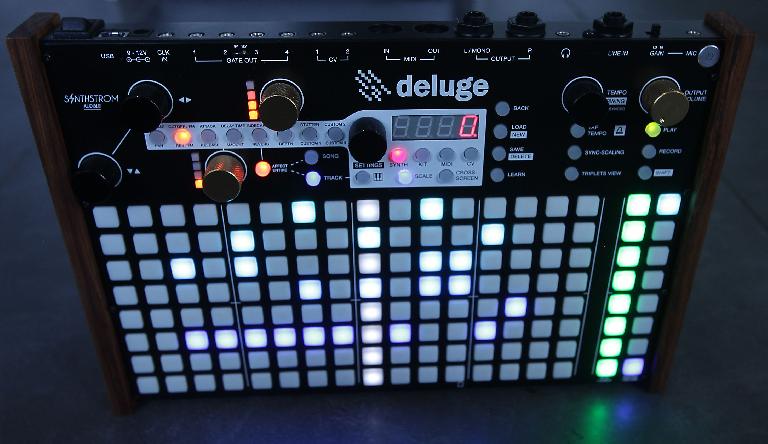 Deluge will be on sale again from Dec 1 and will be selling for $899 USD plus shipping ($55 USD to most locations around the world).
Shipping takes 2-3 days (plus customs if applicable)
Find out more and grab the latest firmware update on the Deluge website: https://synthstrom.com/product/deluge/