Synthstrom Audible has announced details of the version 3.0 firmware update for its Deluge portable synth, sampler and sequencer - which we have written about and filmed before: https://ask.audio/articles/superbooth-video-synthstrom-deluge-v2-features-explored. Here's what they had to say about it.
"This major software update will be out later this year. Development is still underway and there will be a lot more to unveil soon, but the feature we can finally demo to you is is our new QWERTY keyboard mode. In this mode, the Deluge's pads double as a QWERTY keyboard, allowing you to type text. This is accompanied by the ability to give your saved songs and presets actual text-based names, and quickly locate files by typing their name or first few characters. This will be a serious workflow boost for our users who have hundreds or even thousands of songs saved, or work with large libraries of samples. See the video below for a demonstration.
We'll be unveiling the V3.0 software at Superbooth in Berlin on May 9th, but will share another tease and further details on what you can expect before then - subscribe to our YouTube channel to see first.
Among The Changes...
WAVETABLE shortcuts have been added to both oscillators - so you can probably guess what we plan to implement for those. The NOISE and OSC SYNC shortcuts have moved up one place to accommodate this addition. X and Y modulation source shortcuts have also been added, for the future addition of compatibility for receiving MIDI MPE input. There are also sample INTERPOLATION-mode shortcuts for this option which was added in V2.1 - this and the new WAVEFORM-view shortcuts take the place of the sample START and END shortcuts, whose parameters are now both accessible in waveform view. There is also a new NAME shortcut which will allow the renaming of sounds within a kit via the QWERTY keyboard, in V3.0 when it is released. We have also now used the word LEVEL instead of VOLUME everywhere on the Deluge's panel.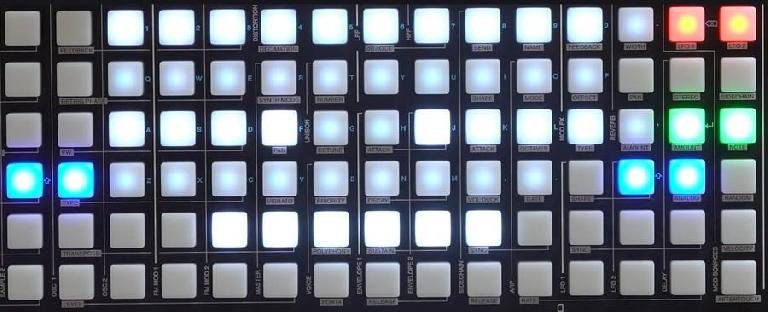 The new 3.0 shortcuts (including QWERTY) magnetic overlay can be pre-ordered for $20USD + $3USD shipping. https://synthstrom.com/product/deluge-shortcuts-overlay/
You may choose to purchase a replacement top panel instead and replace yourself for $50USD + $18US shipping. https://synthstrom.com/product/deluge-replacement-top-panel/
We will supply instructions on how to replace this, plus you'll need several tools and some moderate DIY skills. If you choose to replace the panel yourself, you do so with the understanding that you will not be covered under warranty for any damage incurred by doing so.
We aim to offer a service in the future where we can arrange replacement of the metal chassis through local service providers, maintaining warranty. For those interested, we imagine this service will cost in the region of $125-175USD including shipping.