Synth Stories: Portishead's Adrian Utley on Minimoog & SOS
Portishead's Adrian Utley talks about the Moog Minimoog analog synthesizer, its unique, wonderful sound, and how it was used to create the synth sounds on the recent Portishead "SOS" track, ABBA cover
Adrian Utley, the Bristol-based synthesizer hero of many, is an integral member of Portishead along with Beth Gibbons and Geoff Barrow. Their dark, moody and atmospheric blend of electronic synths with Beth's sometimes haunting vocals have meant their music has become the soundtrack to many people's lives since their first album release, Dummy, back in 1994.
In episode 005 of Synth Stories, we are thrilled to have chatted with Adrian Utley about his story and the love he has for the Minimoog analog synthesizer. We were fortunate to get an invite and tour around his studio which is an Aladdin's cave for synth-heads. Out of all the weird and wonderful machines on show, Adrian chose the Minimoog as his go-to synth to use for many of the parts on the recent ABBA cover of "SOS" by Portishead.
Adrian also re-creates some sounds using the Minimoog and explores its sonic palette:
Scroll down to watch the official video of "SOS" by Portishead.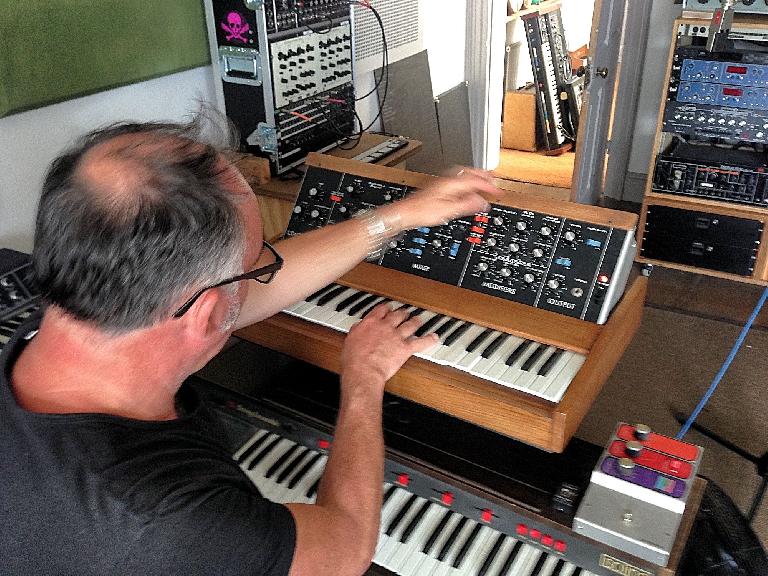 Adrian explains how he first got into synths as a kid in the 70s thanks to a number of albums like those from The Beatles, The Sweet, Roxy Music, Brian Eno and TV programs like Doctor Who. Synthesizers were a new sound for the time and they intrigued him. When he began playing guitar then he became really interested in how synth sounds were made.
His first experience with a Moog synthesizer was at a music shop in Northampton where there was a demo for a Moog portable System 15 and a Minimoog with a ribbon controller. The sounds just "blew my mind" Adrian says. But due to the cost, there was no way he could consider buying one.
At the time (much like now), Moog synths were the thing. Most bands at that time either had an ARP Odyssey, EMS VCS3 or a Minimoog. He now owns two Minimoogs, one signed by Bob Moog himself, and this instrument is the most important synthesizer in his large collection. There's a simplicity about the Minimoog that Adrian likes, yet he feels he never gets to the end of its possibilities at the same time.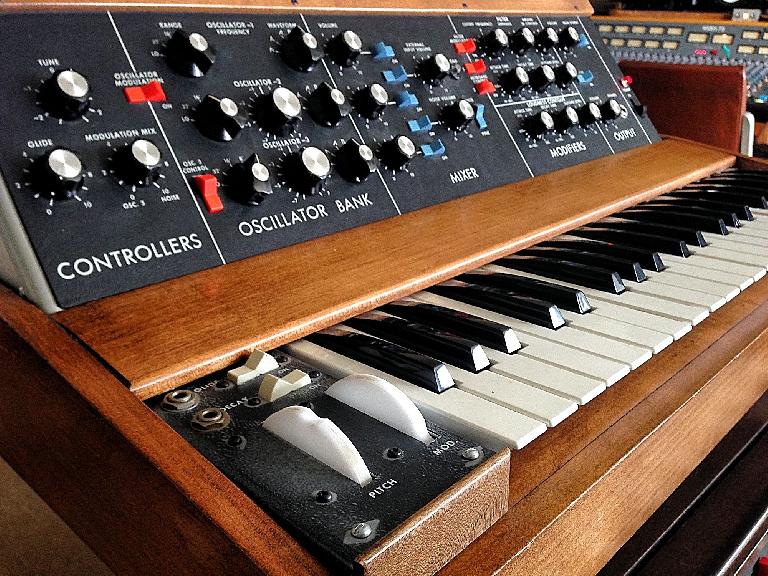 The Minimoog is the most musical in a conventional sense and the sound of its oscillators is warm and beautiful.
His first synth when playing with Portishead, however, was an SH-101. By the time they were making their second album we swapped some synths in order to get his first Minimoog. It was a super exciting time for him. He knew how synths worked and he was able to use it immediately. It was a life-changing moment. The Minimoog has "such an enormous sound" and out of all the synthesizers he owns Adrian feels it is "the most musical in a conventional sense and the sound of its oscillators is warm and beautiful."
A lot has been said about the low-end frequencies from a Minimoog. And Adrian says he doesn't think he's ever used one in a track without cutting the low-end frequency otherwise it'd just take over the entire track! Another aspect of the Minimoog is its keyboard which "is really nice to play." The design of the synth, the wood, the color coding, the switches, all combine to make the Minimoog a beautiful musical instrument rather than a funny synthesizer.
SOS
Portishead recently did a track for the film by Ben Wheatley called High Rise. They did a cover of ABBA's "SOS". Beth then made a film for the track in memory of Jo Cox (British politician who was savagely murdered by a far-right inspired man in the run up to the recent UK European referendum). The video includes a quote from Jo Cox, "We have far more in common than that which divides us."
Adrian describes how he used a palette of synthesizers for this track, of course including the Minimoog. Some instruments sat in the middle, others at the top and the Minimoog sat at the bottom. Although it's adaptable and can be used for all frequency sounds, he feels it's particularly well suited for low frequency sounds.
"We have far more in common than that which divides us." - Jo Cox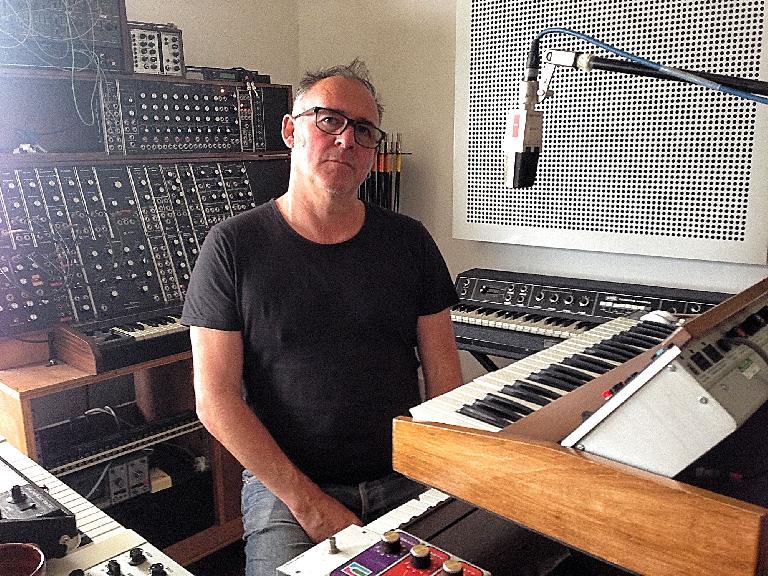 During the Synth Stories interview, Adrian talks more about his favorite synthesizers, his approach and workflow when using the Minimoog and other synths, and demonstrates and explains how he creates sounds using the Minimoog.