In modern music production, getting the very best from your vocals is essential and because your time is precious, we created VocAlign Ultra to give you the highest quality results with the least amount of work. Featuring technology from our flagship Revoice Pro software and building on a legacy which stretches back over two decades, VocAlign Ultra takes plug-in based vocal matching to a whole new level with unparalleled control and total flexibility.
Powered by our latest algorithms from Revoice Pro, VocAlign Ultra consistently provides better results when aligning longer and more complex sections of audio. Then for creative freedom, VocAlign Ultra features a new tightness control so you decide how much alignment you want to apply to your signals.
Also VocAlign Ultra doesn't just fix the timing of your performances with unprecedented ease and speed, it can align pitch too. And that's just for starters, there's many other enhancements which make VocAlign Ultra a must-have tool for music producers, engineers and audio post professionals working with vocals and dialogue.
"We've have been listening to customers telling us what they wanted for several years" says Synchro Arts MD and founder Jeff Bloom, "VocAlign Ultra is our first attempt to start from the ground up, and brings together the best alignment technology we have in a completely new interface that we hope gives users the easiest and fastest learning experience and workflow possible."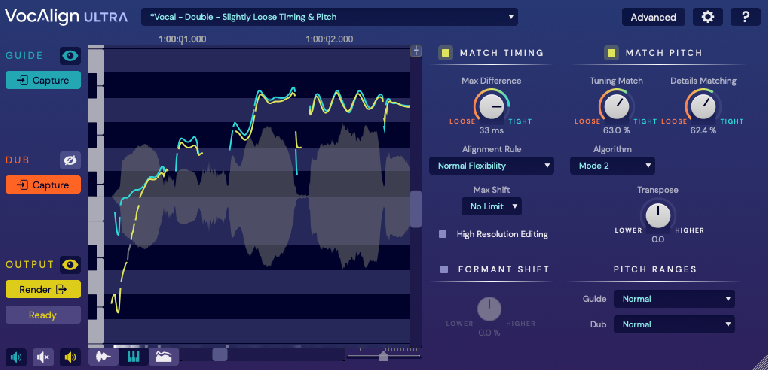 New Feature Highlights;
NEW! Tightness Control
NEW! Match Pitch Section
NEW! 60+ Alignment Presets
NEW! Enhanced Waveform and Pitch Displays
NEW! Fully Resizable GUI Window
NEW! Formant Shifting
Full ARA2 (Audio Random Access) support for enhanced workflow with compatible DAWs
To celebrate release, VocAlign Ultra will be 30% off until Feb 28th. Any VocAlign Pro users who redeemed their license after July 21st, 2020 will be entitled to a free upgrade via the Synchro Arts website. Claim your free 14-day trial and start VocAlign-ing today!