Então, por que estou animado sobre SuperBooth16 ? Bem, além de que
Ableton, Steinberg, Native Instruments, Arturia, Korg, Novation, Engenharia adolescente, Yamaha, etc, todos eles terão uma presença lá também. Considerando que esta é uma semana antes Musikmesse, isso é um grande negócio e sugere um sentido real da crença investido pelas empresas maiores neste evento menor, mais compacto para músicos e synthesists.
Então, se você estiver em qualquer lugar perto de Berlim no final de março, então você realmente deve a si mesmo para visitar SuperBooth. Estaremos lá. Então, espere algum estilo cobertura Ask.Audio das idas e vindas de SuperBooth16.
Para mais informações aqui está o que as boas pessoas por trás SuperBooth16 nos dizer sobre isso anos de música e justa cultura:
Berlim, 16 fev 2016
Ao longo dos últimos 15 anos, SchneidersLaden cresceu e se tornou um líder na distribuição e comercialização de instrumentos musicais e som inovadoras em Berlim e em toda a Europa. O fundador e CEO, Andreas Schneider, pode ser atribuído como um dos principais motores em todo o mundo por trás do presente HYPE sintetizador modular. Pode-se considerar a distribuição mundial e compra de instrumentos eletrônicos é a razão básica para a música eletrônica.
O presente momento é tão forte, que até mesmo os fabricantes bem conhecidos maiores têm investido no desenvolvimento de novos conceitos para competir com os pequenos fabricantes.
SUPERBOOTH16: Idea and Beginnings
Apesar de Berlim é um dos centros de música eletrônica mais modernas do mundo, ele nunca teve uma feira de música adequada para suportar a cena. Com SUPERBOOTH16, isso vai mudar a paisagem. SUPERBOOTH16 será a apresentação de grande formato da posição que tem sido visto no Frankfurter Musikmesse ao longo dos últimos 15 anos. O stand magnetizado os visitantes para ver diretamente o que se pode fazer com estes instrumentos. Muitos dos quais são feitas à mão e só está disponível em séries limitadas.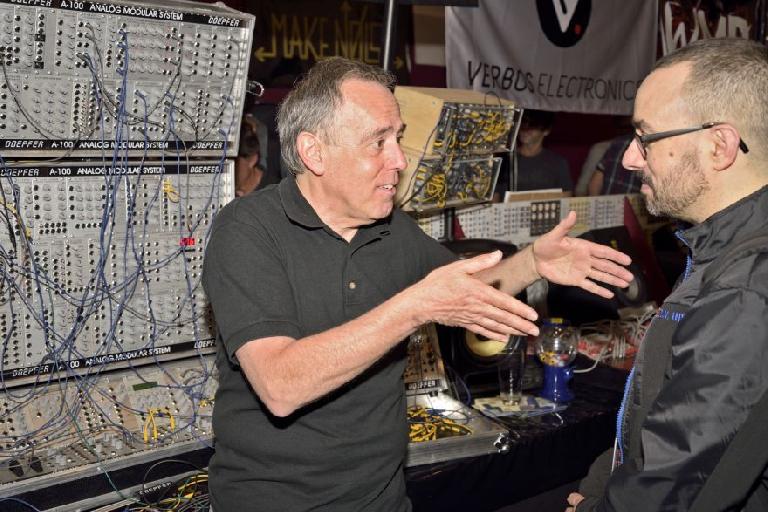 Mais de 100 expositores estão registados para SUPERBOOTH16 com os nomes de sintetizador maiores, como Yamaha e Roland, os especialistas clássicos como Dieter Doepfer (fabricante original Kraftwerk Synthesizer) através de muitos expositores self-made e menores, como fazer barulho e outros. Além disso, os fabricantes clássicos de instrumentos de teclado como Dave Smith e grandes companhias de software como Ableton ou Native Instruments também estará presente para mostrar e demonstrar os seus mais recentes desenvolvimentos.
SUPERBOOTH16: The Fair as Culture Festival.
Para promover e apoiar a vida e evoluindo cena Berliner Music, SUPERBOOTH16 fornece um conceito de base de um programa justo e cultural instrumento. É uma vida vir-junto para fabricantes, comerciantes, músicos, amadores, recém-chegados e a cena.
Além da mistura de instrumentos interessantes, ao longo de três dias, haverá apresentações diárias, demonstrações, discussões e oficinas DIY. Cada noite haverá um programa de noite que serão apresentados com artistas bem conhecidos envolvidos.
Nas noites de fim de semana, 01 de abril e 2 de, SUPERBOOTH16 vai realizar uma grande concertos e festa no especial Funkhaus Cultura Hall, onde artistas notáveis ​​estará realizando.
SUPERBOOTH16: The Berliner Funkhaus as Special Location
A seleção dos Funkhaus como um local de feira é uma vitória de arquitectura e integração. O projeto da feira não só apresenta os expositores de entrada um ambiente raro, mas integra as actualmente em execução ou em estúdios de gravação de operação e salas de função. Esta integração especial vai permitir um nível muito elevado de acústica para a apresentação de instrumentos, que é bastante raro para um justo musical.
Schneider também fez viajar de e para o Funkhaus uma experiência especial. Um serviço de transporte gratuito de barco está sendo fornecido a partir de Mitte, perto da Jannowitzbr
Presents SchneidersLaden: SUPERBOOTH16
Festival und justo para Soundculture eletrônico
31 de março
Público: 14:00 pm
Preço:
Transporte gratuito de barco
Diário a partir de 9:00 às 22:30 (Jannowitzbr
Rede: