Allora, perché sono entusiasta di SuperBooth16 ? Ebbene, allontanerà 
Ableton, Steinberg, Native Instruments, Arturia, Korg, Novation, Ingegneria adolescente, Yamaha, ecc saranno tutti avere una presenza anche lì. Considerando che questo è una settimana prima Musikmesse, che è abbastanza un grosso problema e suggerisce un vero senso di convinzione investito dalle aziende più grandi in questo piccolo, evento più compatta per musicisti e sintetisti.
Quindi, se siete nei paraggi di Berlino verso la fine di marzo, allora si ha realmente dovete a voi stessi a visitare SuperBooth. Ci saremo. Quindi, si aspettano qualche copertura stile Ask.Audio dei viavai di SuperBooth16.
Per maggiori informazioni ecco cosa la buona gente dietro SuperBooth16 ci dicono su questo anni la musica e la cultura giusta:
Berlino, 16 febbraio 2016
Negli ultimi 15 anni, SchneidersLaden è cresciuta fino a diventare un leader nella distribuzione e nella commercializzazione di strumenti musicali e sonori innovativi a Berlino e in tutta Europa. Il fondatore e CEO, Andreas Schneider, possono essere attribuiti come uno dei principali driver di tutto il mondo che stanno dietro l'attuale HYPE sintetizzatore modulare. Si potrebbe considerare la distribuzione in tutto il mondo e l'acquisto di strumenti elettronici è la ragione fondamentale per la musica elettronica.
L'attuale momento è così forte, che anche i più grandi produttori ben noti hanno investito nello sviluppo di nuovi concetti di competere con i piccoli produttori.
SUPERBOOTH16: Idea and Beginnings
Anche se Berlino è uno dei più moderni centri di musica elettronica del globo, non ha mai avuto una fiera musicale adeguata a sostenere la scena. Con SUPERBOOTH16, questo cambierà il paesaggio. SUPERBOOTH16 sarà la presentazione di grande formato dello stand che è stato visto al Frankfurter Musikmesse nel corso degli ultimi 15 anni. Lo stand magnetizzato i visitatori di vedere direttamente ciò che si può fare con questi strumenti. Molti dei quali sono fatti a mano e disponibile solo in tirature limitate.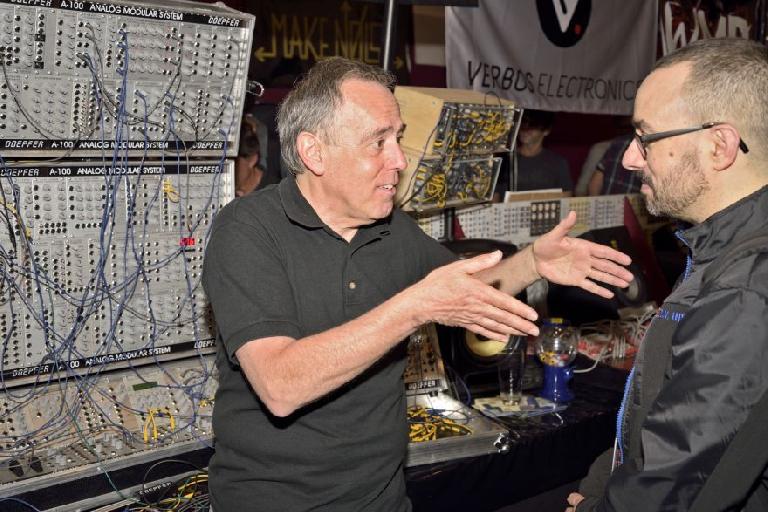 Oltre 100 gli espositori sono registrati per SUPERBOOTH16 con i nomi più grandi come sintetizzatore Yamaha e Roland, specialisti classici come Dieter Doepfer (originale creatore di Kraftwerk Sintetizzatore) attraverso molti espositori self-made e più piccoli come fare rumore e altri. Inoltre, i produttori classici di strumenti a tastiera come principali società di software come Ableton o Native Instruments Dave Smith e saranno presenti per mostrare e dimostrare le loro più recenti sviluppi.
SUPERBOOTH16: The Fair as Culture Festival.
Per promuovere e sostenere la vita e in continua evoluzione scena Berliner Musica, SUPERBOOTH16 fornisce un concetto di base di un programma equo e culturale dello strumento. Si tratta di un come-insieme vivente per produttori, rivenditori, musicisti, pensatori, nuovi arrivati ​​e la scena.
A parte la miscela di strumenti interessanti, nel corso di tre giorni, ci saranno presentazioni giornalieri, manifestazioni, discussioni e workshop bricolage. Ogni sera ci sarà un programma di notte che verrà presentato con noti artisti coinvolti.
Nelle notti del fine settimana, 1 aprile e 2 °, SUPERBOOTH16 terrà un grande concerto e festa nella speciale Funkhaus Sala della Cultura in cui gli artisti di rilievo saranno performanti.
SUPERBOOTH16: The Berliner Funkhaus as Special Location
La selezione dei Funkhaus come location fiera è una vittoria architettonico e integrazione. Il design della fiera presenta non solo gli espositori in arrivo un ambiente raro, ma integra gli studi di registrazione di funzionamento attualmente in esecuzione o in e sale funzioni. Questa integrazione speciale consentirà un livello molto alto di acustica per la presentazione degli strumenti, che è piuttosto raro per una fiera musicale.
Schneider ha anche fatto il viaggio da e per il Funkhaus un'esperienza speciale. Una navetta in barca gratuito viene fornito dal Mitte, vicino al Jannowitzbr
Presenta SchneidersLaden: SUPERBOOTH16
Fiera und Festival per Soundculture elettronica
31 marzo
Pubblico: 14:00
Prezzo:
Navetta gratuito in barca
Tutti i giorni dalle 9:00 attraverso 10:30 (Jannowitzbr
Web: