Así que, ¿por qué estoy entusiasmado con SuperBooth16 ? Bueno, aparte de ella
Ableton, Steinberg, Native Instruments, Arturia, Korg, Novation, Ingeniería adolescente, Yamaha, etc todos tendrán una presencia allí también. Teniendo en cuenta que es una semana antes de la Musikmesse, eso es un gran problema y sugiere un verdadero sentido de la creencia invertido por las empresas más grandes en este caso más pequeño, más compacto para músicos y sintesistas.
Por lo tanto, si estás en cualquier lugar cerca de Berlín a finales de marzo, entonces realmente debe a sí mismo para visitar Superbooth. Estaremos ahí. Por lo tanto, es de esperar un poco de estilo Ask.Audio la cobertura de las idas y venidas de SuperBooth16.
Para obtener más información sobre esto es lo que la buena gente detrás SuperBooth16 nos dicen acerca de este años la música y la cultura justa:
Berlín, 16 de febrero de el año 2016
Durante los últimos 15 años, SchneidersLaden ha crecido hasta convertirse en una empresa líder en la distribución y comercialización de instrumentos musicales y de sonido innovadoras en Berlín y en toda Europa. El fundador y CEO, Andreas Schneider, pueden atribuirse como uno de los principales impulsores de todo el mundo detrás de la presente HYPE sintetizador modular. Se podría considerar la distribución en todo el mundo y la compra de instrumentos electrónicos es la razón básica por la música electrónica.
El impulso actual es tan fuerte, que incluso los más grandes fabricantes bien conocidos han invertido en el desarrollo de nuevos conceptos para competir con los pequeños fabricantes.
SUPERBOOTH16: Idea and Beginnings
A pesar de que Berlín es uno de los más modernos centros de música electrónica en el mundo, nunca ha tenido una feria de la música adecuada para soportar la escena. Con SUPERBOOTH16, esto va a cambiar el paisaje. SUPERBOOTH16 será el gran formato de presentación del stand que se ha visto en el Frankfurter Musikmesse lo largo de los últimos 15 años. El soporte magnetizado los visitantes ver directamente lo que uno puede hacer con estos instrumentos. Muchos de los cuales son hechos a mano y sólo está disponible en carreras limitadas.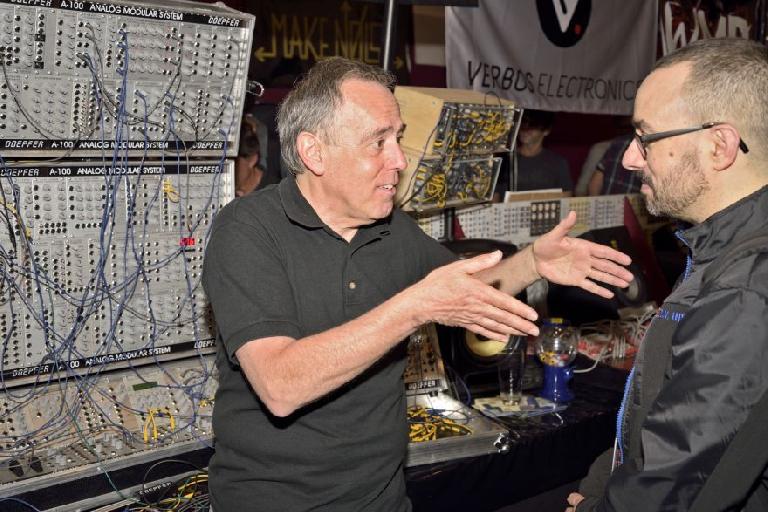 Más de 100 expositores están registrados para SUPERBOOTH16 con los nombres más grandes como sintetizador Yamaha y Roland, especialistas clásicos como Dieter Doepfer (fabricante original Kraftwerk Sintetizador) a través de muchos expositores hechos a sí mismos y más pequeños como hacer ruido y otros. Además, los fabricantes clásicos de instrumentos de teclado como Dave Smith y compañías de software líderes como Ableton o Native Instruments también estarán presentes para mostrar y demostrar sus últimas novedades.
SUPERBOOTH16: The Fair as Culture Festival.
Promover y apoyar la vida y la evolución de la escena Berliner Música, SUPERBOOTH16 proporciona un concepto de base de un programa de la feria y cultural instrumento. Es un salón-venir juntos para fabricantes, distribuidores, músicos, manitas, los recién llegados y la escena.
Aparte de la mezcla de instrumentos interesantes, en el transcurso de tres días, habrá presentaciones diarias, manifestaciones, debates y talleres de bricolaje. Cada noche habrá un programa de noche que será presentado con artistas conocidos implicados.
En las noches de fin de semana, el 1 de abril y 2º, SUPERBOOTH16 llevará a cabo una gran fiesta de conciertos y en especial la Funkhaus Culture Hall, donde notables artistas va a realizar.
SUPERBOOTH16: The Berliner Funkhaus as Special Location
La selección de los Funkhaus como un lugar justo es un triunfo arquitectónico y de integración. El diseño de la feria no sólo presenta los expositores entrantes un ambiente raro, sino que integra las que se están ejecutando o en estudios de grabación y salas de operación de la función. Esta integración permitirá especial para un muy alto nivel de la acústica para la presentación de los instrumentos, que es bastante raro para una feria musical.
Schneider también ha hecho que viajan hacia y desde el Funkhaus una experiencia especial. Una gratuito de transporte se proporciona de Mitte, cerca de la Jannowitzbr
Presentes SchneidersLaden: SUPERBOOTH16
Feria Festival und de Soundculture electrónica
El 31 de marzo
Público: 14:00 pm
Precio:
De traslado en barco
Todos los días de 9:00 am a 22:30 (Jannowitzbr
Web: