So, why am I excited about SuperBooth16? Well, aside from it being a fair and festival for electronic sound culture. You just need to look at photos of the venue to be inspired by the setting... then, there's the list of exhibitors. Lots of the synth, eurorack, and modular synth companies like Audio Damage, Bastl Instruments, DSI, Doepfer, Endorphin, Erica Synths, Koma, Kilpatrick Audio, Make Noise, Moog Music,Pittsburgh Modular will be there. And some of these won't be at Messe but are choosing SuperBooth16 as their preferred venue instead.
Ableton, Steinberg, Native Instruments, Arturia, Korg, Novation, Teenage Engineering, Yamaha, etc will all have a presence there too. Considering this is a week before Musikmesse, that's quite a big deal and suggests a real sense of belief invested by the bigger companies in this smaller, more compact event for musicians and synthesists.
So, if you're anywhere near Berlin towards the end of March then you really owe it to yourself to visit SuperBooth. We'll be there. So, expect some coverage Ask.Audio style of the comings and goings of SuperBooth16.
For more info here's what the good folks behind SuperBooth16 tell us about this years music and culture fair:
Berlin, 16. February 2016–The first annual SUPERBOOTH16, music and culture fair will be taking place from March 31st - April 2nd in Berlin. What started as a small stand on the Musikmesse in Frankfurt, will now be presented in Berlin as a broadly programmed Culture festival organized by SchneidersBuero in Berlin. The exhibition will take place at the historic Funkhaus, which is a former German radio station that will provide an uncompromised acoustic and architectural setting.
Over the last 15 years, SchneidersLaden has grown to become a leader in the distribution and marketing of innovative musical and sound instruments in Berlin and throughout Europe. The founder and CEO, Andreas Schneider, can be attributed as one of the main worldwide drivers behind the present modular synthesizer HYPE. One might consider the worldwide distribution and purchase of electronic instruments is the basic reason for electronic music.
The present momentum is so strong, that even the larger well known manufacturers have invested in developing new concepts to compete with the small manufacturers.
SUPERBOOTH16: Idea and Beginnings
Although Berlin is one of the most modern electronic music centers on the globe, it has never had an adequate music fair to support the scene. With SUPERBOOTH16, this will change the landscape. SUPERBOOTH16 will be the large format presentation of the stand which has been seen at the Frankfurter Musikmesse over the last 15 years. The stand magnetized the visitors to see directly what one can do with these instruments. Many of which are hand made and only available in limited runs.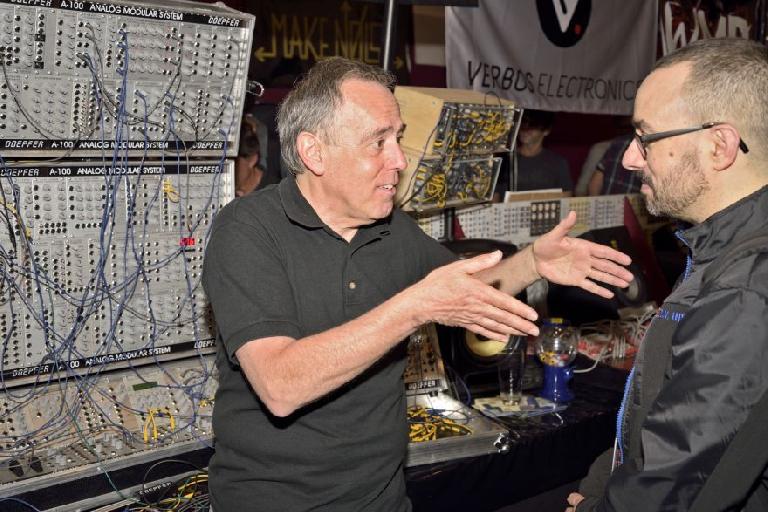 Over 100 exhibitors are registered for SUPERBOOTH16 with the larger synthesizer names like Yamaha and Roland, classic specialists like Dieter Doepfer (Original Kraftwerk Synthesizer maker) through many self-made and smaller exhibitors like Make Noise and others. Also, classic manufacturers of keyboard instruments like Dave Smith and leading software companies like Ableton or Native Instruments will also be present to show and demonstrate their latest developments.
SUPERBOOTH16: The Fair as Culture Festival.
To promote and support the living and evolving Berliner Music scene, SUPERBOOTH16 provides a base concept of an instrument fair and cultural program. It is a living come-together for manufacturers, dealers, musicians, tinkerers, new-comers and the scene.
Aside from the mixture of interesting instruments, over the course of three days, there will be daily presentations, demonstrations, discussions and DIY workshops. Each evening there will be a night program that will be presented with well-known artists involved.
On the weekend nights, April 1st and 2nd, SUPERBOOTH16 will hold a large concerts and party in the special Funkhaus Culture Hall where notable artists will be performing.
SUPERBOOTH16: The Berliner Funkhaus as Special Location
The selection of the Funkhaus as a fair location is an architectural and integration win. The design of the fair not only presents the incoming exhibitors a rare ambient, but integrates the presently running or in operation recording studios and function halls. This special integration will allow for a very high level of acoustics for the presentation of instruments, which is quite rare for a musical fair.
Schneider also has made travelling to and from the Funkhaus a special experience. A free boat shuttle is being provided from Mitte near the Jannowitzbrücke and Chinese Embassy which will take visitors and exhibitors through a small tour of the Berliner Spree and land directly at the Funkhaus.
Further information to the concept, the exhibitors and program can be found at www.superbooth.com.
SchneidersLaden Presents: SUPERBOOTH16
Fair und Festival for electronic Soundculture
March 31st – April 2nd
Funkhaus Berlin
Nalepastraße 18, 12459 Berlin

Opening Times:
Trade Visitors: 10:00am – 22:00pm
Public: 14:00pm – 22:00pm
Price: Day ticket: 35 EUR / Weekend-Ticket: 85 EUR
Free Boat Shuttle
Daily From 9:00am through 10:30pm (Jannowitzbrücke – Funkhaus)