Summit's digital New Oxford Oscillators offer subtractive, FM and wavetable synthesis, and feed into genuine analogue dual filters, distortion and VCAs. The multitimbral engine enables merging and combining of two complete and independent patches, while up to 16 simultaneous voices deliver enough harmonic depth for even the richest of pads.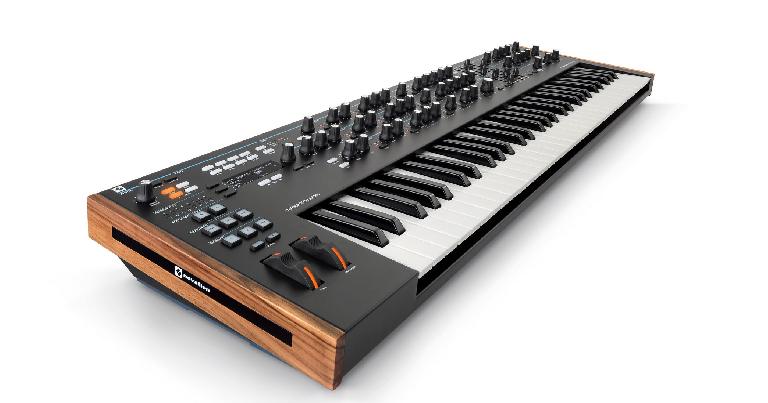 Summit doubles the power of Peak's digital New Oxford Oscillators up to 16 voices and two parts, and adds a wealth of new features and a premium-quality five-octave keyboard. A synth much greater than the sum of its parts, it gives the serious producer or performer everything they need to design and play stunning basses, leads, arps, pads, effects and beyond.

Summit takes Peak's architecture and workflow to new heights, with a swathe of extra front panel controls for hands-on wrangling of FM, effects, LFOs and more; dual filters with six LP/HP/BP combinations; audio input for processing external sources with the onboard effects; and auxiliary audio outputs.



The true stereo analogue signal path comprises dual analogue multimode filters, analogue VCAs and three stages of analogue distortion – pre- and post-filter, and post-VCA. With roots in the legendary OSCar, via Bass Station II, Summit's analogue credentials are truly impressive.
Two Peaks in one synth - and then some
The 16-voice, multitimbral engine combines two simultaneous patches. Split or stack them for keyboard-divided or layered sounds, or switch the entire synth between two separate and independently controlled setups, perhaps using one as an effects processor for an external input source. Also, Summit can use all your Peak patches.
Features
Five-octave, semi-weighted, velocity-sensitive keyboard with aftertouch – the same premium-quality keybed as introduced with our SL MkIII controller keyboard.

New Oxford educated

Digital New Oxford Oscillators are capable of subtractive, FM and wavetable synthesis. Waveforms are generated directly on the FPGA (Field Programmable Gate Array) chip, using 24MHz bitstream processing; and adjustable drift and divergence emulate the inherent and often desirable instability of analogue circuits.

True analogue filters and distortion

The New Oxford Oscillators output to true analogue filters, with origins in the classic OSCar synth, and three stages of analogue distortion give you ample saturation options.

Dual filters

Summit's dual filter is switchable between six paired combinations of low-pass, high-pass and band-pass modes at 12dB/octave, or any single mode at 24dB/octave, for a broad range of sonic possibilities.

Hands-on sound design

Packed with modulation sources for deep sound design – LFOs, envelopes, Animate buttons and more. Extended controls see

FM parameters, envelope loop switches and LFOs 3/4 moved from Peak's menu system to the front panel, for easy programming and tweaking.

Audio in and auxiliary audio out

Hook up external instruments for processing with Summit's onboard effects, while using it as a synth at the same time.

Powerful effects

Onboard reverb, chorus and delay effects are hosted on the FPGA. They're also controlled directly from the front panel, and available as modulation targets in the dedicated FX Mod Matrix.