Gamechanger Audio is proud to unveil the revolutionary Motor Synth an analogue, electro-mechanical synthesizer that uses a system of electromotors as its main sound source. It's launching on Indiegogo here: https://www.indiegogo.com/projects/motor-synth/coming_soon

Motor Synth represents a new method of analogue audio signal generation since digitally controlled electromotors have never been used as the principal sound source for a commercial musical instrument — indeed, nothing like it has ever been built before!
How it works?
Motor Synth produces sounds by accelerating and decelerating eight electromotors to precise rpm (revolutions per minute) that correspond with specific musical notes. The instrument's eight-electromotor configuration makes it a four-note true polyphonic synth with two voices per key played.

Digging deeper, the Motor Synth has two ways of producing its core sound.
Firstly, magnetic pickups are placed on each of its eight electromotors; the spinning coils result in a very industrial-sounding, over-the-top analogue tone. Think eight harmonious revving engines pumping out an intimidating noise!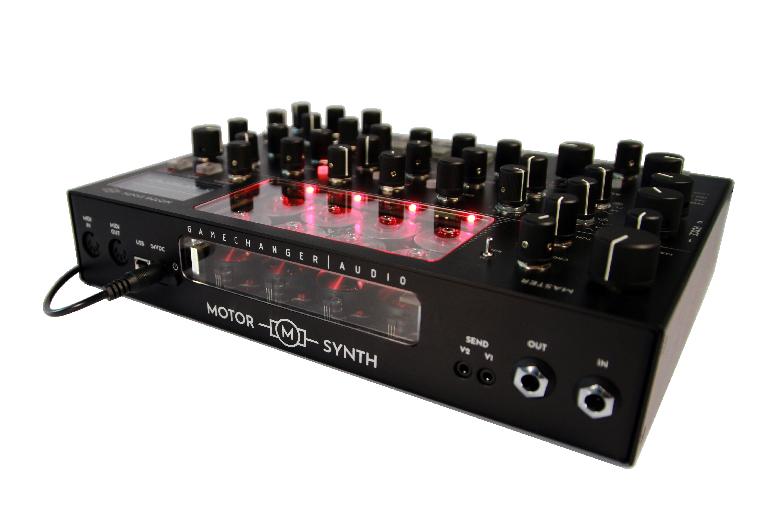 Secondly, specially designed reflective optical disks have been attached to the shafts of each electromotor. Each disk contains a graphical representation of three standard audio wave-shapes. As the electromotors spin, the disks are set into circular motion, and each wave-shape is read by a dedicated set of infrared sensors, then converted into an audio signal. Thus, the wave-shapes on the reflective optical disks become precise musical notes, corresponding to the speed of the electromotors.
Additional Features
Motor Synth features familiar analogue envelopes and filters alongside arpeggiation, cross modulation, LFO, sequencing, and multiple polyphonic mode facilities, as well as an innovative looping system that allows to layer rhythm and melodies, just like when using a loop station.

Motor Synth can be played out of the box via eight built-in control keys and four floating tuning/frequency knobs. Performers and composers can connect any MIDI controller, like a keyboard or DAW.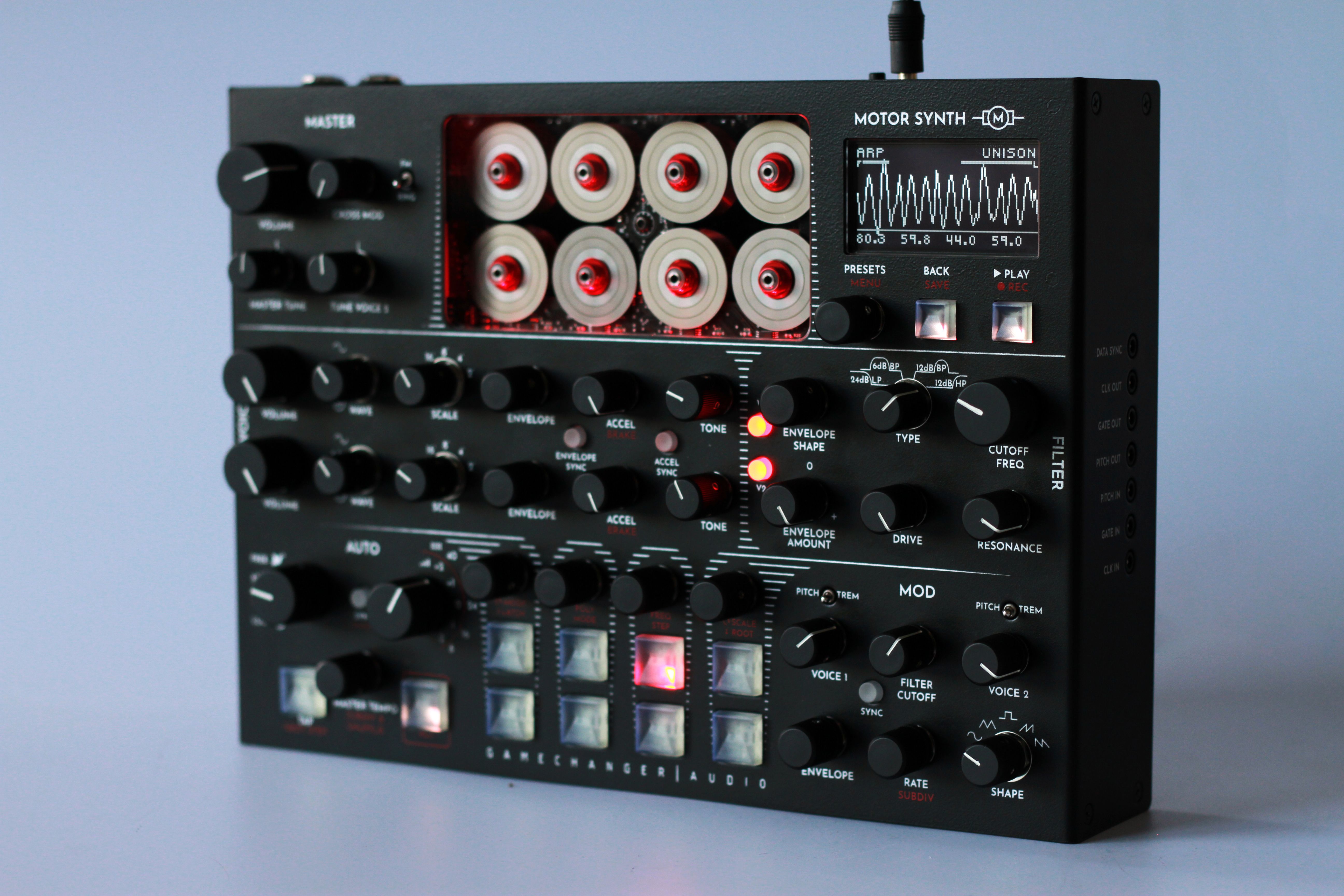 Motor Synth is also capable of tracking a monophonic audio signal, such as guitar or bass, via its 1/4-inch mono input. Motor Synth can be configured to act as a harmonizer for electric guitars or other melodic instruments, recognizing the pitch of a musical tone and instantly generating a complimentary tone by operating an electromotor at a matching frequency. Furthermore, users can create intervals and chords based on the frequency of the incoming signal with no need for a MIDI controller or inputting preprogrammed musical information.

Whatever way anyone chooses to play Motor Synth, a stunning visual experience is guaranteed. Motor Synth's see-through protective glass cover above its core sound system of eight electromotors enables users to receive visual feedback from the instrument itself by being able to see those spinning electromotors in action. But better still, the visual experience is enhanced by the visible set of reflective optical disks attached to the electromotors' shafts being coupled to a set of eight mini strobe lights, so those spinning disks themselves turn into a hypnotic light show, courtesy of the strobe effect!

As an instrument that uses electromotors as its main sound source, Motor Synth inherently possesses many unique sound traits that will surely appeal to many musicians that favour analogue electronic instruments and synthesizers in particular. Put it this way: with its unusual tonal and timbral qualities, unlimited microtonal pitch adjustment and modulation abilities, and note attack and decay properties influenced by the acceleration and deceleration curves of electromotors, Motor Synth works well across a wide range of musical styles.

Motor Synth will be available through a crowdfunding campaign starting on the 28th of May and expected shipping towards the end of the year.