Eowave has introduced the Redondances eurorack module inspired by 80s era delays. "Our goal was to recreate the particular characteristics of pre digital delay racks of the 70-80s in a eurorack format, with modern functionality and capabilities.To achieve this we used vintage style DAC technology that enables a constant frequency control over the sampling rate, so that it can range from 2kHz to 44kHz. In using the Redondances delay, do not expect clean 24/96 KHz type delay sounds but rather more organic and creative textures.
The artefacts created by the variable sample frequency will become a part of the creation process. The different buffer sizes offer you very short delays for more metallic sounds and flanger type effects as well as longer delays for rhythmic articulations or textures. With 4 feedback levels the module can easily turn into a rich distortion machine or bitcrusher.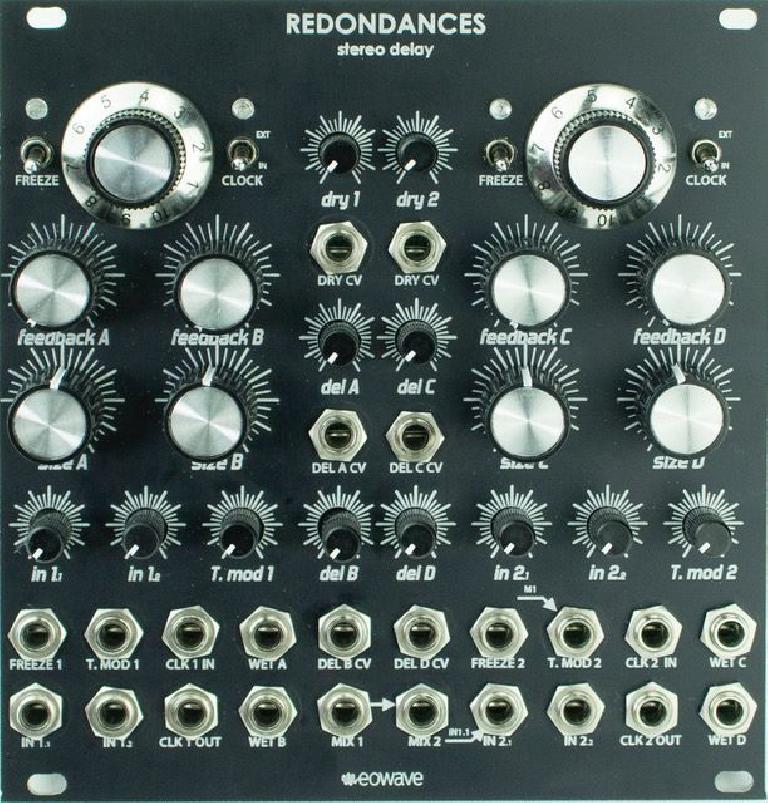 Even without anything connected to the input, it can generate rich drones and feedback effects. The 4 individual outputs invite you to explore your patching - into different filters and other modifiers from your rack to enhance the colour of your delay lines. The freeze function stops the constant sampling and holds the current memory. The Redondances can work either in stereo or as 2 totally independent delays.
Specs
Dual mono / stereo delay with 12 bits real sampling
Frequency range : 2 kHz to 44 kHz
Delay range from 1.5 s @ 44kHz to 29s @ 2kHz at maximum buffer size
2 individual channels for 4 individual outputs
For each channel :variable speed with CV freeze clock in/out
2 variable delay sizes from 32 to 65535 bytes
2 feedbacks
3 individual levels for dry and wet with CV