Superbooth 2017: NonLinearLabs C15, A Special Synth For Human Players
The C15 is a synthesizer with a difference. Its focus is on pure musical performance. You won't MIDI or sequencers or arpeggiators here, just controls for human musicians wanting real-time expression.
Imagine a keyboard-based hardware instrument released without an internal sequencer, arpeggiator, MIDI or any way to program patterns for non-real-time playback. It seems like a concept far from all current music instrument trends. But NonLinearLabs C15 isn't just another synth or keyboard. It's here to cater to the performing musician, the live and studio keyboard player. It's here to make playing a pleasure.
Just listen to the beginning of this video for the performance side of things. Then we interview Stefan, the creator of C15, to find out what it is about this instrument that makes it so extraordinary. And it really is all that.
Web:http://www.nonlinearlabs.de/product/c15.html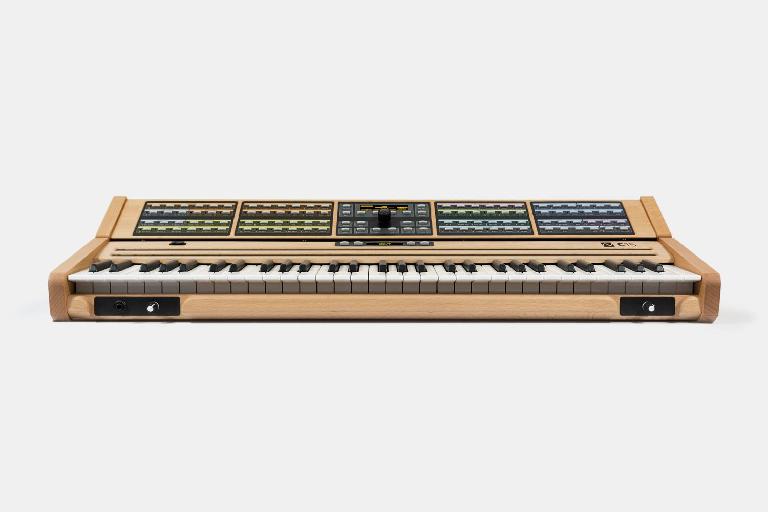 Features At A Glance
Phase 22 Synthesis Engine
2 Oscillators (sine wave, phase modulation, frequency randomization)
2 Shapers (sine curve, adjustable foldback and asymmetry)
Ring Modulator
Comb Filter (tunable, with allpass and lowpass)
State Variable Filter (multi-mode, 2-4 poles, FM)
Feedback Mixer (4 input signals, shaper for the sum)
Feedback bus with 4 destinations
Output Mixer (stereo, 4 input signals, shaper for the sum)
5 Stereo Effects: Cabinet (amp simulation), 8-pole Gap/Band Filter, Phaser/Flanger/Chorus, Echo, Reverb
3 ADBDSR Envelopes, adjustable attack curve
Velocity sensitivities for envelope levels, attack times, and release times
4 Macro Controls, assignable to up to 86 target parameters
8 Hardware Sources, mappable to the 4 Macro Controls
Number of parameters: 317
Resolution of the parameters: typically 1000 steps (250 ... 15000 steps)
Resolution of key velocity, ribbons, bender, aftertouch, pedals: 4000 steps
12-voice polyphony, variable Unison settings
Scale parameters for micro-tuning the 12 steps of the octave
Play Interface
61-key (5 octave) Fatar keybed with semi-weighted long-arm keys
Note-on and note-off velocity sensitivity
Monophonic aftertouch
Two 800 mm touch strips (ribbons), each with 33 LED dots
Ribbon modes: absolute, relative, combinable with return-to-center
Lever (magnetic force loaded) for pitchbending and similar applications
Control panel with an OLED display (128 x 32 dots) and four buttons
Output volume potentiometer (at the front)
Headphone level potentiometer (at the front)
Parameter Editing
4 Selection panels, each with 24 buttons and LEDs
Labeling by exchangeable magnetic overlays
Edit panel with an OLED display (256 x 64 dots), an incremental encoder, and 18 buttons
The ribbons are also assignable for parameter editing.
User-definable Init preset and Default values
Randomize function
Graphical user interface on any WiFi-enabled device running a browser, unique zoom-and-pan navigation, enabled for touch
Preset System
User-definable banks
Unlimited number of presets per bank
User-editable infos per preset
Search function to find presets by name or tags in the infos
Morphing transition between presets.
Undo System
Unlimited undo for all user interactions, including sound editing steps
Undo list with support for different editing branches (tree view)
Connectors
Main audio outputs (L, R) (TRS, balanced by transformers)
Headphone output at the front (TRS)
4 inputs for analog controls, such as pedals (TRS, flexible pin-assignment)
USB host connector for data exchange and software updates
Dimensions
Base unit only: 900 x 290 x 100 mm (width x depth x height)
Including panel unit: 900 x 410 x 160 mm (width x depth x height)