Monday 8th December, 2015'"Looperator is the ultimate audio slicing, processing and mangling system for all styles of electronic music. Its quick, intuitive interface makes everything from subtle rhythmic enhancements to spectacular audio pyrotechnics easy and fun to achieve.
Design a 16-step looping effects sequence from 2 to 8 bars long using Looperator's six power-packed modules and extensive array of effects, then bring every step to life using the comprehensive modulation system, and trigger the whole thing via MIDI.
Features
Slice and stutter
Rearrange your groove! Chop the input signal into 16 slices and freely assign them to each sequence step on the Slice track, then rhythmically stutter selected steps (or all of them, if you like) on the Loop track, and work in some funky volume modulation, bitcrushing and sample rate reduction on the Envelope track.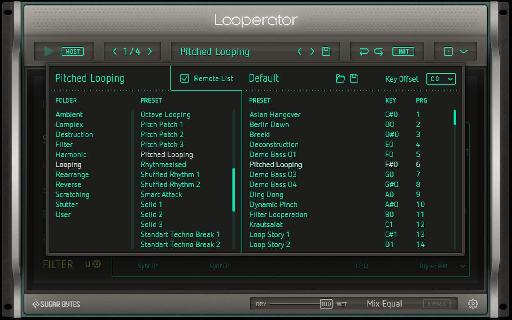 Flexible filters
Looperator's Filter provides per-step frequency shaping of the left and right channels independently. The filters are built on all-new algorithms and feature low-pass, high-pass, band-pass and band reject models at 12 and 24dB/octave slopes, as well as a comb filter and a powerful set of vowel formant filters that can be paired up and crossfaded for talkbox-style sounds.
Multi-effects galore
Two User FX modules each deliver dynamic effects sequencing with a rich and varied line-up of high-quality processors. Scratch, brake and timestretch your loops with Vinyl; transform them tonally with Distortion, Grain, Comb Filter and Tonalizer; polish them up with studio staples like Reverb, Delay and Phaser; and layer in synthesized sounds with Chaos Synth.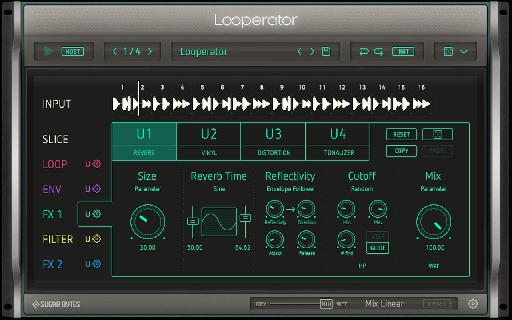 User steps
Each sequencer track offers 20 ready-made steps '" Loop patterns, Envelope shapes, Filter modes and slopes, FX presets, etc. '" selected by simply clicking a step and selecting from the panel that pops up. Much of the time, you won't need to go any further than that, but when you do, though, the four user-defined steps also available to each track give you precise control over five processor parameters per effect.
Motion and modulation
Every User step configuration features five adjustable parameters, each one automated using one of 20 preset parameter modulation curves (with adjustable start and end points), a static knob, a randomizer or an Envelope Follower. When it comes to animating your Looperator effects sequences, the possibilities are literally limitless!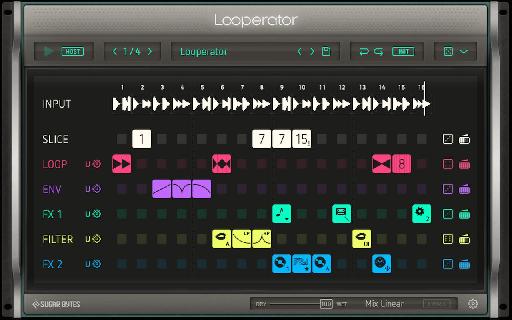 Fast, fluid workflow
Reorder the signal flow by dragging sequencer tracks up and down, choose from seven per-module and global Mix blending modes, undo/redo, Randomizers, tied steps, MIDI control, smooth step transitions, plugin and standalone.
System Requirements
Compatibility:
Windows (32/64 bit) XP or later, 2GHz, 1GB RAM

Mac OS X (Intel/PPC, 32/64 bit) 10.6.7 or later, 2GHz, 1GB RAM

Plugin Interfaces:
Mac OS X: VST / AU / RTAS / AAX Windows: VST / RTAS / AAX

Web: http://www.sugar-bytes.de/content/products/Looperator/index.php?lang=en