Effectrix is now available on the App Store.
Sugar Bytes' game-changing tool for creative and efficient music production is now available on the iPad: scatter 14 intelligent effects across a sequencer matrix and create unheard-of sound patterns and cheeky loop collages.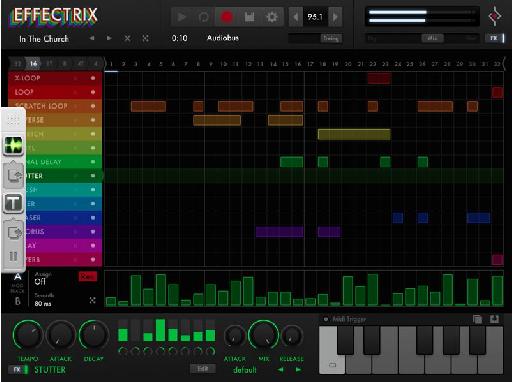 A playful workflow, refined algorithms and carefully parameterized effects lead to outstanding results - fast! The effects, each exceeding conventional wisdom, cover a wide spectrum from classy standards to scandalizing splatter orgies.

This iOS port faithfully recreates the desktop engine, today's de-facto standard of finest audio manipulation.
iPad Edition Features:
Integrated Player (iTunes File Sharing, Music Library, Factory Loops)

Integrated Recorder (various options: Start/Stop/Sync/Length)

Live Modus (Inputs & Outputs selectable)

Inter-App Audio (Effect) & Audiobus Support (Sender & Effect)

Audiocopy™/ Audiopaste

Full Midi Support (Virtual, Network, Extern)

Midi Clock Sync

20 fine loops installed

230 factory presets (100 global, ca. 9 per effect)

Redesigned GUI for perfect touch experience

SugarBytes site: http://www.sugar-bytes.de/content/products/EffectrixIOS/index.php?lang=en
App Store: https://itunes.apple.com/app/effectrix/id681772221?l=de&ls=1&mt=8