Obscurium is a timbral organism, a generative synthesizer feeding on scales, chords and classic synthesis producing vivid harmonics paired with an elaborate aesthetic.

It is the source of a dazzling array of organic and lively sounds, delivering spherical pads, bubbly arpeggios and deadly percussion attacks.
Obscurium offers detailed control over the musical grammar of its generative engines: its results are far from arbitrary. Get the sequencer going and define polyphony, chords and arpeggiator for each of the 32 steps. Detailed sound controls allow for a free mix between the FM analogue oscillators and ongoing modulation of three variables for each of the generators.
The playful user interface streamlines the complexity of the inner workings: You can freely change and swap all parameters and motion lanes leading to hundreds of new sounds from the init preset, so you can realize unique and surprising sequences in a matter of a few clicks.
Thanks to its VST interface, you can host any of your sound-generator plugins in Obscurium for fresh sounds.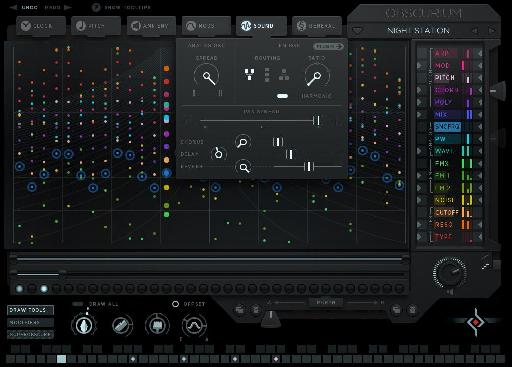 How Obscurium works
Press a note to start up the sequencer, reading sound and pitch parameters. Based on the scale selected, chords and arpeggios are formed. Access the full spectrum of sound on each of the 32 steps by freely combining FM and analogue synthesis. All handling of parameters happens in a playful and intuitive manner.
Parameter Shifting
An evolved random button (if you will) rotating parameters and motion lanes creating unforeseen interconnections of rising intensity. The effect of this unique mechanism is hard to describe...it creates a random but controlled sound parallax in existing patterns. Modulate this fader for tremendous livelyhood of tone.
Super Obscure Mode
Another remedy for creative block, this intelligent random function uses Obscurium's draw tools to fill the sequencer with educated guesses on the direction you wanna take. The modifiers can follow up on this with a wide variety of tools to expand, shrink and distribute generated sequences.
VST Plugin Hosting
Sends Gate, Pitch and up to eleven automation lanes to coax freak sounds out of any plugin.
Presets
Obscurium comes with more than 400 unique and excellent presets. Beat Lab Academy, Tom Cosm, Dynabee, Torley and the Sugar Bytes team.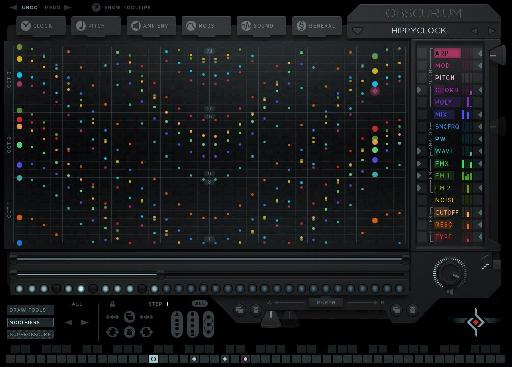 System Requirements
Windows (32/64 bit) XP or later, 2GHz, 1GB RAM Mac OS X (Intel/PPC, 32/64 bit) 10.6.7 or later, 2GHz, 1GB RAM
Plugin Interfaces
Mac OS X: VST / AU / RTAS / AAX Windows: VST / RTAS / AAX