What do you get whenyou combine a Pyrite crystal of around 300 million years old, a raspberry Pi, Arduino Nano, a lazer, and synth genius Dmitry Morozv (also known as ::vtol::)? Something you've never seen or heard of before...
In his own words, Dmitry explains that his new sound object / synthesizer, Ra, uses "a laser for scanning the irregularities of the surface of the pyrite disc and further transforms this data to produce sound." These Pyrite discs are only found in Illinois state (USA), and it was a chance meeting while in Boulder, Colarado, that Dmitry has given the Pyrite sun as a gift from a crystal mineral seller who accepted no payment, bu instead urged him to create something of a sonic nature using it.
Inspired by the concept of archiving sounds and using lasers Dmitry set out to "create a self-made laser sound reader which would be able to produce sound from various uneven surfaces, using minimal resources to achive it." And thanks to an Arduino Nano, Raspberry Pi and Pure Data & Python programming, and the support of the Sound Museum in St.-Petersburg which has it in its collection now, Dmitry set about making an object that would transform the sounds of the crystal into synthesized sounds. But, it's a lot more interactive than that as you'll see from the video above. And allows for an element of play/performance too.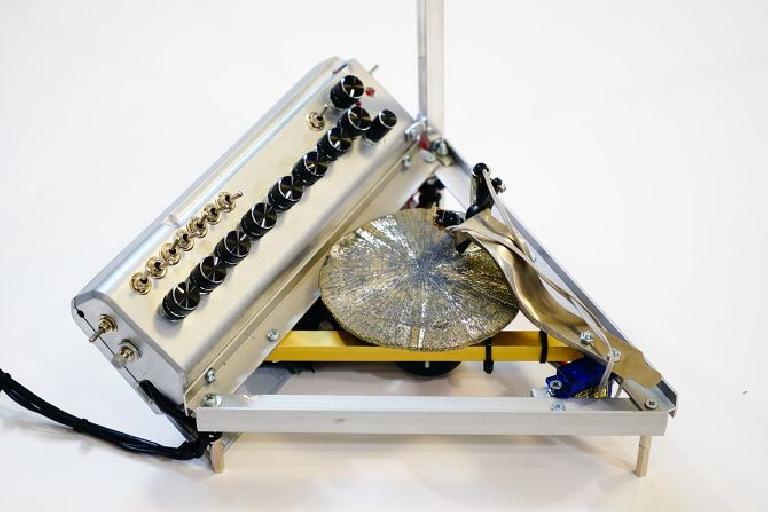 What would this laser reader synth sound like interpreting sound from other objects? When can you buy this along with your own pyrite discs? We don't have the answers to these valid questions. But you can always get in touch with Dmitry by following the link below and supporting his artistic sound projects.
Here's the hardware and spec Dmitry used to create his primorial synthesizer, Ra:
hardware:
raspberry pi (with pure data)
arduino nano
diy laser pickup
spin fv-1 dsp
stepper motor
servo motor
3W mono sound system
specification:
line audio output
9 control switchers
10 control knobs (including envelope, filter, processors parameters and modulations)
disk speed and direction control (via control knob)
pickup position control
16 dsp fx programs