I'm sure a lot of readers are familiar with the process of producing stems for a track. Stems are bounces of component parts of a track and are made for a number of reasons. One of the obvious ones are when sending a track to be remixed.
Stems can be bounced for individual instruments or can be a collection of similar instruments consolidated together into a stereo track etc. A typical stem scenario would be to take a track and have stems for Vocal, Back Vox, Guitars, Bass, Keys, Brass and Drums.
One thing that can mess you up when doing stems is mix or bus compression. Here's a scenario I came across recently. I'm doing some music for a broadcast of a show in a live venue. My drums are mixed in the track and I've got some compression over the drum bus to fatten them up. Here's the raw drums with no compression (this is just a quick example using Superior Drummer 2).
Here's the drums with bus compression:
I need to supply some stems for these drums so they can be balanced inside the venue for the crowd. This is a separate mix to the one that's broadcast, a finished mix in Stereo and 5.1.
I need to imprint the stereo drum bus compression onto the individual drum stems. So how do I do that?
Step 1 - Raw Channels
Here's my raw outputs from Superior Drummer think of these as recorded drum tracks. These are where I'd process my drums to get a basic sound with Compression and EQ.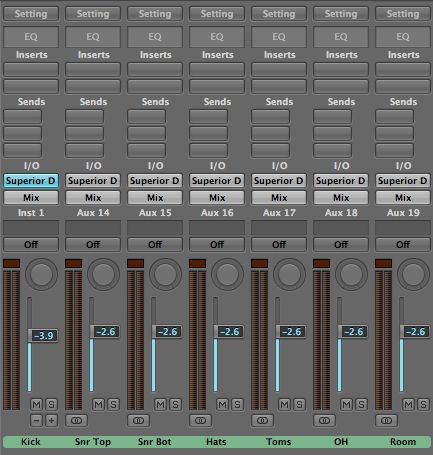 Step 2 - Bus Compression
I'd then route these to a bus and compress the whole kit to finish it off.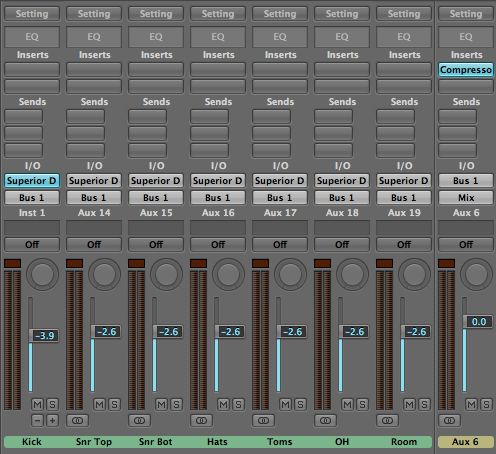 Step 3 - Send Not Route
To achieve this effect I'm going to '