HAMBURG, Germany — May 27, 2014 — Steinberg Media Technologies GmbH today announced the forthcoming release of Nuendo 6.5, a purchasable update to their award-winning post-production software. Making its first appearance at next week's PALM Expo in Beijing, China, and showcased alongside Yamaha's Nuage system, Nuendo 6.5 bristles with many top-tier tools conceived and designed to save time and boost efficiency, featuring amongst others enhanced loudness processing, bass frequency management and a vastly improved Automatic Dialog Replacement (ADR) taker system.

The optional Nuendo Expansion Pack (NEK) also receives a version increment, extending Nuendo's tool set through a range of features previously introduced to Cubase 7.5, such as the Groove Agent SE 4 drum sampler and HALion Sonic SE 2 sample player.
"6.5 is a serious update aimed at TV and film post-production professionals as well as ADR/language dubbing studios, and we're certain that the ever-growing Nuendo community will appreciate what this package holds," Timo Wildenhain, product marketing manager at Steinberg, said. "This iteration streamlines many areas of the software, comes with several new signal processors and has a heavy focus on its ADR taker system. Add the complementary Nuendo Expansion Pack and customers and partners get a DAW that caters for every need, in post, audio and music production."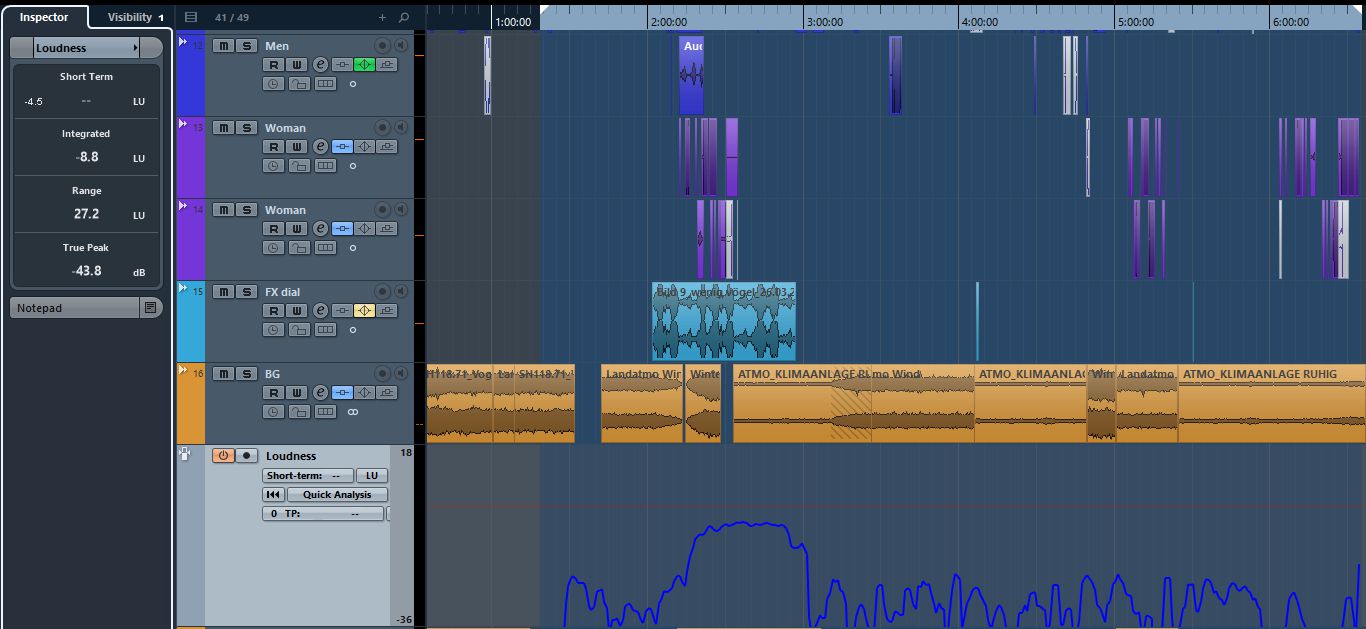 The new Loudness Track in Nuendo 6.5.
Continuing Steinberg's commitment to deliver significant improvements to workflow efficiency, this latest update to the audio post-production environment now offers an automatic loudness-processing feature that renders loudness-based mixes on export at user-defined loudness levels, such as -23 LUFS. Enhanced support for Advanced Authoring Format (AAF) files ensures a smooth exchange between Nuendo and Pro Tools or Media Composer, while TrackVersions, track visibility management and automatic detection of waveform transients for skipping between transient peaks add to the many workflow optimizations. Others are a redesigned Control Room and metering section for a better overview, the re-record mode feature for instant record restart at the original position, Track Quick Control assignments that are saved and loaded as presets and applied to different track types, VST Connect SE 2 for recording audio and MIDI via the Internet as well as the Steinberg Hub, a multifunctional platform that comprises a news section and the convenience to call up frequently used folders and recent projects.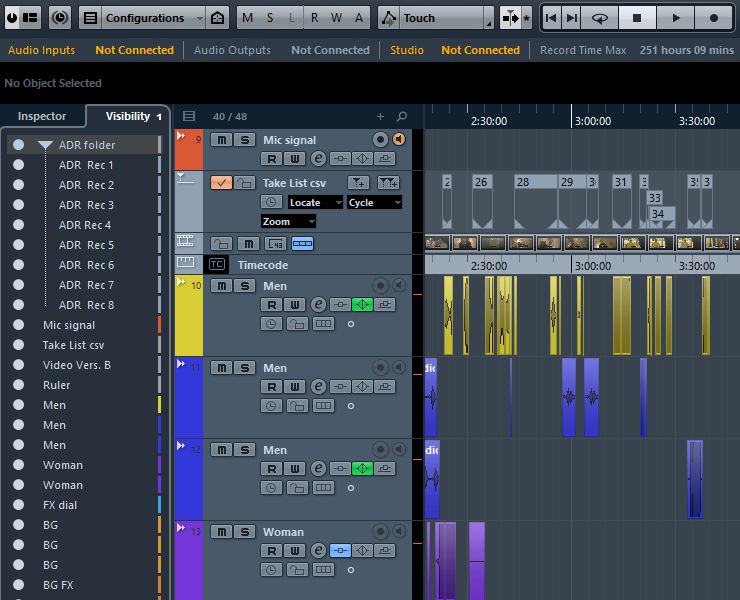 Track Visibility in Nuendo 6.5.
The ADR taker system in Nuendo has become more powerful, making it the most comprehensive integrated system for voice and foley recording available today. The second version of Nuendo's ADR taker system comes with take list improvements and video overlays, allowing users to review and edit spoken text in stop mode. Each voice and foley recording can be automatically named; attributes are added to its file name. The ADR taker system 2.0 also offers pre-assigning tracks for recording different speech roles or foley due to its automatic record arming of the target tracks, which facilitates managing large and complex ADR sessions. This system also introduces the Free mode, which lets users initiate recordings anywhere on the timeline, independent of the ADR marker list's take structure, as well as the capability to switch easily between the rehearse and record options.
Nuendo 6.5 provides professional onboard tools and effects ideal for post-production studios. The Bass Manager comprises tools that route and filter low-frequency bands for monitoring and mixing, with easy crossover frequency adjustment and a +10 dB pad for the LFE and subwoofer section. Newly available are also the acclaimed REVelation algorithmic reverb with more than 70 presets and Magneto 2, Steinberg's legendary tape saturation sound processor that has undergone major development.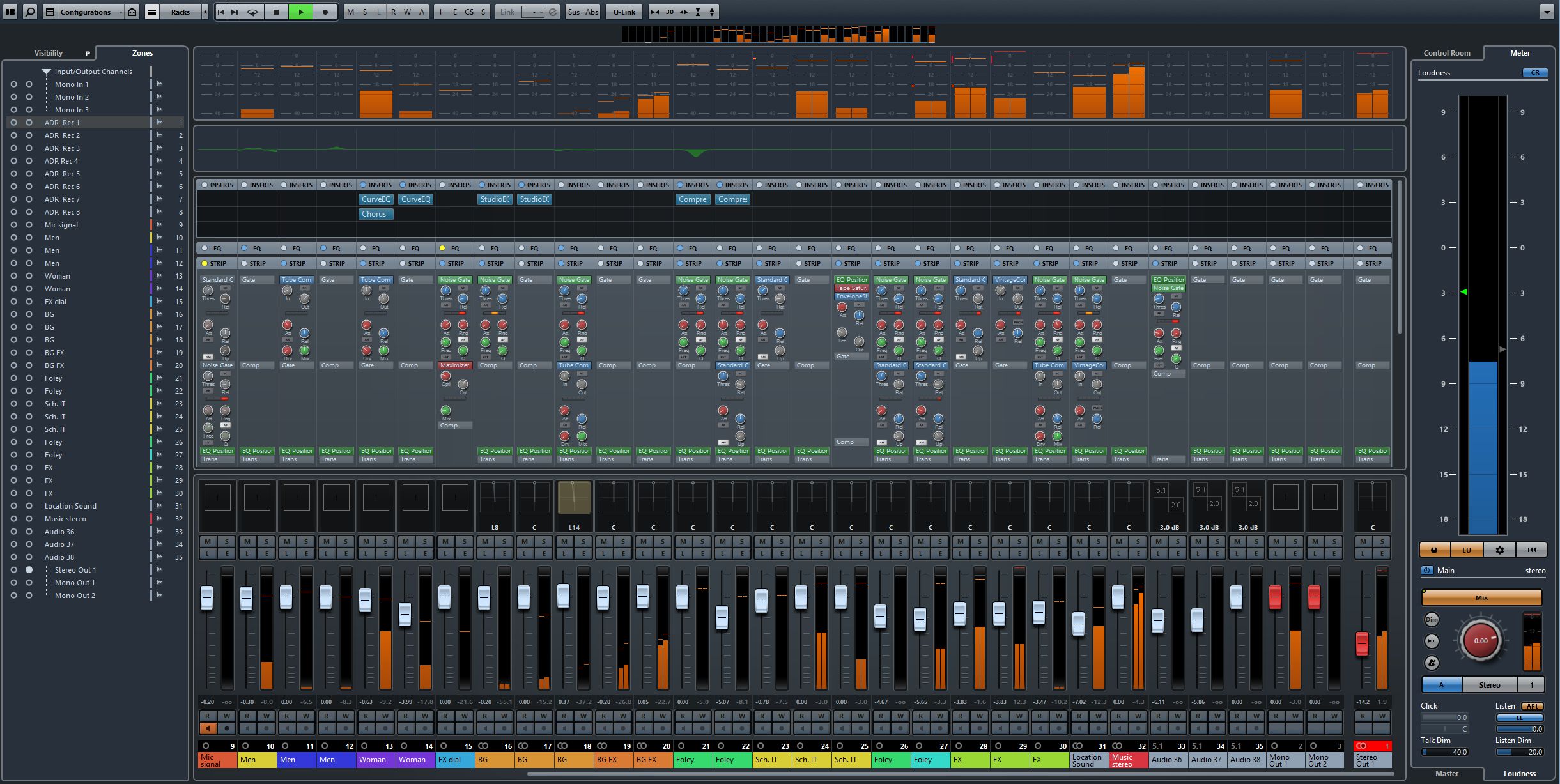 Nuendo 6.5. The place to Mix?
For producers and engineers looking to apply the music tools found in Cubase, the new NEK 6.5, Nuendo's popular add-on package, includes multi-MIDI-input and multi-audio-output for instrument tracks and VST Quick Controls accessible for the first time through the VST Instrument Rack. Also available in the NEK 6.5: Groove Agent SE 4, HALion Sonic SE 2 and many other features that add to the abundant set of tools and capabilities that Nuendo has to offer.
Availability and pricing
Nuendo 6.5 will be available in the third quarter of 2014 from authorized Yamaha and Steinberg resellers and through the Steinberg Online Shop (MSRP: $2,000). The Nuendo Expansion Kit 6.5 ($250) will also be available in the third quarter through the Steinberg Online Shop.
Various boxed and downloadable updates will also be available from resellers and through the Steinberg Online Shop.
Customers who have activated Nuendo 6 since April 14, 2014, will be eligible for a free, downloadable Grace Period update to the latest version. Restrictions may apply.
New features at a glance
Automated Loudness processing to both industry standards such as EBU R128 and fully user-definable settings

Professional bass management including several routing and filter options coming with the new Bass Manager plug-in

ADR Taker 2.0 introduces a major update of Nuendo's ADR taker system with enhancements for voice and foley recording such as new playback/recording modes, automated naming schemes and pre-record buffer

Nuendo TrackVersions allows for creating, renaming and managing parallel versions of the same track plus many addition features far beyond conventional playlists

Track visibility management speeds up handling especially of large projects by offering dynamic displaying of audio tracks and groups in the project window

Improved AAF Filter now supports even better import/export to Pro Tools and Media Composer

New monitoring and metering section for better source management and better overview on the most frequently used functions

Experience a richer sound with REVelation reverb and Magneto 2, a warm and smooth tape saturation plug-in

Track Quick Controls can now be saved as presets and loaded for immediate access

Steinberg Hub with direct access to user-defined folders and news section for the latest Nuendo product updates

Product page: www.steinberg.net/en/products/nuendo/nuendo_6/