HAMBURG, Germany — Steinberg today announced the immediate release of Cubasis 2.7, the iOS music production app exclusively available for the iPad.
A streamlined, multitouch sequencer for the iPad, Cubasis is for discerning music producers and musicians looking for mobile recording, editing and mixing capabilities, combined with unmatched usability and ease of use. Within the life cycle of the second version, the 2.7 update is a significant milestone in the success story of Cubasis as it marks its 6th anniversary, while also being the 31st update release.
The 2.7 update boasts many additions to its comprehensive feature set. Under the hood, Cubasis now offers native resolution support for the recently released iPad Pro 11" and 12.9". The brand-new Micrologue ARP, which is available as in-app purchase, extends the included Micrologue analog synth with a powerful arpeggiator that includes 79 presets. Little additions like introducing the option to load up to three AU MIDI plug-ins per track or the 95 studio-grade effects presets deliver more tools for artistic expression than ever before. Also new is the refined support for MIDI Thru, now providing a smooth integration and operation of external MIDI keyboards and Core MIDI apps. Many small enhancements were made throughout the development of Cubasis 2.7, rounding out the overall musical experience from inception to completion.
Steinberg's Team Lead & Product Planning Manager Lars Slowak comments: "Cubasis has evolved dramatically since its introduction six years ago. And yet it has kept true to its credo: to capture music intuitively, quickly and professionally.
"Developed by a passionate team sharing the joy of making music, Cubasis 2.7 brings lots of great new features intended to inspire and support musicians of all genres in expressing themselves musically. "Of course, we hope everybody loves the great-sounding all-new Micrologue ARP as much as we do."
Key Features
Unlimited number of audio and MIDI tracks
24 assignable physical inputs and outputs
32-bit floating point audio engine
Audio I/O resolution of up to 24-bit/96 kHz
iOS 32 and 64-bit support
Real-time time-stretching and pitch-shifting featuring zplane's élastique 3
Micrologue virtual analog synthesizer with 126 ready-to-go presets
MicroSonic with over 120 virtual instrument sounds based on HALion Sonic, HALiotron and Allen Morgan drum kits
MiniSampler to create your own instruments (includes 20 factory instruments)
Mixer with studio-grade channel strip per track and 17 effect processors
Super-versatile RoomWorks SE reverb effect providing uniquely professional sound and an intuitive graphical display for instant visual feedback at slightest parameter changes
Fully automatable DJ-like Spin FX effects plug-in
Over 550 MIDI and time-stretch-capable audio loops
Virtual keyboard, chord and drum pads with intuitive note repeat control
Sample Editor and Key Editor with MIDI CC support
Refreshed MIDI Editor with ultra-intuitive, lightning fast and accurate handling to edit MIDI tracks and compose music easier than ever before
Track Duplicate
MIDI Auto Quantize
Automation, MIDI CC, program change and after touch support
Export to Cubase, iCloud Drive, external hard drives, wireless flash drives, Dropbox, SoundCloud, AudioCopy and e-mail
Core Audio and Core MIDI compatible hardware supported MIDI over Bluetooth LE support
Full Audio Unit, Inter-App Audio and Audiobus 3 support to use compatible apps as insert/send effects and virtual instruments or simply record their audio output
Import audio from your iTunes music library or iCloud Drive or iTunes file sharing, use AudioPaste or set up a Wi-Fi server in Cubasis
Audio mixdown and MIDI export
MIDI clock and MIDI Thru support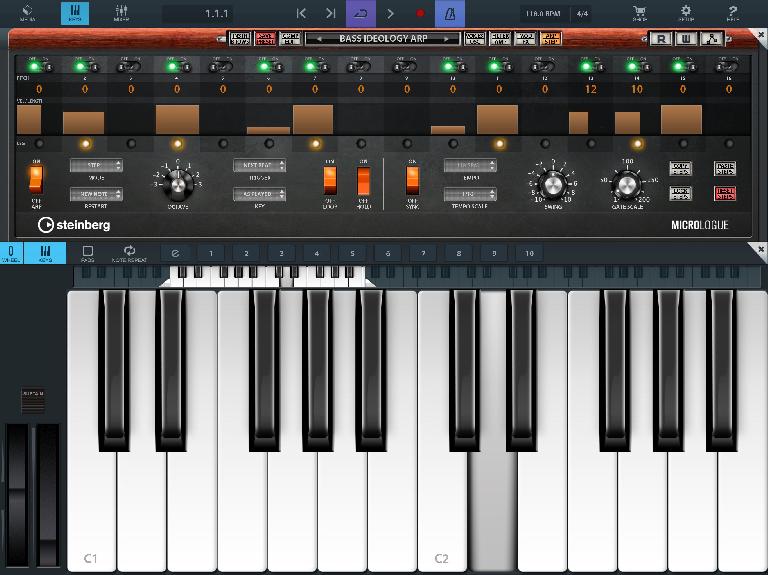 Availability and pricing
Cubasis 2.7 is available as download through the App Store. The price is 54.99 euros including German VAT. Existing Cubasis 2 customers are eligible for a free update to 2.7.
Steinberg is offering great discounts on Cubasis as well as the Waves Plug-in Bundle, Micrologue ARP and remaining in-app purchases, ending on January 7, 2019.