Steinberg Reveals New Studio Production Features in Cubasis 2 for iPad
Steinberg tell us their next-generation Cubasis app adds exciting new features and enhancements to acclaimed music production studio for iPad. Among them are pitch-shifting & channel strip effects.
HAMBURG, Germany — September 22, 2016 — Steinberg Media Technologies GmbH today announced the immediate availability of Cubasis 2, the next iteration of the award-winning music production app for the iPad.
After introducing the first version of Cubasis to critical acclaim, the music app world happily bore witness to a host of free feature-laden updates throughout its initial incarnation. Now, Steinberg is back with the second iteration of Cubasis, including refinements to features that users know and appreciate from the previous version, alongside a jaw-dropping line-up of brand-new tools and capabilities.
Steinberg's Team Lead & Product Planning Manager Lars Slowak comments: "After releasing over a dozen 'smaller' updates to the first version of Cubasis, we now chose to give this release a major version increment due to the many new, full-blown features that this iteration has to offer. It's certainly also worth mentioning the effort we invested in tweaking the overall app so as to make it even more powerful and intuitive."
Cubasis is Steinberg's sequencer app that strongly gravitates toward its desktop equivalent, the Cubase music production system, providing the same look and feel as well as project compatibility that allows for easy import to Cubase. Basically, Cubasis provides all the required tools to arrange, mix and edit music productions, including many effects and hundreds of instrument sounds.
Cubasis 2 comes with the zplane élastique 3, a real-time time-stretching algorithm to tempo match audio loops, alongside the new pitch-shifting feature to align musical keys. The professional channel strip boasts its own effects suite, adding a cut filter, compressor, noise gate and tape/tube saturator to each channel.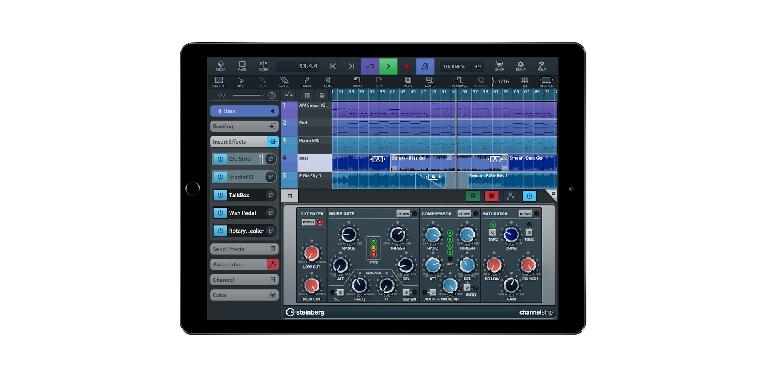 Spin FX is the latest plug-in addition with a wide variety of DJ-like style breaks, tape stops, stutters and filter effects, while the library of the included Micrologue virtual analog synth has been expanded by more than 75 refreshingly new sounds. With the TAPE expansion, MicroSonic also receives sounds that recreate the trademark sound of the '60s.

Other highlights introduced in version two include a redesign of the user interface, auto quantization of MIDI notes and proven compatibility with iOS 10.
Next to the release of Cubasis 2, the streamlined Cubasis LE 2 version is now also available and already included with many hardware bundles (such as the Yamaha wireless MIDI adapters and the CME Xkey keyboards) that unlock the LE version's full potential. By upgrading to the Full Feature Set via in-app purchase, Cubasis LE 2 receives the same feature additions and enhancements introduced in Cubasis 2. Further in-app purchases are the Cubasis FX Pack 1 with six delay and reverb effects and the Cubasis FX Pack 2 with six classic effects like wah and rotary speaker.

With Cubasis 2, we believe that audio recording, MIDI programming and mixdowns have never been easier on the iPad," adds Slowak.
Visit www.steinberg.net/cubasis for details on Cubasis.
Availability and Pricing
Cubasis 2 is available as download through the App Store. The price is 49.99 euros including German VAT. Existing Cubasis customers receive the update to version two free of charge. The Cubasis LE 2 Full Feature Set IAP is available within Cubasis LE 2 for 29.99 euros including German VAT. The FX Pack IAPs are accessible through Cubasis 2 and Cubasis LE 2 for each 6.99 euros including German VAT. For the next two weeks, however, both Cubasis 2 and the Cubasis LE 2 Full Feature Set IAP are offered at an incredible 50% discount. Pricing for the FX Pack IAPs will also be reduced by over 40% throughout this period. The demo version of Cubasis LE 2 is freely available on the App Store.
Features
Unlimited number of audio and MIDI tracks
24 assignable physical inputs and outputs
32-bit floating-point audio engine
Audio I/O resolution of up to 24-bit/96 kHz
iOS 32-bit and 64-bit support
Real-time time-stretching and pitch-shifting featuring zplane's élastique 3
Micrologue virtual analog synthesizer with 126 ready-to-go presets
MicroSonic with over 120 virtual instrument sounds based on HALion Sonic, HALiotron and Allen Morgan drum kits
MiniSampler to create your own instruments (includes 20 factory instruments)
Mixer with studio-grade channel strip per track and 16 effect processors
Fully automizable DJ-like Spin FX effect plug-in
Over 550 MIDI and time-stretch-capable audio loops
Virtual keyboard, chord and drum pads
Sample Editor and Key Editor with MIDI CC support
MIDI Auto Quantize
Automation, MIDI CC, program change and aftertouch support
Export to Cubase, iCloud Drive, external hard drives, wireless flash drives, Dropbox, SoundCloud, AudioCopy and email
Core Audio and Core MIDI compatible hardware supported
MIDI over Bluetooth LE support
Full Audio Unit, Inter-App Audio and Audiobus support to use compatible apps as insert/send effects and virtual instruments or simply record their audio output
Import audio from your iTunes music library or iCloud Drive or iTunes file sharing, use AudioPaste or set up a Wi-Fi server in Cubasis
Audio mixdown and MIDI export
MIDI clock and MIDI thru support
Web: www.steinberg.net/cubasis